Michael Landon
(Eugene Maurice Orowitz)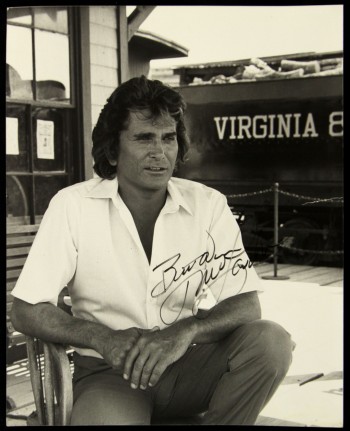 Michael Landon
Television actor. Born Eugene Maurice Orowitz on October 31, 1936, in Queens, New York. His father, Eli Maurice Orowitz, was an actor and movie theater manager. Mother Peggy O'Neill was an actress. The family moved to the suburb of Collingswood, New Jersey, where the young Eugene grew up.
Orowitz spent most of his childhood keeping to himself, reading comic books and taking long walks alone. The actor later told Redbook magazine in 1987 that he wasn't popular in elementary school because he was a conscientious, straight-A student. He tried to change that in high school by focusing on sports rather than academics, and he became a champion javelin thrower. He set a national high school record in javelin-hurling with a toss of 211 feet, 7 inches, but he graduated second from last in a class of 301.
Orowitz's track performance more than compensated for his dismal academics, bringing him an athletic scholarship from USC. In his freshman year, however, he lost 50 feet off his best record. He then injured ligaments in his arm by trying to make up his shortened distance. His athletic career at an end, Orowitz left USC at the end of his freshman year.
To make ends meet, the college dropout sold blankets, worked as a stock boy, and unloaded freight cars at a warehouse. But Orowitz's big break came soon enough, when a friend asked for his help in an acting audition. Orowitz landed a place in the acting school instead of his friend, and changed his name to Michael Landon after finding the name in a phone book. Four months later, Landon was cast in a starring TV role in the show Telephone Time.
After appearing in small roles in television Westerns and drama series including Playhouse 90, he made his film debut in I Was a Teenage Werewolf (1957), which became a cult hit. He then endeared himself to audiences as Little Joe in the television western series, Bonanza (1959-73), which became the No. 1 show on television from 1964 to 1967. He then starred as Charles Ingalls in the wholesome family television show Little House on the Prairie (1974-83), based on Laura Ingalls Wilder's book series. He occasionally wrote and directed for the films and series he starred in, including the movie The Loneliest Runner (1976) and the TV show Highway to Heaven (1984-89). He had just completed the pilot for Us before his sudden death from cancer on July 1, 1991.
Born
October, 31, 1936
Queens, New York
Died
July, 01, 1991
Malibu, California
Cause of Death
Cemetery
Hillside Cemetery
Culver City, California
16848 profile views