Michael Bennett
(Michael Bennett DiFiglia)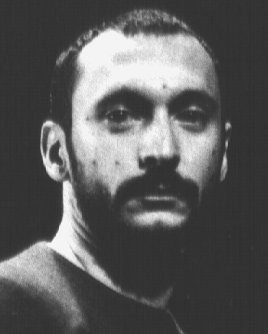 Michael Bennett was born Michael Bennett DiFiglia in Buffalo, New York, the son of Helen (née Ternoff), a secretary, and Salvatore Joseph DiFiglia, a factory worker. His father was Roman Catholic and Italian American and his mother was Jewish. He studied dance and choreography in his teens and staged a number of shows in his local high school before dropping out to accept the role of Baby John in the US and European tours of West Side Story. Bennett's career as a Broadway dancer began in the 1961 Betty Comden–Adolph Green–Jule Styne musical Subways Are For Sleeping, after which he appeared in Meredith Willson's Here's Love and the short-lived Bajour. In the mid-1960s he was a featured dancer on the NBC pop music series Hullabaloo, where he met fellow dancer Donna McKechnie. Michael Bennett made his choreographic debut with A Joyful Noise (1966), which lasted only twelve performances, and in 1967 followed it with another failure, Henry, Sweet Henry (based on the Peter Sellers film The World of Henry Orient). Success finally arrived in 1968, when he choreographed the hit musical Promises, Promises on Broadway. With a contemporary pop score by Burt Bacharach and Hal David, a wisecracking book by Neil Simon and Bennett's well-received production numbers, including "Turkey Lurkey Time", the show ran for 1,281 performances. Over the next few years, he earned praise for his work on the straight play Twigs with Sada Thompson and the musical Coco with Katharine Hepburn. These were followed by two Stephen Sondheim productions, Company and Follies co-directed with Hal Prince.
In 1973, Bennett was asked by producers Joseph Kipness and Larry Kasha to take over the ailing Cy Coleman–Dorothy Fields musical Seesaw. In replacing the director Ed Sherin and choreographer Grover Dale, he asked for absolute control over the production as director and choreographer and received credit as "having written, directed, and choreographed" the show. Michael Bennett's next project was A Chorus Line. The musical was formed out of hundreds of hours of taped sessions with Broadway dancers. Bennett was invited to the sessions originally as an observer but soon took charge. He co-choreographed and directed the production, which debuted in May 1975 off-Broadway. It won nine Tony Awards and the 1976 Pulitzer Prize for Drama. He later claimed that the worldwide success of A Chorus Line became a hindrance, as the many international companies of that musical demanded his full-time attention. Bennett would later become a creative consultant for the 1985 film version of the musical but left due to creative differences. He always sought creative control over his projects, but Hollywood producers were unwilling to give him the influence he demanded. There are some filmed records which testify to the show's initial power. Television talk-show host Phil Donahue devoted an entire program to the original cast, during which they reminisce and recreate some of the musical numbers. The 2008 feature-length documentary "Every Little Step" chronicles the casting process of A Chorus Line's 2006 revival, with re-created choreography by Bennett's long-time associate Baayork Lee, and, in the course of the film, the saga of the original production is re-told as well, through the use of old film clips and revealing interviews from the original collaborators, including Lee, Bob Avian (who was the show's original co-choreographer with Bennett and the director of the revival), composer Marvin Hamlisch and the original's leading lady, Donna McKechnie.
Michael Bennett's next musical was a project about late-life romance called Ballroom. Although financially unsuccessful, it garnered seven Tony Award nominations, and Bennett won one for Best Choreography. He admitted that any project that followed A Chorus Line was bound to be an anti-climax. Bennett had another hit in 1981 with Dreamgirls, a backstage epic about a girl group like The Supremes and the expropriation of black music by a white recording industry. In the early 1980s, Bennett worked on various projects, one of which was titled The Children's Crusade, based on a legendary story "Children's Crusade", but none of them reached the stage. He always collaborated with his assistant Bob Avian, who was a lifelong friend. In 1985, Bennett abandoned the nearly-completed musical Scandal, by writer Treva Silverman and songwriter Jimmy Webb, which had been developing for nearly five years through a series of workshop productions. The show was sexually daring, but the conservative climate and the growing AIDS panic made it unlikely commercial material. He was then signed to direct the West End production of Chess but had to withdraw in January 1986 due to his failing health, leaving Trevor Nunn to complete the production using Bennett's already commissioned sets. Michael Bennett died from AIDS-related lymphoma at the age of 44. He left a portion of his estate to fund research to fight the pandemic Bennett's memorial service took place at the Shubert Theatre in New York (the home at that time of A Chorus Line) on September 29, 1987.
Born
April, 08, 1943
USA
Buffalo, New York
Died
July, 07, 1987
USA
Tucson, Arizona
Cause of Death
Other
2850 profile views