Meyer Lansky
(Maier Suchowljansky)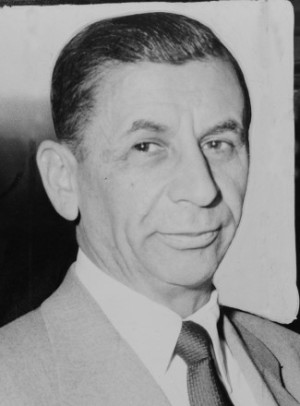 Meyer Lansky
One of the most powerful and richest of U.S. crime syndicate chiefs and bankers, who had major interests in gambling, especially in Florida, pre-Castro Cuba, Las Vegas, and the Bahamas.
A Polish Jew born in Russia's Pale of Settlement, Lansky immigrated with his parents to New York's Lower East Side in 1911. By 1918 he and Bugsy Siegel were running a floating crap game and then graduated into highly lucrative auto theft and resale. In the course of the 1920s Lansky's gang branched into burglaries, liquor smuggling, and other rackets and came under the aegis of crime boss Giuseppe Masseria. Lansky and Siegel had also developed a squad of professional murderers for hire, the prototype for the later Murder, Inc., headed by Louis Buchalter and Albert Anastasia. Lansky became a naturalized citizen in 1928.
It was allegedly Lansky who persuaded Lucky Luciano to have Masseria assassinated in 1931 and loaned Bugsy Siegel for the purpose, making the four-man hit team representative of the major New York factions. Between 1932 and 1934 Lansky joined Luciano and Johnny Torrio, among others, in forming the national crime syndicate and became one of its major overseers and bankers, often laundering funds through foreign accounts.
By 1936 Lansky had begun to develop gambling operations in Florida and New Orleans and also in Cuba, where he arranged payoffs to Cuban dictator Fulgencio Batista. He also financed Bugsy Siegel's casino developments in Las Vegas (and ordered Siegel's execution in 1947, when Siegel welshed on the syndicate). When Fidel Castro came to power in Cuba in 1959, Lansky turned to the Bahamas, building casinos on Grand Bahama and Paradise islands in the 1960s after nurturing government cooperation. He also extended his gambling empire to other areas of the Caribbean and even across the Atlantic to London. He was also into narcotics smuggling, pornography, prostitution, labour racketeering, and extortion and had control of such legitimate enterprises as hotels, golf courses, and a meat-packing plant. Monies were secreted in Swiss banks. By 1970 his total holdings were estimated at $300,000,000.
In 1970, fearing both a call to a grand jury and indictment for income-tax evasion, he fled to Israel, seeking to remain under the Law of Return; however, Israel eventually expelled him, and he ended up back in the United States facing several indictments. In 1973 he was convicted of grand jury contempt, a verdict overturned on appeal, but acquitted of income-tax evasion. Indictments on other charges were abandoned in 1974, partly because of his chronic ill health. In 1979 the House of Representatives Assassinations Committee, ending its two-year investigation of the Warren Commission report, linked Lansky with Jack Ruby, the nightclub owner who killed presidential assassin Lee Harvey Oswald.
Lansky died of lung cancer and was buried in Miami in an Orthodox Jewish ceremony.
Born
August, 28, 1902
Hrodzienskaja, Belarus
Died
January, 16, 1983
Miami Beach, Florida
Cause of Death
Cemetery
Mount Nebo Miami Memorial Gardens
Miami, Florida
18325 profile views