Mercedes McCambridge
(Carlotta Mercedes Agnes McCambridge)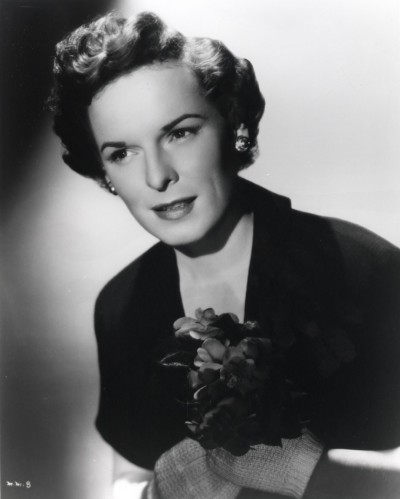 McCambridge was born in Joliet, Illinois, the daughter of Irish American Roman Catholic parents Marie (née Mahaffry) and John Patrick McCambridge, a farmer. She graduated from Mundelein College in Chicago before embarking on a career. She began her career as a radio actor during the 1930s while also performing on Broadway and continued through the 40s and 50s. In 1941, she played Judy's girl friend in A Date with Judy. She had the title role in Defense Attorney, a crime drama broadcast on ABC in 1951-52. She frequently did feature roles on the CBS Radio Mystery Theater, and was an original cast member on The Guiding Light (before the Bauers took over as the central characters). She also starred in her own show, Defense Attorney on ABC 1951–52, as Martha Ellis Bryan. From June 22, 1953, to March 5, 1954, McCambridge starred in the soap opera Family Skeleton on CBS. Her Hollywood break came when she was cast opposite Broderick Crawford in All the King's Men (1949). McCambridge won the 1949 Academy Award for Best Supporting Actress for her role, while the film won Best Picture for that year. McCambridge also won the Golden Globe Awards for Best Supporting Actress and New Star of the Year – Actress for her performance. In 1954, the actress co-starred with Joan Crawford and Sterling Hayden in the offbeat western drama, Johnny Guitar, now regarded as a cult classic. McCambridge and Hayden publicly declared their dislike of Crawford, with McCambridge labeling the film's star "a mean, tipsy, powerful, rotten-egg lady."
McCambridge played the supporting role of 'Luz' in the George Stevens classic Giant (1956), which starred Elizabeth Taylor, Rock Hudson, and James Dean. She was nominated for another Academy Award as Best Supporting Actress but lost to Dorothy Malone in Written on the Wind. In 1959, McCambridge appeared opposite Katharine Hepburn, Montgomery Clift and Elizabeth Taylor in Joseph L. Mankiewicz' film adaptation of Tennessee Williams' Suddenly, Last Summer. McCambridge provided the dubbed voice of the demonically possessed girl in The Exorcist, acted by Linda Blair. According to director William Friedkin, she initially requested no credit for the film—fearing it would take away from the attention of Blair's performance – but later complained about her absence of credit during the film's premiere. Her dispute with Friedkin and the Warner Bros. brass over her exclusion ended when, with the help of the Screen Actors Guild, she was properly credited for her vocal work in the film. In the 1970s, she toured in a road company production of Cat on a Hot Tin Roof as Big Mama, opposite John Carradine as Big Daddy. She appeared as a guest artist in college productions, such as El Centro College's 1979 The Mousetrap, in which she received top billing despite her character being murdered (by actor Jim Beaver) less than 15 minutes into the play. El Centro brought her back the following year in the title role of The Madwoman of Chaillot. She also starred with longtime character actor Lyle Talbot (of ABC's The Adventures of Ozzie and Harriet) in the 1970 production of Come Back, Little Sheba in the University of North Alabama Summer Theatre Productions. In the mid-1970s, McCambridge briefly took a position as director of Livingrin, a Pennsylvania rehabilitation center for alcoholics. She was at the same time putting the finishing touches on her soon-to-be released autobiography, The Quality of Mercy: An Autobiography.
McCambridge married her first husband, William Fifield, in 1939 when she was 23 years old. The couple had a son, John Lawrence Fifield, born in December, 1941. The couple divorced in 1946 after seven years of marriage. In 1950, when she was 34 years old, McCambridge married Canadian Fletcher Markle, an actor/producer/director who directed McCambridge in productions on Ford Theater and Studio One. Her son, John, later took Markle's name, thereafter being known as John Markle. During the marriage and afterward, McCambridge battled alcoholism, often being hospitalized after episodes of heavy drinking. She and Markle divorced in 1962, after twelve years of marriage. In 1969, after years with Alcoholics Anonymous, she achieved sobriety. McCambridge's son, John Markle, a UCLA graduate, had a Ph.D. in Economics. He became a futures trader at Stephens and Company, but after a meteoric rise through the company's ranks, things began to unravel in the fall of 1987 when it was discovered he was engaging in fraud—essentially by charging all his losing trades to Stephens, while depositing the revenue from winning trades in a trust account in McCambridge's name. (Markle was later shown to have forged his mother's signature in opening this account.) Markle was put on temporary leave, then fired from his position as a futures trader at Stephens and Company for mishandling funds. McCambridge refused to co-operate with Markle and the company in instituting a repayment scheme that would have kept the matter from becoming public. Shortly thereafter, in November 1987, Markle killed his family—his wife Christine and daughters Amy (age 13) and Suzanne (age 9)—and then himself in a murder/suicide. He left both a note taking responsibility for his crimes, and a long, bitter letter to his mother. A $5 million lawsuit was filed against Markle's estate and McCambridge claiming fraud and misappropriation of funds. Although some of the mishandled funds had been handled under McCambridge's name through Markle's power of attorney, she herself was subsequently cleared of any wrongdoing. She was a staunch outspoken liberal Democrat who campaigned for Adlai Stevenson.
McCambridge died on March 2, 2004, in La Jolla in San Diego, California, of natural causes, two weeks shy of her 88th birthday. For her contribution to television and motion picture industry, Mercedes McCambridge has two stars on the Hollywood Walk of Fame: one for motion pictures at 1722 Vine Street, and one for television at 6243 Hollywood Boulevard.
Born
March, 16, 1916
USA
Joliet, Illinois
Died
March, 02, 2004
USA
La Jolla, California
Cause of Death
Other
8155 profile views