Mel Street
(King Malachi Street)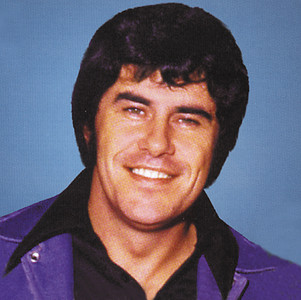 Mel Street
Street was born in Rowe, Virginia to a coal mining family. Publications cite his year of birth as 1933, although his family maintains that he was born in 1935. He began performing on western Virginia and West Virginia radio shows at the age of sixteen. Street subsequently worked as a radio tower electrician in Ohio and as a nightclub performer in the Niagara Falls area. He moved back to West Virginia in 1963 to open up an auto body shop.
From 1968 to 1972, Street hosted his own show on a Bluefield, West Virginia television station. He recorded his first single, "Borrowed Angel," in 1970 for a small regional record label. A larger label, Royal American Records, picked it up in 1972, and it became a top-10 Billboard hit. He recorded the biggest hit of his career, "Lovin' on Back Streets", in 1972.
Street continued to flourish throughout the mid-1970s, recording several hits such as "You Make Me Feel More Like a Man," "Forbidden Angel," "I Met a Friend of Yours Today," "If I Had a Cheatin' Heart," and "Smokey Mountain Memories". He signed with Mercury Records in 1978. But, suffering from clinical depression and alcoholism, he committed suicide by a self-inflicted gunshot wound on October 21, 1978, his 43rd birthday. He had a record debut on the country charts on October 21 as well, called "Just Hangin' On", and later charted four posthumous songs. Street's idol George Jones sang at his funeral.
Born
October, 21, 1933
Grundy, West Virginia
Died
October, 21, 1978
Hendersonville, Tennessee
Cause of Death
self inflicted gunshot to head
Cemetery
Woodlawn Memorial Park and Mausoleum
Nashville, Tennessee
17383 profile views