Meena Kumari
(Mahjabeen Bano)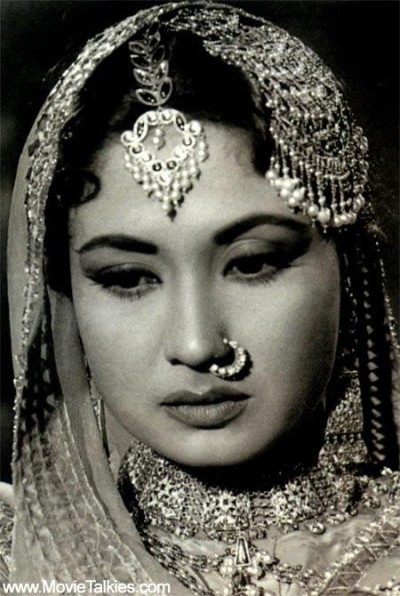 Meena Kumari was the third daughter of Ali Baksh and Iqbal Begum. Khursheed and Madhu were her two elder sisters. At the time of her birth, her parents were unable to pay the fees of the doctor who had delivered her, so her father left her at a Muslim orphanage. However, he picked her up after a few hours. Her father, a Shia Muslim, was a veteran of Parsi theater, played harmonium, taught music, and wrote Urdu poetry. He played small roles in films like Id Ka Chand and composed music for films like Shahi Lutere. Her mother was the second wife of Ali Baksh. Before meeting and then marrying Ali Baksh, she was a stage actress and dancer, under the stage name, Kamini and earlier in her life related to the well known Tagore family of Bengal. When Mahjabeen was born, her father had aspired to be an actor at the Rooptara Studios. At the urging of his wife, he got Mahjabeen into movies despite her protestations of wanting to go to school. Young Mahjabeen is said to have said, "I do not want to work in movies; I want to go to school, and learn like other children." As she embarked on her acting career at the age of 7, she was renamed Baby Meena. Her first film was Farzand-e-Watan (1939), directed for Prakash Studios by Vijay Bhatt. Her early adult acting, under the name Meena Kumari, was mainly in films such as Veer Ghatotkach (1949), Shri Ganesh Mahima (1950), and Aladdin Aur Jadui Chirag(1952).
Meena Kumari gained fame with her role as a heroine in Vijay Bhatt's Baiju Bawra (1952). She also appeared in such films as Parineeta (1953), Azaad (1955), Ek Hi Raasta (1956), Miss Mary (1957), Sharada (1957), Kohinoor (1960), and Dil Apna Aur Preet Parayi (1960). One of her best-known roles was in Sahib Bibi Aur Ghulam (1962), which was produced by Guru Dutt. Kumari played Chhoti Bahu, an alcoholic wife. The film was a major critical and commercial success, which was attributed by critics to Kumari's performance, which is regarded as one of the best performances of Hindi Cinema. In 1962, she made history by getting all the three nominations for Filmfare Best Actress Award, for her roles in Aarti, Main Chup Rahungi, and Sahib Bibi Aur Ghulam, winning for the last. For four more years, Kumari performed successfully in Dil Ek Mandir (1963), Kaajal (1965), and Phool Aur Patthar (1966), all of which earned her Filmfare nominations, with Kaajal garnering her a fourth and last win of the Best Actress award. However, after divorcing her husband in 1964, her addiction to alcohol became stronger, and she often dulled her senses with liquor. She also relied more and more on intimate relationships with younger men like Dharmendra. Her subsequent releases, including Chandan Ka Palna and Majhli Didi did not do well.
Kumari's heavy drinking had badly damaged her liver, and in 1968 she fell seriously ill. She was taken to London and Switzerland for treatment. Back home, she started settling her debts and made peace with her estranged sister, Madhu, whom she had not spoken to for two years. Because of her heavy drinking, she increasingly lost her good looks, and when she returned, she began playing character roles in movies like Jawab (1970) and Dushmun (1972). She developed an attachment to writer-lyricist Gulzar and acted in his directorial debut Mere Apne (1971). Kumari presented an acclaimed portrayal of an elderly woman who got caught between two street gangs of frustrated, unemployed youth and was killed, her death making the youth realise the futility of violence. She was ailing at the time, and worked through her bad health in the film. The shooting was completed in 40 days, and she died within a few months of its release. Pakeezah, starring Kumari and directed by her ex-husband Kamal Amrohi, took 14 years to reach the silver screen. First planned by Amrohi in 1958, the film went on the studio floors in 1964, but the shooting came to a standstill after their separation in March 1964, when it was more than halfway complete. In 1969, Sunil Dutt and Nargis previewed some reels of the shelved film and convinced the estranged Amrohi and Kumari to complete it.
Gravelly ill, Kumari was determined to complete the film and, well aware of the limited time left for her to live, went out of her way to complete it at the earliest. Despite her rapidly deteriorating health, she gave the finishing touches to her performance. Initially, after its release in February 1972, Pakeezah opened to a lukewarm response from the public; however, after Meena Kumari's death less than two months later, people flocked to see it, making it a major box-office success. The film has since gained a cult and classic status, and Kumari's performance as a golden-hearted Lucknow prostitute drew major praise. She posthumously received her twelfth and last Filmfare nomination. Throughout her life, Kumari had a love-hate relationship with movies, and besides being an actress, she was a poet, and recorded a disc of her Urdu poems, I write, I recite with music by Khayyam. Three weeks after the release of Pakeezah, Meena Kumari became seriously ill, and died on 31 March 1972 of liver cirrhosis. At her death, she was in more or less the same financial circumstance as her parents at the time of her birth: It is said that when she died in a nursing home, there was no money to pay her hospital bills. She was buried at Rahematabad Qabristan located at Narialwadi, Mazgaon, Mumbai.
Born
August, 01, 1932
Mumbai, India
Died
March, 31, 1972
Mumbai, India
Cause of Death
7123 profile views