Mathilde Franziska Anneke
(Mathilde Franziska Anneke)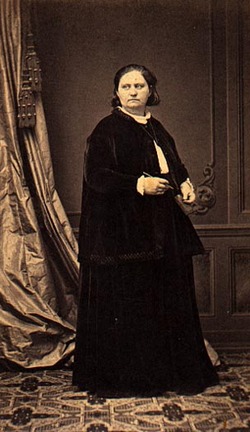 Mathilde Franziska Anneke (April 3, 1817 – November 25, 1884) was a German feminist, socialist, and newspaper editor, owner, and reporter. Born Mathilde Franziska Giesler, her first marriage to Alfred von Tabouillot, a rich wine merchant, ended in divorce. The ensuing custody battle over the children influenced her feminist views greatly. She later married Fritz Anneke, a former Prussian artillery officer, whom she had met in Münster, Westphalia, and the couple began publishing a daily newspaper for the working class in Cologne. When Fritz was jailed for his political activities, Mathilde continued to write, manage, and publish the paper until it was banned by the authorities in 1847. One year later, Mathilde started a new paper, the first German feminist newspaper, Frauen-Zeitung, in 1848. Upon his release from prison, Mathilde later travelled with Fritz during the Prussian invasion of the Palatinate, writing about it. After the Prussian victory, the couple fled Germany and emigrated to the United States. Upon her resettlement in Milwaukee, Anneke recreated her career as a feminist author and publisher, becoming a friend and colleague of Susan B. Anthony and Elizabeth Cady Stanton. In March 1852, Mathilde started the first feminist journal in the United States published by a woman, the Deutsche Frauen-Zeitung.
The Annekes were vocal opponents of slavery during the American Civil War, and Fritz served in the Union army, as colonel and commanding officer of the 34th Wisconsin Volunteer Infantry Regiment. The younger brother of Fritz, Emil Anneke, was Michigan's first Republican Auditor General. Mathilde and Fritz' son Percy Anneke became later an entrepreneur in Duluth, Minnesota, where he was one of the founders and owners of Fitger Brewing Company until he sold his shares at the beginning of the prohibition and moved to Pasadena, California.
Two key works of Anneke have been recently re-published in the United States in English translation: "Women in conflict with society" (a pre-1848 text on the fate of Louise Aston) and "Broken Chains" (a series of articles against slavery). Anneke published in German which was still widely used in the United States during the 19. century.  Mathilde Anneke later founded a girl's school in Milwaukee that remained open until 1884.
Born
April, 03, 1817
Lerchenhausen, Westphalia
Died
November, 25, 1884
USA
Milwaukee, Wisconsin
Cemetery
Forest Home Cemetery
Milwaukee, Wisconsin
USA
16245 profile views