Marv Johnson
(Marv Earl Johnson)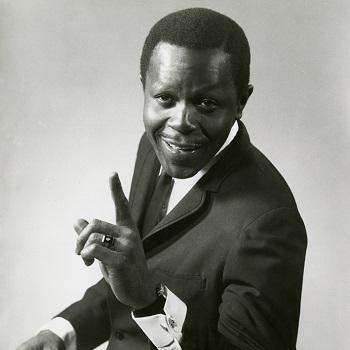 Marv Johnson was born in Detroit, Michigan, in 1938. He began his career singing with a doo-wop group, the Serenaders, in the mid-1950s. With budding talents not only as a singer but also as a songwriter and pianist, he was discovered by Berry Gordy while Johnson performed at a carnival. Gordy had already decided to form his first record label, Tamla, and Johnson's recording of their song "Come to Me" was the label's first single, released in May 1959. The fledgling label did not have national distribution, so the song was released by United Artists. It reached number 30 on the Billboard Hot 100 chart. Johnson went on to co-write another four songs with Gordy. After he issued the first release for the Tamla (Motown) label, Johnson was signed by United Artists. He released three albums and several singles for UA but continued to record in Motown's homegrown studios at Hitsville USA. Between 1959 and 1961, Marv Johnson issued nine Billboard Hot 100 singles, including two Top 10s. The first of them was "You Got What It Takes", which reached number 10 in the US and number 7 in the UK Singles Chart. It sold over one million copies and was awarded a gold disc. In the United Kingdom, "You Got What It Takes" reached number 7 in 1960, and both "I Love the Way You Love" and "Ain't Gonna Be That Way" made the UK chart. "I Love the Way You Love" reached number 9. Johnson had his final US Top 40 single in 1960 with "(You've Got To) Move Two Mountains". It also sold a million copies, giving him his second gold disc.
Marv Johnson had many hits in Australia, with a total of eight Top 40 hits, including three chart-toppers. "Come to Me" was released in Australia on EMI's London Records (as were most of his Australian releases) and reached number 16 on the 2UE Top 40 in Sydney. "You Got What It Takes" was his biggest Australian hit, topping the national charts for over 16 weeks in 1960. After "I Love The Way You Love" became a national Top 10 hit in mid-1960, Johnson flew to Australia to meet the entrepreneur Lee Gordon, the creator of the radio program Big Show, and performed "Twist It Up" on the September Big Show. At the top of the bill were Bobby Rydell, Chubby Checker, and James Darren with Jackie Wilson, Johnson, and Barry Mann. They were supported by Johnny O'Keefe, the Delltones and Col Joye. Johnson's songs "Happy Days" and "Merry-Go-Round" (both written by Berry Gordy) were his last chart successes for the United Artists label. Although they did not reach the US Top 40, they performed well on the R&B charts, peaking at number 7 and number 26, respectively, in 1961. Further significant chart action proved elusive, and his contract with United Artists was eventually dropped. He then re-signed with Motown in 1964, writing and producing as well as recording. "Why Do You Want to Let Me Go" was his first Motown single after he rejoined the company, released by Motown's Gordy subsidiary in May 1965. Johnson's final US chart appearance was "I Miss You Baby (How I Miss You)", which was a minor hit, reaching number 39 on the R&B chart in April 1966. His next release, "I'll Pick a Rose for My Rose", issued in 1968, failed to chart; it was his last American single.
In the UK, however, "I'll Pick a Rose" became a hit after it reached the number 10 in early 1969, thanks to its popularity from the Northern soul scene. Motown dug into its vaults for tracks to create an album for the British market, I'll Pick a Rose for My Rose, released by Tamla Motown in 1969, which contained many of Johnson's songs recorded since he had signed there in the mid-1960s, including "Why Do You Want to Let Me Go", "I'm Not a Plaything" and "I Miss You Baby (How I Miss You)". The latter was also reissued as a single by Tamla Motown and was a hit in Britain, reaching number 25 on the UK charts in November 1969. He also toured the UK with Martha Reeves & the Vandellas. Marv Johnson remained with Motown, working on sales and promotion, in the 1970s. He also wrote songs for Tyrone Davis and Johnnie Taylor. He co-wrote the Dells' R&B hit "Give Your Baby a Standing Ovation", which peaked at number 3 on the R&B chart and number 34 on the Hot 100 in 1973. Johnson continued to write songs at Motown way into the 1970s. He eventually separated from the label. Johnson continued singing into the 1990s, releasing a solo album on the London-based Motorcity Records label, owned by Northern Soul DJ and Motown lover Ian Levine. Johnson was one of the first and, according to Levine, one of "the most loyal and the most grateful" of all the former Motown artists he recorded. Two singles were released, "By Hook or by Crook" in 1988 and "Run Like a Rabbit" in 1989. Marv Johnson died of a stroke on 16 May 1993, in Columbia, South Carolina, at the age of 54.
Born
October, 15, 1938
USA
Detroit, Michigan
Died
May, 16, 1993
USA
Columbia, South Carolina
Cause of Death
Cemetery
Woodlawn Cemetery
Detroit, Michigan
USA
580 profile views