Marilyn Burns
(Marilyn Burns)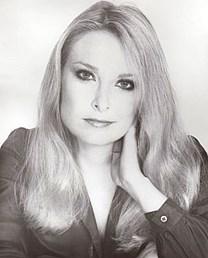 Marilyn Burns
Marilyn Burns (May 7, 1949 – August 5, 2014) was an American actress, best known for her roles in Tobe Hooper's cult horror films The Texas Chain Saw Massacre (1974), and Eaten Alive (1977). She is also known for portraying Linda Kasabian in the three-time Emmy-nominated miniseries Helter Skelter (1976).
Early life and career
Burns was born in Erie, Pennsylvania in 1949, and raised in Houston, Texas. In seventh grade, she appeared in a musical production of A Midsummer Night's Dream. In 1970, she made her first film appearance in the Robert Altman movie Brewster McCloud (1970). Burns attended the University of Texas at Austin and graduated from there with a degree in Drama in 1971. Burns was cast in Lovin' Molly (1974), but was replaced by Susan Sarandon. Burns stayed on as a stand-in for Sarandon and Blythe Danner.
She also had a small part in George Roy Hill's The Great Waldo Pepper (1975), where she helped cast some of the film's extras.
Horror roles
In Tobe Hooper's The Texas Chain Saw Massacre, Burns, in her first lead role, played Sally Hardesty, a teenager who travels with her brother and some friends to the cemetery where her grandfather is buried to investigate reports of grave vandalism, and then encounters an insane, murderous family including the chainsaw-wielding Leatherface. The film was a massive hit, becoming one of the most successful independent films ever at the time.
Other works
In 1976, Burns had a role in the television miniseries Helter Skelter about the real-life trial of Charles Manson and several others. In the series, she played Linda Kasabian, a member of the Manson Family who was granted immunity in exchange for her testimony against the defendants. The miniseries was nominated for three Emmy awards.
Recalling her memories of working on Helter Skelter, Burns said: "It was a great experience. But nobody really wanted to touch it [due to the subject matter]. It was like, 'Who wants to be in that picture? Who's actually gonna do that picture?'"
Burns had a few roles in the 1980s (Kiss Daddy Goodbye (1981), Future-Kill (1985)) and had an uncredited cameo as her character from the original film, Sally Hardesty, in Texas Chainsaw Massacre: The Next Generation (1994). Burns also made a cameo appearance, playing Verna Carson, in the sequel Texas Chainsaw 3D, which was released on January 4, 2013. However aside from these roles and occasional appearances at Horror conventions Burns lived a relatively quiet life out of the spotlight in the Houston area during her later years.
Death
Burns was found dead by family members at her Houston, Texas home. She was 65.
Born
May, 07, 1949
Erie, Pennsylvania
Died
August, 04, 2014
Houston, Texas
Cause of Death
died of a heart attack in her sleep
Other
16807 profile views