Marguerite de La Motte
(Marguerite de La Motte)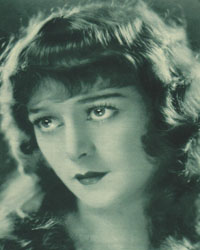 Marguerite de La Motte
The actress Marguerite de la Motte made an education as a dancer, among others she was also taught by the great ballet dancer Anna Pavlova.
She already joined the film business in 1918 and in her first movie she already appeared at Douglas Fairbanks' side in "Arizona" (18). Together with Fairbanks she made more movies as a leading actress in the next years which were very popular.
After the successful start followed other productions with "Josselyn's Wife" (19) and "The Pagan God" (19).
The 20s marked the height of her career and Marguerite de la Motte impersonated numerous roles in some blockbusters of those years.
To these movies belong "The Mark of Zorro" (20), "The Nut" (21), "The Three Musketeers" (21), "Shadows" (22), "A Man of Action" (23), "Desire" (23), "Richard the Lion-Hearted" (23), "Those Who Dare" (24), "Fifth Avenue" (26), "The Last Frontier" (26), "The Kid Sister" (27) and "The Iron Mask" (29).
She shared the same fate with many other actors and actresses who did not manage the transfer from the silent movie era to the talkies successfully.
She only got offered few smaller rolles in productions like "Shadow Ranch" (30), "A Woman's Man" (34), "The Man Who Returned to Life" (42) and "Overland Mail" (42).
Marguerite de la Motte had to cope with some stroke of fates personally.
At the age of 16 she lost her parents in a car accident – her film career barely started at this time. Her producer at that time – J.L. Frothingham – looked after her and her younger brother after this incident.
In 1926 she lost her best friend the actress Barbara La Marr. She died of tuberculosis at the age of only 29.
In 1936 her husband the actor John Bowers committed suicide by drowning after 12 years of marriage because his film career ended abruptly with the event of the sound film.
Marguerite de la Motte died in 1950 at the age of only 48 of cerebral thrombosis.
Born
June, 22, 1902
Duluth, Minnesota
Died
March, 10, 1950
San Francisco, California
Cause of Death
Cemetery
Olivet Memorial Park
Colma, California
2850 profile views