Margaret Brown
(Margaret Tobin)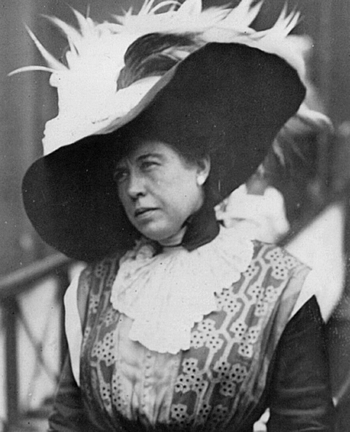 Margaret Tobin was born in a two-room cottage, near the Mississippi River in Hannibal, Missouri, on what is now known as Denkler's alley. Her parents were Irish Catholic immigrants John Tobin (1823–1899) and Johanna Tobin (1825–1905); her siblings were Daniel Tobin (born 1863), Michael Tobin (born 1866), William Tobin (born 1869), and Helen Tobin (born 1871). Brown also had two half-sisters: Catherine Bridget Tobin (born 1856), by her father's first marriage, and Mary Ann Collins (born 1857), by her mother's first marriage. Both of Margaret's parents had been widowed young. At age 18, Margaret relocated to Leadville, Colorado, with her siblings Daniel Tobin, Mary Ann Collins Landrigan, and Mary Ann's husband John Landrigan; Margaret and her brother Daniel shared a two-room log cabin, and she found a job in a department store. In Leadville, she met and married James Joseph Brown (1854–1922), nicknamed "J.J.", an enterprising, self-educated man. He wasn't a rich man, but Margaret Brown married J.J. for love. The Brown family acquired great wealth when in 1893 J.J.'s mining engineering efforts proved instrumental in the production of a substantial ore seam at the Little Jonny Mine of his employers, Ibex Mining Company, and he was awarded 12,500 shares of stock and a seat on the board. In Leadville, Margaret helped by working in soup kitchens to assist miners' families. In 1894, the Browns bought a $30,000 Victorian mansion in Denver, Colorado, and in 1897, they built a summer house, Avoca Lodge in Southwest Denver near Bear Creek, which gave the family more social opportunities. Margaret became a charter member of the Denver Woman's Club, whose mission was the improvement of women's lives by continuing education and philanthropy. Adjusting to the trappings of a society lady, Brown became well-immersed in the arts and fluent in French, German, Italian, and Russian. Brown co-founded a branch in Denver of the Alliance Française to promote her love of French culture.
After 23 years of marriage, Margaret Brown and J.J. privately signed a separation agreement in 1909. Although they never reconciled, they continued to communicate and cared for each other throughout their lives. The agreement gave Margaret a cash settlement, and she maintained possession of the house on Pennsylvania Street in Denver and the summer house, Avoca Lodge in Southwest Denver, near Bear Creek. She also received a $700 monthly allowance (equivalent to $18,467 today) to continue her travels and social work. Brown assisted in fundraising for Denver's Cathedral of the Immaculate Conception, which was completed in 1911. She also worked with Judge Ben Lindsey to help destitute children and establish the United States' first juvenile court, which helped form the basis of the modern U.S. juvenile courts system. Margaret Brown ran for Senate in 1914 but ended her campaign to return to France to work with the American Committee for Devastated France during WWI. Margaret Brown was conveyed to the passenger liner RMS Titanic as a first class passenger aboard the tender SS Nomadic at Cherbourg, France. Some of the other first class passengers disliked her because she was "new money".
The Titanic sank early on April 15, 1912, at around 2:20 a.m., after striking an iceberg at around 11:40 the night before. Brown helped others board the lifeboats but was finally persuaded to leave the ship in Lifeboat No. 6. Margaret Brown was later called "The Unsinkable Molly Brown" by authors because she helped in the ship's evacuation, taking an oar herself in her lifeboat and urging that the lifeboat go back and save more people. Her urgings were met with opposition from Quartermaster Robert Hichens, the crewman in charge of Lifeboat 6. Hichens was fearful that if they went back, the lifeboat would either be pulled down due to suction or the people in the water would swamp the boat in an effort to get inside. Sources vary as to whether or not the boat went back and if they found anyone alive if they did, but Brown's efforts sealed her place in history, nevertheless. At the time of J.J. Brown's death on September 5, 1922, Margaret told newspapers, "I've never met a finer, bigger, more worthwhile man than J.J. Brown." J.J. died intestate, and five years of disputation between Margaret and her two children were required to finally settle the estate. Due to their lavish spending, J.J. left an estate valued at only $238,000, equal to $3,370,326 today. Maggie was to receive $20,000 in cash and securities (equal to $283,221 today), and the interest on a $100,000 trust fund (equal to $1,416,103 today) in her name. $118,000 was to be divided between her two children, who each received a $59,000 (equal to $835,501 today) trust fund. A court case against Catherine and Lawrence was settled privately, and Margaret and her children were reconciled at the time of Margaret's death in 1932.
Margaret's fame as a well-known Titanic survivor helped her promote the issues she felt strongly about: the rights of workers and women, education and literacy for children, historic preservation, and commemoration of the bravery and chivalry displayed by the men aboard the Titanic. During World War I in France, she worked with the American Committee for Devastated France to rebuild areas behind the front line, and helped wounded French and American soldiers. She was awarded the French Légion d'Honneur for her good citizenship, activism, and philanthropy in America. During the last years of her life, Margaret Brown was an actress. Margaret Brown died in her sleep at 10:55 p.m. on October 26, 1932 (during the Great Depression) at the Barbizon Hotel in New York City, New York. Subsequent autopsy revealed a brain tumor. She is buried along with J.J. in the Cemetery of the Holy Rood in Westbury, New York.
Born
July, 18, 1867
USA
Hannibal, Missouri
Died
October, 26, 1932
USA
New York, New York
Cause of Death
Cemetery
Cemetery of the Holy Rood
Westbury, New York
USA
1471 profile views