Marc Hunter
(Marc Alexander Hunter)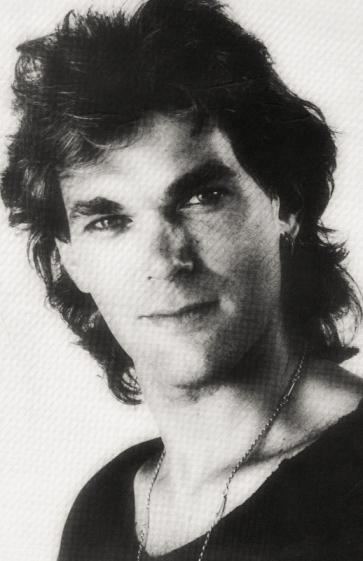 Born in Taumarunui, Marc Hunter joined Dragon in 1974 and the band recorded two albums of progressive rock for Vertigo Records. The band moved to Sydney, Australia, in 1975. After suffering the heroin-related death of drummer Neil Storey, Dragon became a pop-rock act and went on to become one of Australia's biggest-selling bands, scoring a number of hit singles and successful albums, most notably 1978's O Zambezi. In the meantime, Hunter developed a serious heroin addiction. Recklessly outspoken and volatile on-stage, during the band's 1978 United States tour supporting Johnny Winter he called the audience "faggots" at a show in Texas. The following year, he was fired from the band. Marc Hunter bounced back immediately with his 1979 solo album Fiji Bitter featuring the hit single "Island Nights". Two years later the album Big City Talk and single of the same name were also hits and in 1982 Dragon reformed for a tour, deciding to stay together when the single "Rain" became a hit. The 1984 album Body and the Beat was a big hit across Australia and New Zealand and the title track of Hunter's solo album Communication (1985) was also a moderate hit. While on a break between Dragon tours (during which Hunter's former bandmate Paul Hewson died unexpectedly in January 1985), Hunter joined the Party Boys for a sold-out national tour, recording the album You Need Professional Help.
Dragon split-up once again in 1988 but the break was short-lived and the band was touring again by mid-1989. Marc Hunter and the band continued a mid-level career throughout the '90s with something of an AOR sound but the singer's years of hard living caught up with him and he was diagnosed with throat cancer in 1997 and could no longer perform or tour. Friends immediately rallied round him and Renee Geyer organised a benefit concert to raise money for his treatment and provide for his children. The concert, Night Of The Hunter, was held in February 1998 at the Palais Theatre in St Kilda in Melbourne. It featured leading artists performing classic Dragon songs: "Are You Old Enough" by Tex Perkins and friends, Chris Wilson singing "O Zambezi", Paul Kelly and Renee Geyer singing a duet of "I'm Still In Love With You", Snout performing "Rain" and Men at Work's Colin Hay performing a new song he wrote in Marc's honor. The finale, "April Sun In Cuba" was performed by John Farnham and his band, with Todd on bass. The house erupted when Renee Geyer led Marc onstage and he joined in his signature tune for what proved to be his very last stage appearance.
Another benefit was staged soon after in Sydney, and the Good Vibrations concert proved to be an even more memorable event. The performers included Glenn Shorrock, James Reyne, Ross Wilson, Todd Hunter, Alan Mansfield, Robert Taylor and Tommy Emmanuel, and a host of other Oz music legends – Men At Work regrouped for the first time in a decade to perform, and the remaining members of INXS performed live for the first time since the death of their lead singer Michael Hutchence; Peter Garrett and Jimmy Barnes duetted on "Dreams of Ordinary Men" and "Speak No Evil". Marc Hunter could not attend – he was in Korea undergoing alternative therapy to prepare for a major throat operation, but he sent a letter that was read to the crowd. The concert was taped and a 2-CD set was rush-released. For the last few months of his life, Hunter underwent various forms of treatment including several alternative medicine remedies but none were successful and he died in Berry near Kiama on 17 July 1998.
Born
September, 07, 1953
Taumarunui, New Zealand
Died
July, 17, 1998
Australia
Berry, New South Wales
Cause of Death
Cemetery
Gerringong Cemetery
Gerringong, New South Wales
Australia
2881 profile views