Mahasti Dadebala
(Mahasti Dadebala)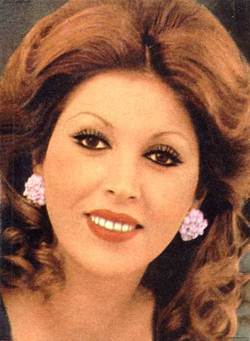 Mahasti (November 16, 1946 – June 25, 2007) was an Iranian singer who was recognized as the "Banooye Golhaa va Delha" (Lady of hearts & flowers). She was the younger sister of another popular Iranian female singer, Hayedeh. Mahasti's voice was discovered by maestro Parviz Yahaghi, a distinguished Iranian composer and violinist. She was amongst a rare group of singers who "started" their careers on the prestigious Persian traditional music radio program 'Gol hâ ye Rangârang'( گلهای رنگارنگ), in 1963 with the song "Ân ke Delam Râ Borde Xodâyâ"(Persian -آنكه دلم را برده خدایا) composed and arranged by maestro Parviz Yahaghi with lyrics from Bijan Taraghi. She has worked with some of the most famous Iranian composers, including Parviz Yahaghi, Habibollah Badiei, Homayoon Khorram, Asadollah Malek, Anooshiravan Rohani, Jahanbakhsh Pazooki, Hasan Shamaeizadeh, Mohammad Heidari, Jamshid Sheibani, Sadegh Nojooki, and Manoochehr Cheshmazar as well as some younger composers such as Bijan Mortazavi, Faramarz Asef, Mehrdad Asemani, and Shadmehr Aghili.
In the beginning, her family was reluctant to allow her to pursue a career in entertainment because it was not appreciated by Islam for women at the time in Iran. However, Mahasti overcame this stigma by providing Iran with a new image for women within the entertainment industry. She was an image of a "gentle-woman", a lady with great manners. Her enormous success in music opened the way for many other women, including her older sister, Hayedeh, who started her work about 4 years after Mahasti. The two sisters made tremendous contributions to improving the image of female singers in Iran and in making the transition of Iranian music from where it was then, to where it is now.
Mahasti's career was remarkable. In 2005, she was awarded the Persian Female Pop-Classic Vocalist of Excellence by the World Academy of Arts, Literature and Media (formerly Persian Academy Awards) for over 40 years of top performance in Persian pop music. She sang more than 400 songs, contributed to more than 200 music albums with other Persian singers, and produced more than 35 music albums in which she was the only singer. In her albums she has worked with several other singers, including Hayedeh (her sister), Sattar, Akbar Golpaygani (Golpa), Iraj (Hossein Khajeh Amiri), Mahmoodi Khansari, Aref, Moein, Shahram Solati, Faramarz Asef, Homeyra, Hassan Shamaizadeh, and Sadegh Nojooki.
Mahsati's parents got divorced and got married to other people. When she wanted to pursue a career of singing her parents weren't happy because of society's look upon female singers at the time. Mahasti married Kouros Nazemiyan and gave birth to her only child, Sahar. Mahasti and her family lived in Abadan for several years, finally moving back to Tehran. Her marriage with Nazemiyan ultimately ended in divorce. Nazemiyan was executed by the Revolutionary Court of the new Islamic Republic shortly after revolution. Several years later she re-married to Bahram Sanandaji, owner of a shoe factory, however their marriage also ended  In 1978, Just before the Iranian Revolution she emigrated to the United Kingdom and then to the United States in 1981 where she lived thereafter.
In March 2007, Mahasti publicly announced that she had been battling colon cancer for four years. She hoped that her experience would raise awareness within the Iranian community regarding cancer and the significance of constant physical examinations. She was then living in Santa Rosa, California with her daughter, Sahar, her husband, Naser, and their two children, Natasha and Natalie, her only grandchildren. She died at 7:52 AM on June 25, 2007 in Santa Rosa.  Mahasti was interred at the Westwood Village Memorial Park Cemetery in Westwood, California on June 29, 2007 the same cemetery where her sister Hayedeh was also buried. Her funeral was broadcast live on Persian Broadcasting Company "Tapesh" and was attended by many Persian celebrities and stars and other artists including the mayor of Beverly Hills Jimmy Delshad and designer Bijan Pakzad.
Born
November, 16, 1946
Tehran, Iran
Died
June, 25, 2007
USA
Santa Rosa, California
Cemetery
Westwood Memorial Park
Los Angeles, California
USA
17292 profile views