Magda Gabor
(Magda Gabor)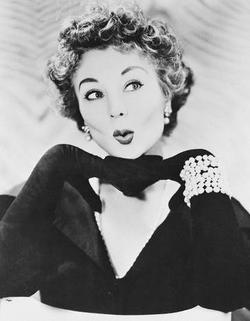 Magda Gabor
The eldest daughter of a jeweler, Jolie (1896–1997), and a soldier, Vilmos Gábor (1884-1962), she was born in 1915 in Budapest. Of Jewish descent, she is listed in Hungary: Jewish Names from the Central Zionist Archives, under her first married name, as Magda Bychowsky. She stood 5'6″ tall with red hair and gray eyes.
During World War II, Gabor was reported to have been the fiancée of the Portuguese ambassador to Hungary, Carlos Sampaio Garrido; another source claims she was his mistress and another claims she was his aide. After she fled to Portugal in 1944, following the Nazi occupation of Hungary, and, with Sampaio's assistance, she was reportedly the mistress of a Spanish nobleman, José Luis de Vilallonga. Gabor arrived in the United States in February 1946, from Natal, Brazil. Within a year of her arrival she married an American citizen, William Rankin, and remained in the country.
Her career as a performer began before her sisters and she came to America with their mother Jolie. She appeared in two films in 1937. "Mai lányok" and "Lenke" also known as "Today's Girls." When the three sisters, Zsa Zsa, Eva, Magda and their mother were first in New York City they all set about forming the image of "professional celebrity" and paying for as little as possible themselves. The nordstrom Sisters and others would remark on the toll charges from telephone calls made during their visits. Her roles in this country were mainly playing herself. These included the first episode of "The Colgate Comedy Hour" (1950), "V.I.P.-Schaukel" (1971), "The People vs. Zsa Zsa Gabor (1991). She married the actor George Sanders in 1970. He had earlier been one of Zsa Zsa's nine husbands (1942).
Born
June, 11, 1915
Budapest, Hungary
Died
June, 06, 1997
Palm Springs, California
Cemetery
Desert Memorial Park
Cathedral City, California
18242 profile views