Mae Young
(Johnnie Mae Young)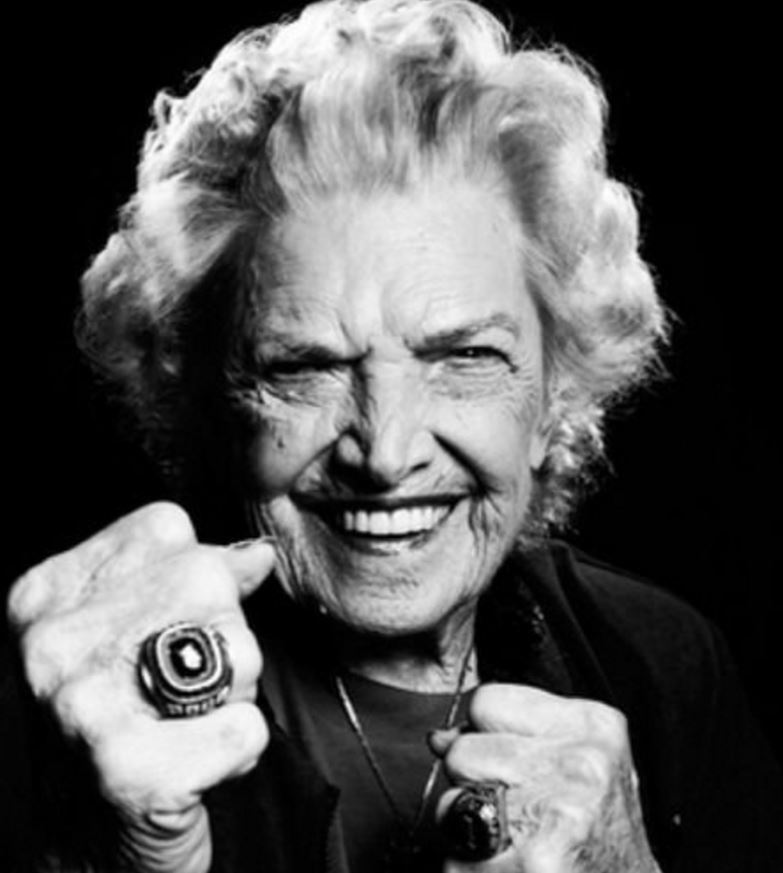 Mae Young
Mae Young — make that the Great Mae Young — who pulled hair and took cheap shots, who preferred actually fighting to pretending, who was, by her own account and that of many other female wrestlers, the greatest and dirtiest of them all, died on Tuesday in Columbia, S.C. She was 90, and her last round in the ring was in 2010.
Her death was confirmed by World Wrestling Entertainment.
"She just was a rough, tough broad," Ella Waldek, another early wrestler, who died last year, once put it.
Stories of her fierceness followed Ms. Young into her first professional match, in 1939. She had learned to wrestle with boys on her high school team in Oklahoma, and played football with them, too.
In professional wrestling, there are baby faces and heels, and she never doubted which one she would be.
"Anybody can be a baby face, what we call a clean wrestler," she said in"Lipstick & Dynamite: The First Ladies of Wrestling," a 2004 documentary. "They don't have to do nothing. It's the heel that carries the whole show. I've always been a heel, and I wouldn't be anything else but."
Before thongs and silicone and spray tans made women's wrestling the overtly sexualized spectacle now orchestrated by W.W.E., Ms. Young was among the most famous in a colorful cast of women who first rose to prominence in the 1940s, in part because World War II reduced the number of men who wrestled professionally. They were known as lady wrestlers, and many people found them hard not to watch.
"When I first started wrestling professionally, the men didn't like the girls," Ms. Young said, "because we would go out and steal the show."
Crowds loved to hate her. Organizers sometimes shielded the ring with chicken wire to help protect her from the rotten eggs and vegetables people would throw. Other wrestlers were intimidated by her techniques and her titles.
By the late 1960s, she had become the National Wrestling Alliance's first national women's champion. In the late 1990s, W.W.E. hired her and her longtime friend Lillian Ellison, better known as the Fabulous Moolah, whom she had trained.
Ms. Young fought much younger wrestlers and starred in campy skits with young male wrestlers that suggested that her prowess went beyond the ring. Some of her older opponents said the work tainted the legacy of women in wrestling. Ms. Young paid no attention.
"This is a business that you have to love, and if you love it you live it," she said in "Lipstick & Dynamite," which was written and directed by Ruth Leitman. "You move along with it. You grow along with the entertainment as it grows."
In 2000, she won the W.W.E.'s Miss Royal Rumble Bikini Contest, defeating women 50 years younger after removing the top of her bathing suit. In 2004, she was inducted into the Professional Wrestling Hall of Fame. In 2008, she was elected to the W.W.E. Hall of Fame.
Mary Ann Kostecki, an early wrestler who went by the name Penny Banner, recalled meeting Ms. Young.
"She had men's shoes on, men's pants on, with the zipper up the front, a cigar hanging out of her mouth," Ms. Kostecki said. "Back in 1954, you didn't do that."
Johnnie Mae Young was born on March 12, 1923, in Sand Springs, Okla., the youngest of eight children. Her father left the family when she was young. By the 1940s she was traveling internationally as a professional wrestler, and she spent many years working with Mildred Burke, another prominent wrestler and promoter.
Information on survivors was not immediately available. For several decades, Ms. Young lived with Ms. Ellison and other older wrestlers at a Columbia estate where Ms. Ellison, who was also a successful promoter, trained male and female wrestlers. Ms. Ellison died in 2007.
A citation included with Ms. Young's entry into the Professional Wrestling Hall of Fame quotes an article from The Daily Mail of Charleston, W.Va, on July 22, 1941, about a match Ms. Young wrestled the night before.
"Mae Young, 18-year-old wrestler, headed for Atlantic City Tuesday to fill a mat engagement with boos still ringing in her ears following her Armory match with Ann LaVerne Monday night in the semifinal of the American Legion bill," the article said. "After Miss LaVerne, 20-year-old Croatian girl with a cauliflower ear, had annexed the opening fall in 7:24, her 180-pound opponent ran amok. Miss Young choked Miss LaVerne to win the second fall in 6:03 and got so unmanageable in the third, she was disqualified by referee Laverne Stokes in 2:46."
Born
March, 12, 1923
Sand Springs, Oklahoma
Died
January, 14, 2014
Columbia, South Carolina
Cause of Death
Cemetery
Greenlawn Memorial Park
Columbia, South Carolina
2533 profile views