Ma Rainey
(Gertrude Malissa Nix Pridgett)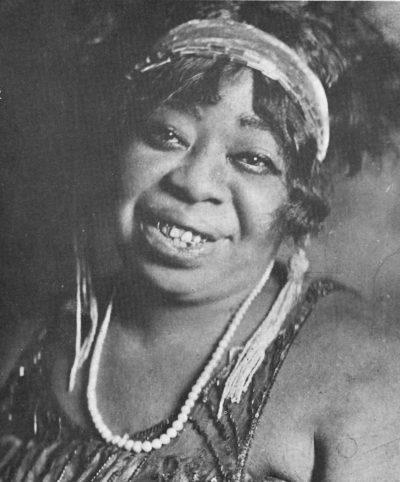 Pridgett claimed to have been born on April 26, 1886 (beginning with the 1910 census, taken April 25, 1910), in Columbus, Georgia. However, the 1900 census indicates she was born in September 1882 in Alabama, and researchers Bob Eagle and Eric LeBlanc suggest that her birthplace was in Russell County, Alabama. She was the second of five children of Thomas and Ella (née Allen) Pridgett, from Alabama. She had at least two brothers and a sister, Malissa, with whom Gertrude was later confused by some writers. Ma Rainey began her career as a performer at a talent show in Columbus, Georgia, when she was about 12 to 14 years old. A member of the First African Baptist Church, she began performing in black minstrel shows. She later claimed that she was first exposed to blues music around 1902. She formed the Alabama Fun Makers Company with her husband, Will Rainey, but in 1906 they both joined Pat Chappelle's much larger and more popular Rabbit's Foot Company, in which they were billed together as "Black Face Song and Dance Comedians, Jubilee Singers [and] Cake Walkers". In 1910, she was described as "Mrs. Gertrude Rainey, our coon shouter". Ma Rainey continued with the Rabbit's Foot Company after it was taken over by a new owner, F. S. Wolcott, in 1912. Beginning in 1914, the Raineys were billed as Rainey and Rainey, Assassinators of the Blues. Wintering in New Orleans, she met numerous musicians, including Joe "King" Oliver, Louis Armstrong, Sidney Bechet and Pops Foster. As the popularity of blues music increased, she became well known. Around this time, she met Bessie Smith, a young blues singer who was also making a name for herself. A story later developed that Rainey kidnapped Smith, forced her join the Rabbit's Foot Minstrels, and taught her to sing the blues; the story was disputed by Smith's sister-in-law Maud Smith.
From the late 1910s, there was an increasing demand for recordings by black musicians. In 1920, Mamie Smith was the first black woman to be recorded. In 1923, Rainey was discovered by Paramount Records producer J. Mayo Williams. She signed a recording contract with Paramount, and in December she made her first eight recordings in Chicago, including "Bad Luck Blues", "Bo-Weevil Blues" and "Moonshine Blues". She made more than 100 other recordings over the next five years, which brought her fame beyond the South. Paramount marketed her extensively, calling her the "Mother of the Blues", the "Songbird of the South", the "Gold-Neck Woman of the Blues" and the "Paramount Wildcat". In 1924 Ma Rainey made some recordings with Louis Armstrong, including "Jelly Bean Blues", "Countin' the Blues" and "See, See Rider". In the same year she embarked on a tour of the Theater Owners Booking Association (TOBA) in the South and Midwest of the United States, singing for black and white audiences. She was accompanied by the bandleader and pianist Thomas Dorsey and the band he assembled, the Wildcats Jazz Band. They began their tour with an appearance in Chicago in April 1924 and continued, on and off, until 1928. Dorsey left the group in 1926 because of ill health and was replaced as pianist by Lillian Hardaway Henderson, the wife of Rainey's cornetist Fuller Henderson, who became the band's leader.
According to the website queerculturalcenter.org, the lyrics refer to an incident in 1925 in which Rainey was "arrested for taking part in an orgy at [her] home involving women in her chorus." "Prove It on Me" further alludes to presumed lesbian behavior: "It's true I wear a collar and a tie … Talk to the gals just like any old man." The political activist and scholar Angela Y. Davis noted that "'Prove It on Me' is a cultural precursor to the lesbian cultural movement of the 1970s, which began to crystallize around the performance and recording of lesbian-affirming songs." Towards the end of the 1920s, live vaudeville went into decline, being replaced by radio and recordings. Ma Rainey's career was not immediately affected; she continued recording for Paramount and earned enough money from touring to buy a bus with her name on it. In 1928, she worked with Dorsey again and recorded 20 songs, before Paramount terminated her contract. Her style of blues was no longer considered fashionable by the label. She died of a heart attack in 1939, at the age of 53, in Rome, Georgia.
Born
April, 26, 1886
USA
Columbus, Georgia
Died
December, 22, 1939
USA
Rome, Georgia
Cause of Death
Cemetery
Porterdale Cemetery
Columbus, Georgia
USA
1153 profile views