Lynn Anderson
(Lynn Rene Anderson)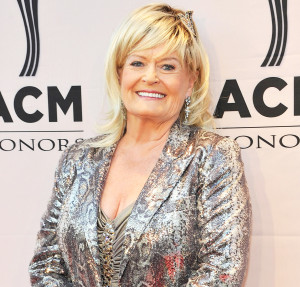 Lynn Anderson
Anderson was born September 26th, 1947, in Grand Forks, North Dakota, to songwriters Casey and Liz Anderson, the latter of whom was a recording artist and writer, penning Merle Haggard's "I Am a Lonesome Fugitive" and "(My Friends Are Gonna Be) Strangers." Raised in Fair Oaks, California, Anderson frequently entered horse shows as a youngster, earning more than 700 trophies. In 1966, she was crowned California Horse Show Queen.
As a teenager she often performed on the Country Caravan TV series and in 1966, Anderson signed a deal with Nashville-based Chart Records after accompanying her parents to Music City for the annual Disc Jockey Convention. Chart label head Slim Williamson overheard Merle Haggard singing with the younger Anderson and offered the chance for her to record. Her first singles that same year were duets with singer Jerry Lane, but they failed to chart. Her first solo hit, "Ride, Ride, Ride," and two subsequent singles were penned by her mother, with "If I Kiss You (Will You Go Away)," reaching the Top Five.
In 1967, Anderson also began appearing on ABC's Lawrence Welk Show and toured with the bandleader's Welk Road Show. In 1970, having signed with Columbia Records, the budding singer recorded the Joe South composition that would become her signature song. Her first Number One record on the country chart, "Rose Garden" — also commonly called "(I Never Promised You a) Rose Garden" — reached Number Three on the pop chart and was a Top Five AC hit. The tune was also a chart-topper in Canada, Finland, Norway, Switzerland, Australia and New Zealand and a Top Five smash in the Netherlands, Austria and the U.K. The song's namesake album held the title of the best-selling country LP by a solo female artist from 1971 until Shania Twain broke its record in 1997.
"Rose Garden" earned Anderson a Grammy in 1971, the same year she was crowned CMA Female Vocalist of the Year, and has since been covered by Martina McBride, k.d. lang, Loretta Lynn, Kitty Wells, Glen Campbell and many others.
Anderson would take four more singles to the country-chart summit during her career. Her last significant hit was in 1984 with "You're Welcome to Tonight," a Top Ten duet with Gary Morris. In 1990, Anderson acted in the BBC Scotland drama, The Wreck on the Highway. Two years later, she released Cowboy's Sweetheart, an album that featured classic cowboy songs and included a duet with Emmylou Harris. Anderson's 2004 LP, The Bluegrass Sessions, earned her another Grammy nomination.
After 20 years in Taos, New Mexico, Anderson had recently returned to Nashville. She is survived by her father, three children—Lisa Sutton, Melissa Hempel and Gray Stream—four grandchildren and her partner Mentor Williams.
Born
September, 26, 1947
Grand Forks, North Dakota.
Died
July, 30, 2015
Nashville, Tennessee
Cause of Death
Cemetery
11448 profile views