Lyman Bostock
(Lyman Wesley Bostock)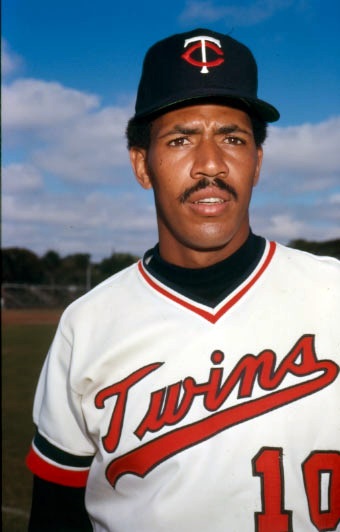 Lyman Bostock's minor league stops were in Charlotte in 1972, Orlando in 1973, and Tacoma in 1974. His batting averages for those years were .294, .313, and .333, respectively. He was promoted to the major leagues in April 1975, and batted .282 in 98 games for Minnesota (and .391 in 22 games for the AAA Tacoma Twins). A fine defensive center fielder, Bostock finished fourth in the tight American League batting race in 1976, his first full season in the majors. After finishing second in the league in batting in 1977 to Twins teammate Rod Carew, Bostock became one of baseball's earliest big-money free agents, and signed with the California Angels, owned by Gene Autry. Almost immediately, Bostock donated $10,000 to a church in his native Birmingham to rebuild its Sunday school. The 1978 season started off poorly for Bostock; he batted .150 for the month of April. Bostock met with the team's management and attempted to return his April salary, saying he had not earned it. The team refused, so Bostock announced he would donate his April salary to charity. Thousands of requests came in for the money, and Bostock reviewed each one of them, trying to determine who needed it the most. Ultimately he would recover his form, hitting .404 in June on the way to a .296 average for the season, just outside the top ten for the year.
Lyman Bostock was able to recover his hitting stroke, and as the 1978 season neared its conclusion, he had the highest batting average on the Angel ballclub. With a week remaining in the season, he went 2 for 4 with a walk in a Saturday afternoon game against the White Sox in Chicago, to raise his average to .296. Following the game, as he regularly did when in Chicago, Bostock visited his uncle, Thomas Turner, in nearby Gary, Indiana. After eating a meal with a group of relatives at Turner's home, Bostock and his uncle went to visit Joan Hawkins, a woman whom Bostock had tutored as a teenager, but had not seen for several years. After the visit, Turner agreed to give Hawkins and her sister, Barbara Smith, a ride to their cousin's house. Turner drove the vehicle, with Hawkins seated in the front passenger's seat. Bostock and Smith rode in the vehicle's back seat. Smith had been living with Hawkins while estranged from her husband, Leonard Smith. Unbeknownst to the group, Leonard Smith was outside Hawkins' home in his car and observed the group's departure in Turner's car. According to Smith, his wife was frequently unfaithful to him, and although he did not know Bostock, he would later say that upon seeing Bostock get into the back seat of the vehicle with his wife, he concluded that the two were having an affair. In fact, however, Bostock had only met the woman twenty minutes previously, when he and his uncle arrived at Hawkins' home.
As Turner's vehicle was stopped at a traffic signal at the intersection of 5th and Jackson streets, Smith's car pulled up alongside them. Smith leaned out of his vehicle and fired one bullet of a .410 caliber shotgun into the back seat of Turner's car, where Bostock and Barbara Smith were seated. Leonard Smith said that his lethal wrath was intended for his estranged wife; however, Lyman Bostock was seated between Barbara Smith and the position from which Leonard Smith was firing. Instead of striking her, the bullet struck Bostock in the head. He died two hours later at a Gary hospital.
Born
November, 22, 1950
USA
Birmingham, Alabama
Died
September, 23, 1978
USA
Gary, Indiana
Cause of Death
Cemetery
Inglewood Park Cemetery
Inglewood, California
USA
3781 profile views