Lucretia Garfield
(Lucretia Garfield)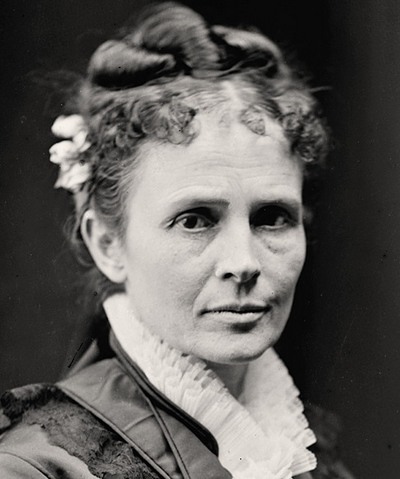 Born in Hiram, Ohio, the daughter of Zeb Rudolph, a farmer and co-founder of the Eclectic Institute at Hiram, and Arabella Mason-Rudolph, Lucretia "Crete" Rudolph was a devout member of the Churches of Christ. Her ancestry includes German, Welsh, English and Irish; Lucretia Garfield's paternal great-grandfather immigrated to Pennsylvania (in a part that is now Delaware) from Württemberg, Germany.
She first met James Garfield in 1849 when they were classmates at Geauga Seminary in Chester, Ohio, and followed him to the Eclectic Institute, where he began courting her. She was somewhat plain in appearance, but Garfield was attracted to her keen intellect and appetite for knowledge. While Garfield went on to Williams College, she taught school in Cleveland, Ohio and Bayou, Ohio. They had planned to marry on his graduation in 1856, but decided to postpone the wedding for a couple of years until he was earning more money.  Both James and Crete were 26 when they married on November 11, 1858 at the home of the bride's parents in Hiram. Although both were members of the churches of Christ, the nuptials were performed by Henry Hitchcock, a Presbyterian minister. The newlyweds did not take a honeymoon but instead set up housekeeping immediately in Hiram.
His service in the Union Army from 1861 to 1863 kept them apart. But after his first winter in Washington as a freshman Representative, the family remained together. With a home in the capital as well as one (Lawnfield) in Mentor, Ohio, they enjoyed a happy domestic life.  In Washington, D.C. they shared intellectual interests with congenial friends; she went with him to meetings of a locally celebrated literary society. They read together, made social calls together, dined with each other, and traveled in company until by 1880 they were as nearly inseparable as his career permitted.
Garfield's election to the presidency brought a cheerful family to the White House in 1881. Though Mrs. Garfield was not particularly interested in a First Lady's social duties, she was deeply conscientious and her genuine hospitality made her dinners and twice-weekly receptions enjoyable. At the age of 49 she was still a slender, graceful little woman with clear dark eyes, her brown hair beginning to show traces of silver.
As First Lady, Mrs. Garfield researched the history of the White House furnishings with a view to restoring it to its former glory, but she contracted malaria and was unable to pursue the project.  She was still a convalescent, at Elberon, a seaside resort in New Jersey, when her husband was shot by Charles Guiteau on July 2 at a railway station in Washington. The President was actually planning to take a train north to New Jersey that same day in order to meet his wife, before continuing on to a function at his former college in Massachusetts. The First Lady hurriedly returned to Washington by special train — "frail, fatigued, desperate," reported an eyewitness at the White House, "but firm and quiet and full of purpose to save." As her train raced south, it was speeding so fast that the engine broke a piston in Bowie, Maryland and nearly derailed. Mrs. Garfield was thrown from her seat, but not injured. After an anxious delay, she reached the White House and immediately went to her husband's bedside.
During the three months that the President fought for his life, her grief and devotion won the respect and sympathy of the country. On the night of Garfield's death, according to the doctor, she exclaimed, "Oh, why am I made to suffer this cruel wrong?" After his death and funeral, the bereaved family went home to their farm in northern Ohio. For another 36 years she led a strictly private, but busy and comfortable life, active in preserving the records of her husband's career. She created a wing to the home that became a presidential library of his papers.
She lived comfortably on a $350,000 trust fund raised for her and the Garfield children by financier Cyrus W. Field. She spent winters in South Pasadena, where she built a home designed by the celebrated architects Greene and Greene to whom she was distantly related. She died at her home in South Pasadena, California on March 14, 1918. Her casket was placed above ground beside the coffin of her husband in the lower level crypt of the presidential tomb at Lake View Cemetery in Cleveland, Ohio.
Born
April, 19, 1832
USA
Garrettsville, Ohio
Died
March, 14, 1918
USA
Pasadena, California
Cemetery
Lake View Cemetery
Cleveland, Ohio
USA
17338 profile views