Lloyd Bentsen
(Lloyd Millard Bentsen)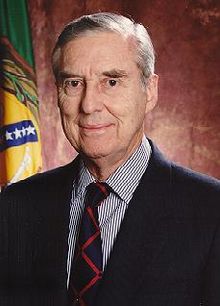 First elected in the Truman landslide of 1948, Lloyd Bentsen served three successive terms in the United States House of Representatives. With the South, including Texas, still mostly home to Yellow dog Democrats, winning the Democratic nomination was tantamount to election, and Bentsen was unopposed by Republicans in each of his three House campaigns. He became a protégé of Speaker of the House Sam Rayburn and developed a reputation as an excellent poker player. While sitting as a member of the House, Bentsen advocated using atomic weapons against North Korean cities if they did not withdraw north of the 38th parallel. In 1954, he declined to seek reelection and entered what was to become a prosperous career in business. Lloyd Bentsen upset incumbent Ralph Yarborough, a liberal icon, in a bruising primary campaign for the 1970 Texas Democratic Senatorial nomination. The campaign came in the wake of Yarborough's politically hazardous votes in favor of the landmark Civil Rights Act of 1964 and the Voting Rights Act of 1965 and his opposition to the Vietnam War. Bentsen made Yarborough's opposition to the war a major issue. His television advertising featured video images of rioting in the streets at the 1968 Democratic National Convention, implying that Yarborough was associated with the rioters. While this strategy was successful in defeating Yarborough, it caused long-term damage to Bentsen's relationship with liberals in his party.
Lloyd Bentsen's campaign and his reputation as a centrist Democrat served to alienate him not only from supporters of Ralph Yarborough, but from prominent national liberals, as well. Indeed, during the 1970 Senate race, the Keynesian economist John Kenneth Galbraith endorsed George H. W. Bush, arguing that if Bentsen were elected to the Senate, he would invariably become the face of a new, more moderate-to-conservative Texas Democratic Party and that the long-term interests of Texas liberalism demanded Bentsen's defeat. Nevertheless, later that year, Bentsen went on to win the general election against Congressman and future President Bush, whom Bentsen beat convincingly. Firmly ensconced in Washington, Bentsen was overwhelmingly re-elected to the Senate in 1976, 1982, and 1988. He defeated sitting Republican congressmen from safe House seats in all four of his Senate elections, including Bush in 1970. In 1976, he ended the career of Alan Steelman of Dallas. In 1982, he defeated James M. Collins of Dallas, who had first dispatched the strongly conservative State Senator Walter Mengden of Houston in the Republican primary. In 1988, he defeated Beau Boulter of Amarillo. Bentsen was also on the ballot as the Democratic vice presidential nominee that year; he could seek both offices under the 1960 "Johnson law" in Texas. Bentsen's early reputation as a conservative evolved over the years. His solid support for civil rights, the Equal Rights Amendment, environmental protection and preservation, and pro-choice policies was balanced by his endorsement of public school prayer, capital punishment, tax cuts, and deregulation of industry. While his record on social issues was progressive, he generally supported business interests in the arena of economic policy and swiftly rose to become a power to be reckoned with on the Senate Finance Committee. He came to be viewed as a moderate Democrat.
Appointed to Clinton's cabinet as Treasury Secretary, Lloyd Bentsen helped win crucial Republican votes to pass the North American Free Trade Agreement (NAFTA) and the Uruguay Round of the General Agreement on Tariffs and Trade (GATT). Bentsen also was pivotal in winning passage of the 1994 crime bill which banned assault rifles. After the resignation of Les Aspin in early 1994, Bentsen was seriously considered for the position of Secretary of Defense. This prospect, however, did not materialize and William Perry, then Deputy Secretary of Defense, was chosen to succeed Aspin. In early December 1994, Bentsen announced his resignation as Secretary of the Treasury. Before election day he had discussed with President Clinton that he was not prepared to stay in office until the end of Clinton's first term in 1997. He was succeeded in the position by Robert Rubin. In 1995, former British Prime Minister Margaret Thatcher said in an interview with Larry King when asked which Democrats she admired: "I like Lloyd Bentsen very much indeed, I was sad when he resigned. He's a real marvelous politician, a person of great dignity, a person we can look up to respect and like as well."
In 1998, Lloyd Bentsen suffered two strokes, which left him needing a wheelchair for mobility. In 1999 President Clinton awarded Bentsen the Presidential Medal of Freedom, one of the nation's highest honors given to civilians. He appeared in the summer of 2004 at the portrait unveilings at the White House of former President Bill Clinton and former First Lady Senator Hillary Clinton. Bentsen died on May 23, 2006, at his home in Houston at the age of 85. He was survived by his wife, the former Beryl Ann Longino, three children, and seven grandchildren. His memorial service was held on May 30 at the First Presbyterian Church of Houston, where Bentsen and his wife had been members for many years, and was presided by his then pastor, William Vanderbloemen. He is interred in Forest Park Lawndale Cemetery. Former president Bill Clinton, who was a close friend, delivered a eulogy.
Born
February, 11, 1921
USA
Mission, Texas
Died
May, 23, 2006
USA
Houston, Texas
Cemetery
Forest Park Cemetery
Houston, Texas
USA
3296 profile views