Linda Darnell
(Monetta Eloyse Darnall)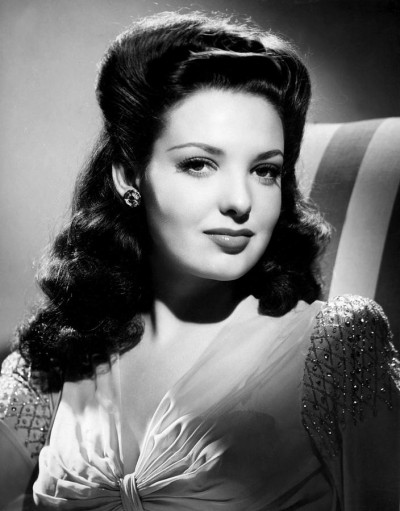 Monetta Eloyse Darnall was born in Dallas, Texas, as one of four children (excluding her mother's two children from an earlier marriage), to postal clerk Calvin Roy Darnall and the former Pearl Brown. She was the younger sister of Undeen (born March 1918) and the older sister of Monte Maloya (born 1929) and Calvin Roy, Jr. (born 1930). Her parents were not happily married, and she grew up as a shy and reserved girl in a house of domestic turmoil. Starting at an early age, her mother Pearl had big plans for Darnell in the entertainment industry. She believed that Linda was her only child with potential as an actress and ignored the rearing of her other children.  According to her siblings, Darnell enjoyed the limelight and shared her mother's dream. Darnell herself, though, once commented: "Mother really shoved me along, spotting me in one contest after another. I had no great talent, and I didn't want to be a movie star particularly. But Mother had always wanted it for herself, and I guess she attained it through me." One elocution teacher recalled: "[Darnell] didn't stand out particularly, except that she was so sweet and considerate. In her theater work she wasn't outstanding. But her mother was right behind her everywhere she went."
Unlike her husband, Pearl had a notorious reputation in the neighborhood of being "aggressive" or "downright mean". Despite some financial problems, Darnell insisted on having had a joyful childhood and loving parents. Darnell was a model by the age of 11 and was acting on the stage by the age of 13. She initially started modeling to save money for the household, and performed mostly in beauty contests.  Before leaving school for Hollywood, Darnell was a student at Sunset High School, which she entered in September 1937, majoring in Spanish and art. She did not have a lot in common with her peers and usually spent her time at home as a teen, working under the guidance of her mother. In 1936, she entered the Dallas Little Theater and was cast in the southwestern premiere of Murder in the Cathedral. The same year, she was hired as one of the hostesses at the Texas Centennial Exposition.  In November 1937, a talent scout for 20th Century Fox arrived in Dallas, looking for new faces. Encouraged by her mother, Darnell met him, and after a few months he invited her for a screen test in Hollywood. Arriving in California alongside Mary Healy and Dorris Bowdon in February 1938, Darnell was initially rejected by film studios and was sent home because she was declared "too young".
Although originally wanting to become an actress on the stage, Darnell was featured in a "Gateway to Hollywood" talent-search and initially landed a contract at RKO Pictures. There was no certainty, though, and she soon returned to Dallas. When 20th Century Fox offered her a part, Darnell wanted to accept, but RKO was unwilling to release her. Nevertheless, by age 15, she was signed to a contract at 20th Century Fox and moved to a small apartment in Hollywood all alone on April 5, 1939. With production beginning in April 1939, she was featured in her first film Hotel for Women (1939), which had newspapers immediately hailing her as the newest star of Hollywood. Loretta Young was originally assigned to play the role, but demanded a salary which the studio would not give her. Darryl F. Zanuck instead cast Darnell "because he felt that the name would advertise her beauty and suggest a Latin quality that matched her coloring."
Although only 15 at the time, Darnell posed as a 17-year-old and was listed as 19 years old by the studio. According to columnist Louella O. Parsons, Darnell was "so young, so immature and so naive in her ideas" and was very loyal to her boss, Darryl F. Zanuck. Her true age came out later in 1939, and she became one of the few actresses under the age of 16 to serve as leading ladies in films. While working on Hotel for Women, Darnell was cast alongside Henry Fonda and Claudette Colbert in Drums Along the Mohawk (1939) in June 1939. She was later replaced, because the studio felt her role was not important enough. In an interview during production of Hotel for Women, which lasted until June, Darnell admitted that movie making was not what she expected: "I'm learning what really hard work is. At home in Dallas I used to sprawl on the lawn and dream about the nice, easy time the screen stars must be having in Hollywood, but the last two months have taught me quite another story."
Since the beginning of her career at 20th Century Fox, Darnell had been very positive about her frequent co-star Tyrone Power. In a 1939 interview, she expressed her interest in starring opposite Power in Johnny Apollo (1940). Rationalizing why she was not cast, Darnell said: "It's a man's part and the girl's role is only incidental." Dorothy Lamour was cast instead. Nevertheless, Darnell had her way as she was assigned in the female lead opposite Power in the light romantic comedy Day-Time Wife (1939). Although the film received only slightly favorable reviews, Darnell's performance was received positively, with one critic saying: "Despite her apparent youth, [Darnell] turns in an outstanding performance when playing with popular players." Another critic wrote that "little Linda is not only a breath-taking eyeful but a splendid actress as well." Life magazine stated that Darnell appeared to be 22 and was "the most physically perfect girl in Hollywood". Following the film's release, she was cast in the drama comedy Star Dust in December 1939. The film was hailed as one of the "most original entertainment idea in years" and boosted Darnell's popularity, being nicknamed 'Hollywood's loveliest and most exciting star'. Variety continued: "Miss Darnell displays a wealth of youthful charm and personality that confirms studio efforts to build her to a draw personality." Her studio contract had been revised to allow Darnell to earn $200 a week.
After appearing in several small films, Darnell was cast in her first big-budget film in May 1940, appearing again opposite Tyrone Power in Brigham Young (1940), which was shot on location in mid-1940 and was regarded the most expensive film 20th Century Fox had yet produced. Darnell and Power were cast together for the second time due to the box office success of Day-Time Wife, and they became a highly publicized onscreen couple, which prompted Darryl F. Zanuck to add 18 more romantic scenes to Brigham Young. The film's director, Henry Hathaway, in later life had only slight memories of Darnell and recalled that "a sweeter girl never lived." By June 1940, shortly after completing Brigham Young, Darnell achieved stardom and earned "a weekly salary larger than most bank officials."
In the summer of 1940, Darnell began working on The Mark of Zorro (1940), in which she again co-starred as Power's sweetheart in a role for which Anne Baxter was previously considered. A big budget adventure film that was raved over by the critics, The Mark of Zorro was a box office sensation and did much to enhance Darnell's star status. Afterwards, she was paired with Henry Fonda for the first time in the western Chad Hanna (1940), her first Technicolor film. The film received only little attention, unlike Darnell's next film Blood and Sand (1941), which was shot on location in Mexico and in which she was re-teamed with Power. It was the first film for which she was widely critically acclaimed. Nevertheless, Darnell later claimed that her downfall began after Blood and Sand.
The studio was unable to find Darnell suitable roles. In late 1940, Fox chose her for the main role in Song of the Islands (1942), a Hawaiian musical film which eventually starred Betty Grable. After Blood and Sand, she was set to co-star with Claudette Colbert in Remember the Day (1941), but another actress was eventually cast. Meanwhile, she was considered for the female lead in Swamp Water (1941), but Anne Baxter was later assigned the role. Darnell was disappointed and felt rejected; she later said: "Right under your very nose someone else is brought in for that prize part you wanted so terribly." Months passed by without any work, and in August 1941 she was cast in a supporting role in the musical Rise and Shine (1941). The film was a setback in her career, and she was rejected for a later role because she refused to respond to Darryl F. Zanuck's advances. Instead, she contributed to the war effort, working for the Red Cross, selling war bonds, and she was a regular at the Hollywood Canteen.
Since Darnell was underage when she arrived in Hollywood, she was tutored on the sets. She planned on attending graduation day at Sunset High School, but she was excluded from it, and instead she graduated from University High School in 1941. Her work schedules prohibited her from enrolling in a university.  In 1940, during the shooting of Star Dust, Darnell for a short time went out with teen idol Mickey Rooney. Her first love was Jaime Jorba, a Mexican whom she met while still in high school. They met again during production of Blood and Sand, but they drifted apart when Jorba announced he could not marry a girl who was in the public eye. Starting at age 17, Darnell dated her publicity agent Alan Gordon, whom she allegedly married in a double wedding with Lana Turner and Joseph Stephen Crane on July 17, 1942. The report turned out to be false, and over the years Darnell became known as "filmland's most eligible bachelorette." Up to 1942, she dated Kay Kyser, Eddie Albert, George Montgomery and Jackie Cooper, among others. At one point, she was set to elope with talent agent Vic Orsatti, only to report later that she was "concentrating on [her] career."
Although a well-loved figure on the 20th Century Fox lot among the cast, crew and lot workers, it was reported that Darnell made only one good friend in Hollywood, actress-singer Ann Miller, whom she met at a Catalina Island benefit. Darnell was very negative about the Hollywood social scene, finding it "nauseating". During her stay in Hollywood, her relationship with her mother Pearl worsened, her mother being an unpopular figure on the lot due to her overbearing and possessive behavior. In 1940, Pearl accused her husband of having an incestuous relationship with Evelyn, one of her children, even though he was not Evelyn's biological father. Following an intense fight between her parents in 1942, Darnell left home with her younger sister Monte and never returned. In spite, Pearl turned to the press, which gained Darnell some bad publicity.  In 1942, Darnell was plagued with extortion letters from an unknown person threatening her with bodily harm unless $2,000 was paid immediately. The studio asked the FBI to protect the actress, and eventually a 17-year-old high school student was arrested for the crime.
On April 18, 1943, at age 19, Darnell eloped with 42-year-old cameraman Peverell Marley in Las Vegas. Darnell and Marley started seeing each other in 1940, and the press dismissed him as her "devoted friend and escort." Most friends and relatives disapproved of the marriage, including 20th Century Fox and her parents, and it was believed that Darnell looked at Marley more as a father figure than her romantic interest. Marley was a heavy drinker and introduced Darnell to alcohol in 1944, which eventually led to an addiction and weight problems. Neighbors and acquaintances recalled the drastic change she underwent in this period, becoming hardened and hot-tempered. In 1946, during production of Centennial Summer, she repeatedly met with Howard Hughes. Although she initially disregarded gossip of an affair, she fell in love with the womanizing millionaire and separated from Marley shortly after finishing My Darling Clementine. When Hughes announced that he had no desire to marry her, Darnell returned to her husband and cancelled divorce proceedings. Shortly after the reunion, her health worsened, caused by the tough production of Forever Amber (1947).
Because Darnell and Marley were unable to have children, they adopted a daughter in 1948, Charlotte Mildred "Lola" Marley (born January 5, 1948), the actress's only child. She also planned to adopt a boy within years, but nothing ever came of it. In mid-1948, she became romantically involved with Joseph L. Mankiewicz, the director of A Letter to Three Wives, and in July 1948, she filed for divorce. Mankiewicz, however, was unwilling to leave his wife for Darnell, and even though the affair would continue for six years, she returned to her husband. Whereas she called him the "great love of her life," Mankiewicz never acknowledged the affair; he only mentioned her to his biographer as a "marvelous girl with very terrifying personal problems." In 1949, Darnell went into psychotherapy for hostile emotions that she had been building since childhood. Darnell's romance with Mankiewicz influenced her personal life. When he left in late 1949 for on location shooting of All About Eve (1950), Darnell fell into a depression and almost committed suicide. She continued to occasionally meet with him until production of The Barefoot Contessa (1954) started.  On January 25, 1949, Darnell went to court to sue her former business manager Cy Tanner for fraud. She testified that he stole $7,250 from her between 1946 and 1947, and Tanner was eventually sent to prison. On July 19, 1950, it was reported that Darnell had separated from her husband. Marley offered a quiet settlement – without mention of Mankiewicz – for a payment of $125,000. She agreed, and she almost lost all of her money. When she filed for divorce from Marley in 1951, she accused her husband of cruelty, claiming he was "rude" and "critical" towards Darnell and her family. Following a five-minute hearing, Darnell was granted a divorce and custody of Charlotte, while Marley was to pay $75 a month for child support.
In her later life, she dated actor Dick Paxton and had an affair with Italian director Giuseppe Amato. She married brewery heir Philip Liebmann in February 1954. Due to a lack of physical attraction from her side, Darnell agreed that the marriage would be a business arrangement: she was to be his wife in name only, and in return, he supported her financially. After a while, she grew dissatisfied with her loveless marriage, and she detested her husband for allowing her to lash out at him, as well as cheapening her by buying her lavish presents. In response, Darnell resorted to charity work, opening facilities accommodating thirty girls in the neighborhood of Rome in 1955. Liebmann attempted to save the marriage by adopting a baby named Alfreda, but the marriage ended nevertheless on grounds of incompatibility, and Liebmann kept the girl.  Darnell was married to pilot Merle Roy Robertson from 1957 to 1963. In 1963, Darnell was granted a divorce from Robertson following an outburst in the courtroom, where she accused her third husband of fathering the baby of a Polish actress. She was promised a monthly alimony of $350 until July 15, 1964, and $250 until September 15, 1967.
Born
October, 16, 1923
USA
Dallas, Texas
Died
April, 10, 1965
USA
Chicago, Illinois
Cause of Death
burns sustained in house fire
13748 profile views