Lina Romay
(Rosa María Almirall Martínez)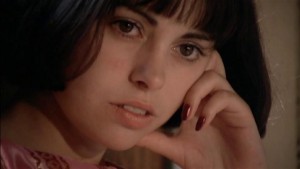 Lina Romay
Romay was born Rosa Maria Almirall on June 25, 1954, in Barcelona, Cataluna, Spain. Her cinematic pseudonym was taken from a singer/actress in mambo king Xavier Cugat's band in the 1940s. Following graduation from high school, Romay studied the arts, married actor/photographer Raymond Hardy (they later divorced), and began acting in stage productions. Lina first met infamous and prolific maverick Spanish independent filmmaker Jess Franco in the early 1970s. Romay and Franco eventually became a couple. Lina for a long time was Franco's common law wife until they ofiicially wed on April 23, 2008.
Lina made her film debut as a gypsy girl in The Erotic Rites of Frankenstein (1972). She had small parts in a few other Franco films before playing more substantial lead and co-starring roles (she acted in over 100 Franco films). Despite her lack of formal training, Lina nonetheless naturally projected an extremely brazen, earthy, and uninhibited screen presence that was both alluring and captivating in equal measure. In fact, her open, unabashed, and downright aggressive sexuality even led to her willing and enthusiastic participation in explicit scenes in hardcore porno fare. Lina's most memorable roles include the voracious Countess Irina Karlstein in Female Vampire (1975), brutalized innocent Maria in the sensationally sleazy Barbed Wire Dolls (1976), vicious top con Juana in the similarly scuzzy Wanda, the Wicked Warden (1977), especially inspired in a dual part in Die Marquise von Sade (1976) and bawdy prostitute Marika in the gloomy Jack the Ripper (1976).
Moreover, Romay posed for nude pictorials in such men's magazines as "Cinema X" and "Sex Stars System." In addition to acting, Lina also worked on a handful of films as a writer, director, producer, and assistant editor. In real life Lina was the total radical opposite of her wild and outrageous screen persona: she was a very quiet, soft-spoken, and self-effacing woman who usually dressed in frumpy clothes. Romay died from cancer at age 57 on February 15, 2012 in Malaga, Spain.
Born
June, 25, 1954
Barcelona, Spain
Died
February, 15, 2012
Málaga, Spain
Cause of Death
Cemetery
Other
Cremated, Ashes given to family or friend
11037 profile views