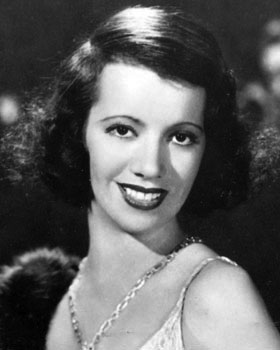 Lily Pons successfully made her operatic debut in the title role of Léo Delibes' Lakmé at Mulhouse in 1928 and went on to sing several coloratura roles in French provincial opera houses. She was discovered by the dramatic tenor/impresario Giovanni Zenatello, who took her to New York where she auditioned for Giulio Gatti-Casazza, the general manager of the Metropolitan Opera. The Met needed a star coloratura after the retirement of Amelita Galli-Curci in January, 1930. Gatti-Casazza engaged Pons immediately and she also signed a recording contract with RCA Victor. On January 3, 1931, Pons, unknown in the U.S., made an unheralded Met debut as Lucia in Donizetti's Lucia di Lammermoor and on that occasion the spelling of her first name was changed to "Lily". Her performance received tremendous acclaim. She became a star and inherited most of Galli-Curci's important coloratura roles. Her career after this point was primarily in the United States. She became a naturalized citizen of the United States in 1940. From 1938 to 1958, she was married to conductor André Kostelanetz. In 1955 they built a home in Palm Springs, California.
Lily Pons was a principal soprano at the Met for thirty years, appearing 300 times in ten roles from 1931 until 1960. Her most frequent performances were as Lucia (93 performances), Lakmé (50 performances), Gilda in Verdi's Rigoletto (49 performances), and Rosina in Rossini's The Barber of Seville (33 performances). She drew a record crowd of over 300,000 to Chicago's Grant Park Music Festival in 1939 for a free concert. In 1944, during World War II, Lily Pons canceled her fall and winter season in New York and instead toured with the USO, entertaining troops with her singing. Her husband Andre Kostelanetz directed a band composed of American soldiers as accompaniment to her voice. The pair performed at military bases in North Africa, Italy, the Middle East, the Persian Gulf, India and Burma in 1944. In places, the heat of the sun at the outdoor performances was so overbearing that Pons, always wearing a strapless evening gown, held wet towels to her head between numbers. In 1945, the tour continued through China, Belgium, France and Germany—a performance near the front lines. Returning home, she toured the U.S., breaking attendance records in cities such as Milwaukee at which 30,000 attended her performance on July 20, 1945. That same month she also played Mexico City, directed by Gaetano Merola. Other roles in her repertoire included Olympia in Jacques Offenbach's Tales of Hoffman, Philine in Ambroise Thomas's Mignon, Amina in Vincenzo Bellini's Sonnambula, Marie in Donizetti's Daughter of the Regiment, the title role in Léo Delibes's Lakmé, the Queen in Nikolai Rimsky-Korsakov's Golden Cockerel, and the title role in Donizetti's Linda di Chamounix, (a role she sang in the opera's Met premiere on March 1, 1934). The last major new role Pons performed (she learned the role during her first season at The Met) was Violetta in Traviata, which she sang at the San Francisco Opera. Another role Pons learned, but decided not to sing was Melisande in Debussy's opera "Pelleas et Melisande"; the reason, as she confided in a later interview, was twofold: first, because she felt soprano Bidu Sayão owned the role; and, secondly, because the tessitura lay mainly in the middle register of the soprano voice rather than in the higher register. In her last performance at the Met, on December 14, 1960, she sang "Caro nome" from Rigoletto as part of a gala performance.
Lily Pons also made guest appearances at the Opéra Garnier in Paris, Covent Garden in London, La Monnaie in Brussels, Teatro Colón in Buenos Aires, the Chicago Opera and the San Francisco Opera. Her final opera appearance was as Lucia to the Edgardo of twenty-one-year-old Plácido Domingo in 1962 at the Fort Worth Opera. She continued to sing concerts until 1973. On February 11, 1960, Pons appeared on NBC's The Ford Show, Starring Tennessee Ernie Ford. She died of pancreatic cancer in Dallas, Texas, at the age of 77. Her remains were brought back to her birthplace to be interred in the Cimetière du Grand Jas in Cannes. Her nephew, John de Bry (son of her sister Juliette), an archaeologist living in Florida, is her sole surviving relative in the United States; his sister, Florence de Bry Mini, who lives near Paris is Lily's last direct relative in France.
Born
April, 12, 1898
Draguignan, France
Died
February, 13, 1976
USA
Dallas, Texas
Cause of Death
Cemetery
Cimetière du Grand Jas de Cannes
Cannes, France
836 profile views