Lilly Pulitzer
(Lilly Pulitzer)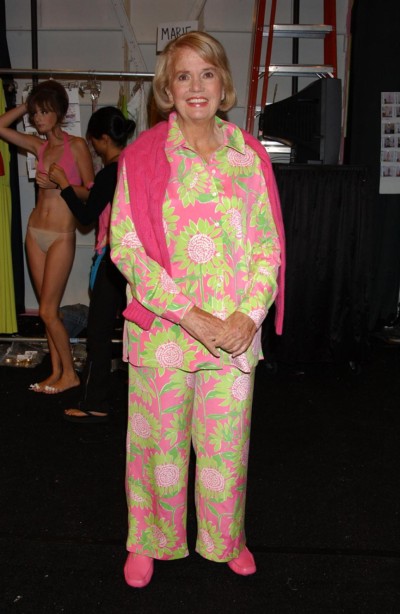 Lillian Lee "Lilly" McKim was born to socialites Robert V. McKim and his wife, Lillian (née Bostwick) in Roslyn, New York in 1931, the middle daughter of three. Her elder sister was named Mary Maude, and her younger sister was Florence Fitch. Her mother, Lillian Bostwick McKim was an heiress to the Standard Oil fortune. Robert and Lillian McKim divorced, and Lillian re-married, to Ogden Phipps, in 1937.  She attended the Chapin School in New York City, along with Bouvier sister Jacqueline Lee. In 1949, she graduated from Miss Porter's School in Farmington, Connecticut. She attended the college-finishing school Finch College in New York City, but left after one semester to work as a midwife assistant in West Virginia and as a volunteer at the Veterans Hospital in The Bronx.
Lilly and husband Peter Pulitzer settled in Palm Beach, Florida, shortly after their marriage. Peter owned several Florida citrus orange groves, and with produce from the groves Lilly opened a juice stand on Via Mizner, just off Worth Avenue in Palm Beach. In the course of working at the juice stand, Lilly found that squeezing juice made a mess of her clothes. Seeking to camouflage the juice stains, she designed a sleeveless shift dress made of bright, colorful printed cotton. She found that customers loved her dress, so she produced more in order to sell them at her juice stand. Eventually, she was selling more dresses than juice, and decided to focus on designing and selling what had become known as her "Lillys".
In 1959, Lilly Pulitzer became president of her own company, Lilly Pulitzer, Inc. The company's main factory was located in Miami, Florida and the fabrics were produced by the Key West Hand Print Fabrics company in Key West. From the 1960s to the early 1980s, Pulitzer's bright, colorful clothes were very popular, worn by elites such as Jacqueline Kennedy Onassis, Caroline Kennedy, and members of the Rockefeller, Vanderbilt and Whitney families. Lilly Pulitzer was a former classmate of Jackie's. After Jackie was featured in Life magazine donning one of Lilly's famous shifts, many preppy ladies followed her lead. The Jacqueline dress is one of Lilly Pulitzer's most successful styles. By 1984, Lilly closed down the entire clothing operation.
In 1993, the rights to the brand were purchased by Sugartown Worldwide, Inc. They contacted Pulitzer with the hopes of reviving the brand because, "they just loved Lilly, their mothers and sisters loved Lilly, and they wanted to bring the line back," Pulitzer said. Pulitzer was not involved in the day-to-day administration of the company, but she continued to serve in the role of creative consultant, approving new designs, fabrics, and collections, and branching out into other product lines.  Today, the company maintains 75 Lilly Pulitzer Signature Stores (also known as Via Shops).  23 company-owned retail stores, sells to independently owned stores and is in major department stores such as Belk, Lord and Taylor, Nordstrom, Saks Fifth Avenue and Neiman Marcus. On December 21, 2010, Sugartown Worldwide, Inc. was purchased by Oxford Industries, Inc.
In 1950, she eloped with Herbert (Peter) Pulitzer Jr., grandson of publisher Joseph Pulitzer. The couple had three children: Peter, Minnie and Liza. In 1969, Lilly and Peter were divorced. She married Enrique Rousseau shortly thereafter. Although she legally changed her name to Lillian McKim Rousseau, her clothing company continued to operate under the "Lilly Pulitzer" label. Lilly continued to reside in Palm Beach, and Rousseau died from cancer in 1993.  On April 7, 2013, aged 81, Pulitzer Rousseau died at her home in Palm Beach, Florida.
Born
November, 10, 1931
USA
Palm Beach, Florida
Died
April, 07, 2013
USA
Palm Beach, Florida
17811 profile views