Lillian Randolph
(Castello Randolph)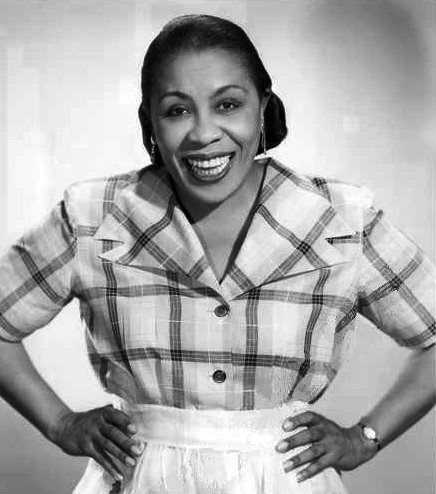 Born Castello Randolph in Knoxville, Tennessee, she was the younger sister of actress Amanda Randolph. Another member of this talented family is Steve Gibson, brother to Lillian and Amanda, with his Rhythm and Blues group, The Five Red Caps. However, new research shows that, although the preceding statement is widely quoted and believed, it isn't true. James "Jay" Price, a member of the Red Caps from 1952-8, says that, while Steve and Lillian jokingly called each other "sister" and "brother," they weren't related at all. The story apparently started with the 31 December 1953 article in Jet Magazine, referenced above. It appeared in Major Robinson's gossip column, which carried the most outrageous (and unverified) claims from press agents. Most telling is that, in the 1910 United States Census, Lillian's mother was about 50, far too old to have given birth to Steve Gibson on October 12, 1914. The daughter of a Methodist minister and a teacher, she began her professional career singing on local radio in Cleveland, Ohio and Detroit, Michigan. At Detroit's WXYZ, Lillian was noticed by George W. Trendle, station owner and developer of The Lone Ranger and The Green Hornet. He got her into radio training courses which paid off in roles for local radio shows. Lillian was tutored for three months on "racial dialect" before getting any radio roles. She moved on to Los Angeles in 1936 to work on Al Jolson's radio show, on Big Town, on the Al Pearce show, and to sing at the Club Alabam there. Though Lillian and her sister, Amanda, were continually looking for roles to make ends meet in 1938, she was gracious enough to open her home to Lena Horne, who was in California for her first movie role in The Duke Is Tops; the film was so tighly budgeted, there was no money for a hotel for Horne. Lillian opened her home again during World War II with weekly dinners and entertainment for service people in the Los Angeles area through American Women's Voluntary Services (AWVS).
Randolph is best known as the maid Birdie Lee Coggins from The Great Gildersleeve radio comedy and subsequent films, and as Madame Queen on the Amos 'n' Andy radio show and television show from 1937 to 1953. Lillian got the "Gildersleeve" job on the basis of her wonderful laugh. Upon hearing the Gildersleeve program was beginning, Randolph made a dash to NBC. She tore down the halls; when she opened the door for the program, she fell on her face. Randolph was not hurt and she laughed—this got her the job. She also portrayed Birdie in the television version of The Great Gildersleeve. In the spring of 1955, Lillian was asked to perform the Gospel song, "Were You There?" on the television version of the Gildersleeve show. The positive response from viewers resulted in a Gospel album by Lillian on Dootone Records. Somehow she also found the time for the role of Mrs. Watson on The Baby Snooks Show and Daisy on the Billie Burke Show. Her best known film roles were those of Annie in It's a Wonderful Life and Bessie in The Bachelor and the Bobby-Soxer.
The West Adams district of Los Angeles was once home to lawyers and tycoons, but during the 1930s, many residents were either forced to sell their homes or take in boarders because of the economic times. The bulk of the residents who were earlier members of the entertainment community had already moved to places like Beverly Hills and Hollywood. In the 1940s, members of the African-American entertainment community discovered the charms of the district and began purchasing homes there, giving the area the nickname "Sugar Hill". Hattie McDaniel was one of the first African-American residents. In an attempt to discourage African-Americans from making their homes in the area, some residents resorted to adding covenants to the contracts when their homes were sold, either restricting African-Americans from purchasing them or prohibiting them from occupying the houses after purchase. Lillian Randolph and her husband, boxer Jack Chase, were victims of this type of discrimination. In 1946, the couple purchased a home on West Adams Boulevard with a restrictive covenant that barred them from moving into it. The US Supreme Court declared the practice unconstitutional in 1948.
Like her sister, Amanda, Lillian was also one of the actresses to play the part of Beulah on radio. Lillian assumed the role in 1952 when Hattie McDaniel became ill; that same year, she received an "Angel" award from the Caballeros, an African-American businessmen's association, for her work in radio and television for 1951. She played Beulah until 1953, when Amanda took over for her. In 1954, Lillian had her own daily radio show in Hollywood, where those involved in acting were featured. In the same year, she also became the first African-American on the Board of Directors for the Hollywood chapter of the American Federation of Television and Radio Artists (AFTRA). Randolph was chosen to portray Bill Cosby's mother in his 1969 television series, The Bill Cosby Show. She appeared in several featured roles on Sanford and Son and The Jeffersons in the 1970s. Lillian also taught acting; one of her pupils who became famous is Marla Gibbs; another is Judy Pace.  Some other notable work in films, however, is her uncredited voiceover part as the maid character, Mammy Two Shoes, in William Hanna and Joseph Barbera's Tom and Jerry cartoon short subjects for Metro Goldwyn Mayer during the 1940s and early 1950s. The character's last appearance in the cartoons was in Push-Button Kitty in September 1952. Hanna, Barbera and Randolph had been under fire from the NAACP. Calling the role a stereotypical one, the activists had been complaining about the maid character since 1949; the character was written out entirely. Many of these had another actress (June Foray) redubbing the character in American TV broadcasts and in the DVD collections.  This was not the only time Randolph received criticism. In 1946, Ebony published a story critical of her role of Birdie on The Great Gildersleeve radio show. Randolph and a scriptwriter provided a rebuttal to them in the magazine. Lillian Randolph believed these roles were not harmful to the image or opportunities of African-Americans. Her reasoning was that the roles themselves would not be discontinued, but the ethnicity of those in them would change.  In 1956, Randolph and her choir, along with fellow Amos 'n' Andy television show cast members Tim Moore, Alvin Childress and Spencer Williams set off on a tour of the US as "The TV Stars of Amos 'n' Andy"; CBS claimed it was an infringement of its rights to the show and its characters. The tour soon came to an end. By 1958, Lillian, who started out as a blues singer, returned to music with a night club act.
Randolph made a guest appearance on a 1972 episode of the sitcom Sanford and Son entitled "Here Comes the Bride, There Goes the Bride" as Aunt Hazel, an inlaw of the Fred Sanford (Redd Foxx) character who humorously gets a cake thrown in her face, after which Fred replies "Hazel, you never looked sweeter!". Her Amos 'n' Andy co-star, Alvin Childress, also had a role in this episode. She also had a role in the television miniseries, Roots  and did more film work in The Onion Field and Magic. In March 1980, she was inducted into the Black Filmmakers Hall of Fame.  Lillian's daughter, Barbara, grew up watching her mother perform. At age eight, Barbara had already made her debut in Bright Road with Harry Belafonte and Dorothy Dandridge. Choosing to adopt her mother's maiden name, Barbara Randolph appeared in her mother's nightclub acts (including that with Steve Gibson and the Red Caps) and had a role in Guess Who's Coming to Dinner. She decided to follow a singing career.  Randolph died of cancer in Los Angeles, California on September 12, 1980 at the age of 81. She was buried in Forest Lawn Memorial Park (Hollywood Hills). For unknown reasons her grave says she was born in 1914. Her sister, Amanda, is buried beside her.
Born
December, 14, 1898
USA
Knoxville, Tennessee
Died
September, 12, 1980
USA
Los Angeles, California
Cause of Death
Cemetery
Forest Lawn Memorial Park
Los Angeles, California
USA
8284 profile views