Lillian Gish
(Lillian Diana Gish)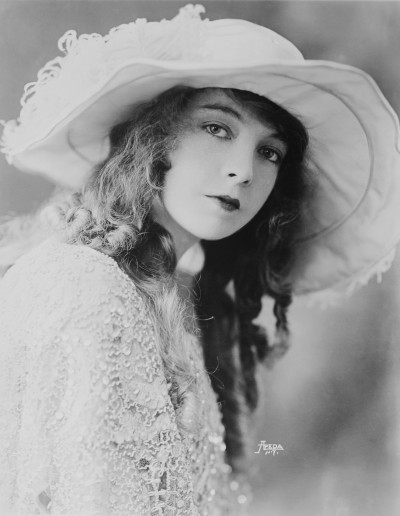 Gish was born in Springfield, Ohio, to Mary Robinson McConnell (1875-1948) (an Episcopalian) and James Leigh Gish (1872-1912) (who was of German Lutheran descent). She had a younger sister, Dorothy.  The first several generations of Gishes were Dunkard ministers. Her great-great-great-grandfather came to America on the ship Pennsylvania Merchant in 1733 and received a land grant from William Penn. Her great-great-grandfather fought in the American Revolutionary War and is buried in a cemetery in Pennsylvania for such soldiers. Letters between Gish and a Pennsylvania college professor indicate that her knowledge of her family background was limited.  Gish's father left the family before she was old enough to remember him; her mother then took up acting to support the family. The family moved to East St. Louis, Illinois, where they lived for several years with Lillian's aunt and uncle, Henry and Rose McConnell. Their mother opened the Majestic Candy Kitchen, and the girls helped sell popcorn and candy to patrons of the old Majestic Theater, located next door. The girls attended St. Henry's School, where they acted in school plays.
The girls were living with their aunt Emily in Massillon, Ohio, when they were notified by their uncle that their father, James, was gravely ill in Oklahoma. Lillian traveled to Shawnee, Oklahoma, to see her father, who by then was institutionalized in an Oklahoma City hospital. She saw him briefly and stayed with her aunt and uncle, Alfred Grant and Maude Gish, in Shawnee and attended school there. She wrote to her sister Dorothy that she was thinking of staying and finishing high school and then going to college, but she missed her family. Her father died in Norman, Oklahoma, January 9, 1912, and, soon after, Lillian returned to Ohio.  When the theater next to the candy store burned down, the family moved to New York where the girls became good friends with a next door neighbor, Gladys Smith. Gladys was a child actress who did some work for director D. W. Griffith and later took the stage name Mary Pickford. When Lillian and Dorothy were old enough, they joined the theatre, often traveling separately in different productions. They also took modeling jobs, with Lillian posing for artist Victor Maurel in exchange for voice lessons.   In 1912, their friend Mary Pickford introduced the sisters to D. W. Griffith and helped get them contracts with Biograph Studios. Lillian Gish would soon become one of America's best-loved actresses. Although she was already nineteen, she gave her age as 16 to the studio.
The sisters debuted in Griffith's short film An Unseen Enemy (1912). Lillian went on to star in many of Griffith's most acclaimed films, including The Birth of a Nation (1915), Intolerance (1916), Broken Blossoms (1919), Way Down East (1920), and Orphans of the Storm (1921). One of the enduring images of Gish's silent film years is the climax of the melodramatic Way Down East, in which Gish's character floats unconscious on an ice floe towards a raging waterfall, her long hair trailing in the water.  Having appeared in over 25 short films and features in her first two years as a movie actress, Lillian became a major star, becoming known as "The First Lady of the Silent Screen" and appearing in lavish productions, frequently of literary works such as The Scarlet Letter. MGM released her from her contract in 1928 after the failure of The Wind (1928), now recognized by many as among her finest performances and one of the most distinguished works of the late silent period.  She directed one film, Remodeling Her Husband (1920), when D. W. Griffith took his unit on location. He told Gish that he thought the crew would work harder for a girl. Gish never directed again, telling reporters at the time that directing was a man's job.  With her debut in talkies only moderately successful, she acted on the stage for the most part in the 1930s and early 1940s, appearing in roles as varied as Ophelia in Guthrie McClintic's landmark 1936 production of Hamlet (with John Gielgud and Judith Anderson) and Marguerite in a limited run of La Dame aux Camélias. Of the former, she said, with pride, "I played a lewd Ophelia!"
Returning to movies, Gish was nominated for the Academy Award for Best Supporting Actress in 1946 for Duel in the Sun. The scenes of her character's illness and death late in that film seemed intended to evoke the memory of some of her silent film performances. She appeared in films from time to time for the rest of her life, notably in Night of the Hunter (1955) as a rural guardian angel protecting her charges from a murderous preacher played by Robert Mitchum. She was considered for various roles in Gone with the Wind ranging from Ellen O'Hara, Scarlett's mother, which went to Barbara O'Neil, to prostitute Belle Watling, which went to Ona Munson.  Gish made numerous television appearances from the early 1950s into the late 1980s. Her most acclaimed television work was starring in the original production of The Trip to Bountiful in 1953. She appeared as Dowager Empress Maria Feodorovna in the short-lived 1965 Broadway musical Anya. In addition to her later acting appearances, Gish became one of the leading advocates of the lost art of the silent film, often giving speeches and touring to screenings of classic works. In 1975, she hosted The Silent Years, a PBS film program of silent films. She was interviewed in the television documentary series Hollywood: A Celebration of the American Silent Film (1980).
Gish received a Special Academy Award in 1971 "For superlative artistry and for distinguished contribution to the progress of motion pictures." In 1979, she was awarded the Women in film Crystal Award in Los Angeles In 1984, she received an American Film Institute Lifetime Achievement Award, becoming only the second female recipient (preceded by Bette Davis in 1977) and the only recipient who was a major figure in the silent era. She has a star on the Hollywood Walk of Fame at 1720 Vine Street.  Her last film role was appearing in The Whales of August in 1987 at the age of 93, with Vincent Price, Bette Davis, and Ann Sothern, in which she and Davis starred as elderly sisters in Maine. Her final professional appearance was a cameo on the 1988 studio recording of Jerome Kern's Show Boat, starring Frederica von Stade and Jerry Hadley, in which she affectingly spoke the few lines of The Old Lady on the Levee in the final scene. The last words of her long career were, "Good night."  Some in the entertainment industry were angry that Gish did not receive an Oscar nomination for her role in The Whales of August. Gish herself was more complacent, remarking that it saved her the trouble of "losing to Cher."
Gish never married or had children. The association between Gish and D. W. Griffith was so close that some suspected a romantic connection, an issue never acknowledged by Gish, although several of their associates were certain they were at least briefly involved. For the remainder of her life, she always referred to him as "Mr. Griffith." Lillian Gish was the sister of actress Dorothy Gish. Gish was a survivor of the 1918 flu pandemic.  She was involved with producer Charles Duell and drama critic and editor George Jean Nathan. In the 1920s, Gish's association with Duell was something of a tabloid scandal because he had sued her and made the details of their relationship public.  During the period of political turmoil in the US that lasted from the outbreak of WWII in Europe until the attack on Pearl Harbor, she maintained an outspoken non-interventionist stance. She was an active member of the America First Committee, an anti-intervention organization founded by retired General Robert E. Wood with aviation pioneer Charles Lindbergh as its leading spokesman. She said she was blacklisted by the film and theater industries until she signed a contract in which she promised to cease her anti-interventionist activities and never disclose the fact that she had agreed to do so.  She maintained a very close relationship with her sister Dorothy, as well as with Mary Pickford, for her entire life. Another of her closest friends was actress Helen Hayes; Gish was the godmother of Hayes's son James MacArthur.
She died in her sleep of heart failure, age 99, and is interred beside her sister Dorothy at Saint Bartholomew's Episcopal Church in New York City. Her estate was valued at several million dollars, the bulk of which went toward the creation of the Dorothy and Lillian Gish Prize Trust.
Born
October, 14, 1893
USA
Springfield, Ohio
Died
February, 27, 1993
USA
New York, New York
Cause of Death
Cemetery
Saint Bartholomew's Episcopal Church
New York, New York
USA
12790 profile views