Lew Anderson
(Lew Anderson)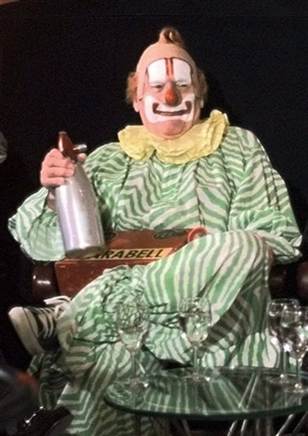 Anderson was born in Kirkman, Iowa, the son of a railroad telegrapher. He began playing his sister's clarinet when she tired of it, and by high school had formed his own dance band. After a year in junior college in Fort Dodge, Iowa, he received a music scholarship to Drake University in Des Moines. He attended for two years, but then quit school to begin his professional musical life by accepting a job with the Lee Barron Orchestra, a territory band based out of Omaha.  During World War II, Anderson served in the United States Navy where he started his first band. While in the Navy, he served aboard the USS Howard W. Gilmore (AS-16), a ship that supplied submarines.
After serving in the Navy in World War II, he joined the Carlos Molinas Latin Orchestra, where he also wrote the American dance arrangements. In the late 1940s, he joined The Honey Dreamers, a singing group that appeared on radio and early television shows like The Ed Sullivan Show. While working with the group, he met "Buffalo" Bob Smith who offered him the role on the Howdy Doody show. Anderson again played Clarabell on the short-lived "New Howdy Doody Show" in 1976-1977 and in the 1987 40th anniversary special and made personal appearances as Clarabell with Buffalo Bob for many years thereafter.
After working six-years as Clarabell, Anderson returned to music. In 1989, he formed a 16-piece jazz orchestra — The Lew Anderson All-American Big Band — which began playing Fridays from 5:45 to 7:45 PM at the Red Blazer, Too, 349 West 46th Street, Manhattan, New York. The venue is currently occupied by Swing 46 Jazz & Supper Club. Anderson secured the gig through Al "Jazzbeaux" Collins, who, in 1989, proposed the idea to Denis Carey, co-owner of Red Blazer, Too. The band began an eight-year stint at Red Blazer Too. Musicians in 1990 included saxophonist Aaron Sachs and trombonist John Fedchock. The band members were mostly musicians with steady jobs in recording studios and the pit orchestras of Broadway musicals. The early evening time-slot allowed his musicians to get to their theater jobs for the 8 o'clock curtain. Red Blazer, Too, closed on June 1, 1997, after its landlord doubled the rent.
In 1997, before Red Blazer had closed, composer, producer, and owner of Sovereign Records, Inc., Ruby Fisher (Reuben Fischer; 1923–2009) invited Don Kennedy of radio's "Big Band Jump" show to come up from Atlanta to host "Live at the Blazer!" The one-hour program aired June 14, 1997 on Jump's 130 stations, was re-broadcast in August on New York's WQEW and now constitutes Live at the Blazer! The Lew Anderson Big Band, Sovereign CDSOV-506, joining the band's previous Sovereign albums, Feelin' Good, Yeah and Fired Up.
In August 1997, The Lew Anderson Big Band began an open-ended engagement at Birdland, then on the Upper Wide Side of Manhattan. The introduction to Birdland was made by American Music Projects' Janet Solesky (born 1949). The band, until Anderson's death, remained in residence during the same time — early set, Fridays — at Birdland Jazz Club.  Anderson died in Hawthorne, New York, from complications of prostate cancer. On March 23, 2006, The Birdland Big Band — which at that time was composed entirely of his former band members (directed Tommy Igoe) — performed and recorded a tribute to his life.
Born
May, 07, 1922
USA
Kirkman, Iowa
Died
May, 14, 2006
USA
Hawthorne, New York
Other
16851 profile views