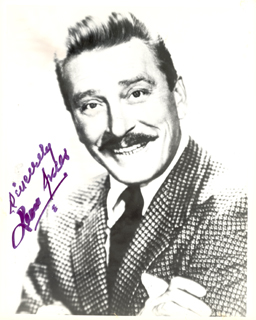 Leon Ames was born Harry Wycoff in Portland, Indiana, to Cora Alice (DeMoss) and Charles Elmer Wycoff. He had always wanted to be an actor and he did it the hard way, serving a long apprenticeship in touring amateur theatre companies, even selling shoes for a while on 42nd Street in the 1920's. It took him until 1933 to make his debut on Broadway. His play at the Morosco Theatre, "It Pays to Sin", lasted for only three performances after receiving disastrous critical reviews. By then, he had already appeared in his first movie, the sombre, expressionistic Murders in the Rue Morgue (1932), an Edgar Allan Poe adaptation, in which Leon played the dependable love interest of heroine Sidney Fox.
For the next three years, he appeared under his birth name, Leon Waycoff, in a variety Of B-movies for "poverty row" studios like Mayfair, Showmen's Pictures, World-Wide Pictures, Empire and Majestic. His first film, as Leon Ames, was the Shirley Temple vehicle, Stowaway (1932). For the next few years, he served yet another apprenticeship, playing a variety of stalwart characters and the occasional bad guy in such cheerful potboilers as the anemic Murder in Greenwich Village (1937), the amusing Mysterious Mr. Moto (1938) and the eminently forgettable Secrets of a Nurse (1938). There were occasional highlights: he appeared in Ernst Lubitsch's last film at Paramount, Bluebeard's Eighth Wife (1938), with Gary Cooper and Myrna Loy, and even starred as the leading man of Cipher Bureau (1938) and Panama Patrol (1939), albeit at Grand National.
Leon's career improved dramatically after playing Judy Garland's father Alonzo (along with Mary Astor as the matriarch of the family) in MGM's classic, Meet Me in St. Louis (1944), directed by Vincente Minnelli. For the first time, Leon's acting abilities were used to perfection, particularly his ability to deliver dryly humorous one-liners. Signed to a contract at MGM, Leon was now cast in important character roles in more important pictures, usually as put-upon, loving fathers: A Date with Judy (1948), Little Women (1949), (where he again teamed up with Mary Astor), By the Light of the Silvery Moon (1953), to name but a few. For something completely different, he also played district attorney "Kyle Sackett" in the film noir, The Postman Always Rings Twice (1946) and, against type, portrayed Paul Newman's thoroughly unpleasant father in From the Terrace (1960).
Leon continued in films well until his later years and was last seen as Kathleen Turner's grandfather in Peggy Sue Got Married (1986). On television, he had a popular run starring in Life with Father (1953) and Father of the Bride (1961) (played by Spencer Tracy on the big screen) and playing Wilbur Post's neighbor, "Gordon Kirkwood", in Mister Ed (1958). Leon's other claim to fame was being one of 19 actors, who, after a clandestine meeting in June 1933, established the Screen Actor's Guild. For thirty years, from 1945, he held a senior executive position as recording secretary and served as national president of the organization between 1957 and 1979. He held a further position on the board of governors of the Academy of Motion Picture Arts and Sciences. The dapper actor and avid unionist died at a Laguna Beach, California, nursing home at the ripe old age of 91 on October 12 1993.
– IMDb Mini Biography By: I.S.Mowis
Spouse (1)
Trivia (8)
Had two children:
Shelley Ames
(born in 1940) and Leon Ames Jr. (born in 1943).
He was the son of Charles Elmer Wycoff and Cora Alice (DeMoss). His patrilineal line can be traced back to Pieter Claesen Wyckoff, who was born, c. 1625, in the Netherlands. His parents' families had lived in the United States for many generations, and were mostly of British Isles ancestry.
(1957-1958) President of Screen Actors Guild (SAG).
In the 1960s, he owned 4 California Ford dealerships. They were located in Studio City, Encino, Redondo Beach, on Pacific Coast Highway near Prospect, and Los Angeles.In the latter part of the 1970's Leon Ames Ford was sold/bought out by Payton Craymer Ford. This in turn was sold to Power Ford. The Redondo Beach dealership closed and was moved further up the Pacific Coast highway towards Lomita.The Los Angeles dealership remains in business today and is now called "Midway Ford". It's located at 200 N. Vermont.
In June of 1933 Ames, with 18 other actors, held a meeting to organize the Screen Actors Guild. He held SAG card number 15.
Appeared sporadically on Broadway from late 1933-1958.
Leon Ames also owned the Ames Ford Dealership on Francisco Blvd in San Rafael, California in the 60s and 70s.
Was a lifelong staunch Republican.
Contribute to This Page
Born
January, 20, 1902
Portland, Indiana
Died
October, 12, 1993
Laguna Beach, California
Cause of Death
Cemetery
Forest Lawn Memorial Park
Hollywood,California
16677 profile views