Leo Baekeland
(Leo Baekeland)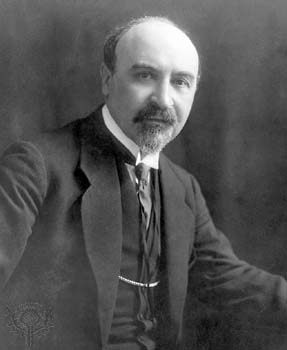 Leo Baekeland was born in Ghent, Belgium, Baekeland was the son of a cobbler and a house maid. He told The Literary Digest: "The name is a Dutch word meaning 'Land of Beacons.'" He graduated with honours from the Ghent Municipal Technical School and was awarded a scholarship by the City of Ghent to study chemistry at the University of Ghent, where he acquired a PhD maxima cum laude at the age of 21. He was subsequently appointed associate professor of chemistry in 1889, and married Céline Swarts, the daughter of his head of department.  In 1889 Baekeland honeymooned in New York City, where he met Richard Anthony, of the E. and H.T. Anthony photographic company. Baekeland had already invented a process to develop photographic plates using water instead of other chemicals, and was interested in moving to America; Anthony saw potential in the young chemist and offered him a job. Baekeland became a naturalized American in 1897, and a professor by special appointment at Columbia University in 1917
Baekeland worked for the Anthony company for two years, and in 1891 set up in business for himself as a consulting chemist. However, a spell of illness and disappearing funds made him rethink his actions and he decided to return to his old interest of producing a photographic paper that would allow enlargements to be printed by artificial light. After two years of intensive effort he perfected the process to produce the paper, which he named Velox; it was the first commercially successful photographic paper. At the time the US was suffering a recession and there were no investors or buyers for his proposed new product, so Baekeland became partners with Leonardi Jacobi and established the Nepera Chemical Company in Nepera Park, Yonkers, New York.
In 1899 Jacobi, Baekeland, and Albert Hahn, a further associate, sold Nepera to George Eastman of the Eastman Kodak Co. for $750,000.  Baekeland earned circa $215,000 net through the transaction.  With a portion of the money he purchased "Snug Rock", a house in Yonkers, New York, and set up his own well-equipped laboratory.  He patented more than 55 inventions, including processes for the separation of copper and cadmium, and for the impregnation of wood.
When asked why he entered the field of synthetic resins, Baekeland answered "to make money." His first objective was to find a replacement for shellac (made from the excretion of lac beetles). Chemists had begun to recognize that many of the natural resins and fibers were polymers. Baekeland began to investigate the reactions of phenol and formaldehyde. He first produced a soluble phenol-formaldehyde shellac called "Novolak" that never became a market success as a brand, but still exists as Novolac. He then turned to developing a binder for asbestos, which at that time was molded with rubber. By controlling the pressure and temperature applied to phenol and formaldehyde, he could produce his dreamed-of hard moldable plastic: Bakelite. The chemical name of Bakelite is polyoxybenzylmethylenglycolanhydride. Baekeland's process patent for making insoluble products of phenol and formaldehyde was filed in July 1907, and granted on December 7, 1909.
In February 1909 Baekeland officially announced his achievement at a meeting of the New York section of the American Chemical Society.  In 1922, after patent litigation favorable to Baekeland, the General Bakelite Co., which he had founded in 1910, along with the Condensite Co. founded by Aylesworth, and the Redmanol Chemical Products Co. founded by L.V. Redman, were merged into the Bakelite Corporation.  The invention of Bakelite marks the beginning of the age of plastics. Bakelite was made from phenol, then known as carbolic acid, and formaldehyde. These can be mixed, heated, and then either molded or extruded.
Although Adolf von Baeyer experimented with this material in 1872, he did not complete its development.  Bakelite was the first plastic invented that held its shape after being heated. Radios, telephones and electrical insulators were made of Bakelite because of its excellent electrical insulation and heat-resistance. Soon its applications spread to most branches of industry.  At Baekeland's death in 1944, the world production of Bakelite was ca. 175000tons, and it was used in over 15000 different products.  Baekeland was awarded the Franklin Medal in 1940.
As Baekeland got older he became more eccentric, getting into fierce battles with his son and presumptive heir over salary and other issues. He sold the General Bakelite Company to Union Carbide in 1939 and, at his son's prompting, he retired. He became a recluse, eating all of his meals from cans and becoming obsessed with developing an immense tropical garden on his winter estate in Coconut Grove, Florida. He died of a cerebral hemorrhage in a sanatorium in Beacon, New York. Baekeland is buried in Sleepy Hollow Cemetery in Sleepy Hollow, New York.
Born
November, 14, 1863
Sint-Martens-Latem, Belgium
Died
February, 23, 1944
USA
Beacon, New York
Cemetery
Sleepy Hollow Cemetery
Sleepy Hollow, New York
USA
18039 profile views