Lee Aaker
(Lee William Aaker)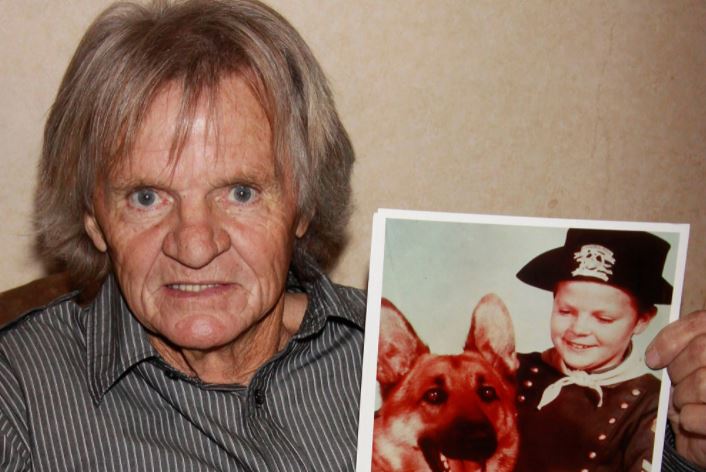 Lee Aaker
a child actor in the 1950s who starred as the orphan Rusty alongside a German shepherd on ABC's The Adventures of Rin Tin Tin and in films including Hondo and The Atomic City, has died. He was 77.
Aaker had suffered a stroke and died April 1 near Mesa, Arizona, Paul Petersen, the former Donna Reed Show star who serves as an advocate for former child actors, told The Hollywood Reporter.
Aaker had battled drug and alcohol abuse during this life and was alone with one "surviving relative that could not help him," Petersen said, adding that Aaker's death certificate lists him as an "indigent decedent." He was helping him get a proper burial.
For Petersen, it marked another sad end to the life of a Hollywood child actor. "You are around just to please everyone," he said, "and when there's nothing left, they are done with you."
On The Adventures of Rin Tin Tin, which ran on Friday nights for five seasons (1954-59) and 164 episodes, Aaker starred as Rusty, a youngster being raised by U.S. Cavalry soldiers (including James Brown as Lt. Rip Masters) at Fort Apache after his parents were killed by Native Americans.
Earlier, Aaker portrayed the kidnapped son of a nuclear scientist (Gene Barry) in The Atomic City (1952), the son of an Arizona homesteader (Geraldine Page in her film debut) in the John Wayne-starring Hondo (1953) and the son of a desperate woman (Barbara Stanwyck) trying to save her trapped husband (Barry Sullivan) in Jeopardy (1953).
Born
September, 25, 1943
Los Angeles, California
Died
April, 01, 2021
Maricopa County, Arizona
Cause of Death
251 profile views