Larry Jennings
(Larry Jennings)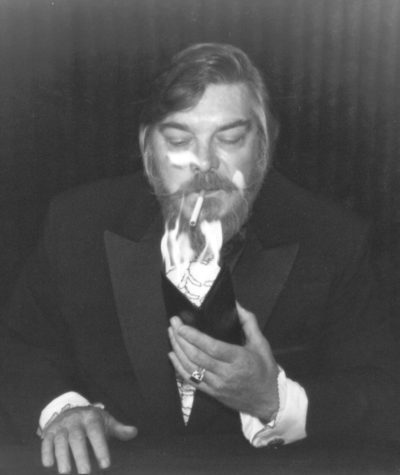 In 1964, Karrell Fox told Larry Jennings about the Magic Castle. Knowing that Dai Vernon now lived in Hollywood, Jennings quit his job as a combustion engineer. He and Nina moved to California and lived at 2005 Ivar Street, Apt. 7. In Hollywood, Larry got a job working for Leo Behnke's father in the plumbing repair business. Jennings quickly became friends with Dai Vernon and studied under him. During this same year, Larry's first published ideas, "A Snappy Lift" and "Lift No. 2," appeared in a letter from Dai Vernon to The Gen magazine. In July 1967, Jennings published his first set of lecture notes, Lecture Notes On Card And Coin Handling. These notes were written by his wife, Nina. In the same year, a collection of Jennings's magic appeared in Dai Vernon's Ultimate Secrets Of Card Magic. In 1969, Jennings traveled with Dai Vernon on his lecture tour of Japan. Here he met Hideo Kato, who acted as their interpreter. In 1970, a second set of notes were published for a special lecture Jennings gave at the Hollywood Roosevelt Hotel, written by his. Larry's one-man issue of Genii was also published in May 1970. The effects were written by Jules Lenier. In this same year, Hideo Kato came to America and studied card magic with Larry. He wrote a book on Larry's card technique, entitled Larry Jennings-No Card Magic Nyuumon. Written in Japanese, the book has yet to be translated into English. Larry Jennings and Nina were divorced early 1970s. In the mid-1970s, Jennings met his second wife, Geri, in Los Angeles. They married and moved to Lake Tahoe, where Jennings opened up his own plumbing company, Jenco. They later divorced. Also in the mid-1970s, Karl Fulves published a special two-part issue of Epilogue featuring Jennings' magic.
Jennings met B.J. in Lake Tahoe in 1977, where she worked as a blackjack dealer at a casino Jennings frequents. Jennings also met Jeff Busby, who would release the book Jennings On Card And Coin Handling (1977). In 1979, Jennings was the guest of honor at the annual Fechter's Finger Flicking Frolic. He presents a new lecture for the event. Following his appearance at Fechter's, Larry was invited to lecture in Japan. The Japan Lecture Notes were produced for the occasion. These are put together by B.J. and Louis Falanga. In the early 1980s Jennings sold his business in Lake Tahoe and moved to Newport Beach, CA to work at the Magic Island. Jennings was the resident magician, and was placed in charge of booking. He tried to get higher pay for the magicians, and when the management refused, he quit. Jennings then moved in with James Patton. The two frequently had sessions. Jim convinced Jennings to do another lecture and in 1982, Jennings lectured at the Magic Castle, presenting the material from A Visit With Larry Jennings. Jennings later went to work for the Los Angeles Unified School District and moved to North Hollywood. Also in the early 1980s, Jennings went to France, and shot his first magic videos for Pierre Mayer. In 1986, Larry Jennings and Louis Falanga started L&L Publishing. In April 1986, Larry Jennings and Dai Vernon were invited to perform at the Circulo De Magios Maxicanos IV Convencion De Magia in Mexico. Also in 1986, The Classic Magic Of Larry Jennings was released. It would be the largest collection of Larry's magic to date, containing over eighty effects. This was quickly followed by the publication of Neoclassics (1987) and The Cardwright (1988).
Jennings and B.J. were wed on December 28, 1990. Michael Skinner would be the best man. During the 1990s, Larry continued to share his magic with two new sets of lecture notes and five videotapes. In 1995, Larry was awarded the Creative Fellowship by the Academy of Magical Arts. Larry continued to frequent the Magic Castle through this time, performing both formally and informally. Larry Jennings and B.J. continued to live in North Hollywood until his death on October 17, 1997, at age sixty-four.
Born
February, 17, 1933
USA
Detroit, Michigan
Died
October, 17, 1997
USA
Los Angeles, California
Cause of Death
881 profile views