Kyle Pavone
(Kyle Pavone Pavone)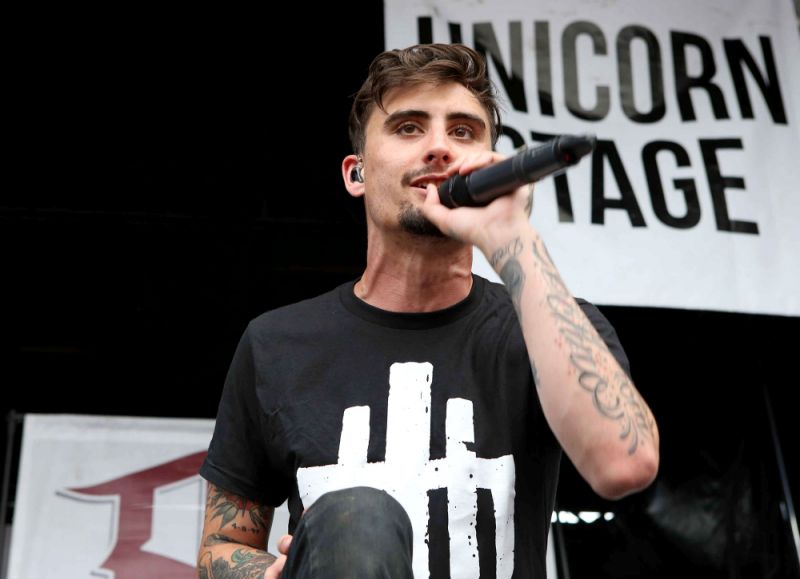 Kyle Pavone
We Came As Romans celebrated its late singer Kyle Pavone with an emotional all-star concert on Sunday in its home town of Detroit, benefiting the Kyle Pavone Foundation recently established up by the singer's family.
"Kyle's favorite thing about music was how it brought people together," WCAR's other vocalist, Dave Stephens, told the crowd of about 1,500 at the Fillmore Detroit. "Kyle's life was so short, but this just shows how many people he reached and influenced. These songs meant the world to Kyle. This (venue) was his favorite place to be. He'd probably hate that we were all crying, but he wouldn't hate this many people being in this room…and he wouldn't have hated all his best friends being here and singing songs."
The remaining five members of WCAR, who have continued on since Pavone's death from a drug overdose on Aug. 25 at the age of 28, sported black Promise Me shirts as they alternated performances with those friends throughout the 18-song, 90-minute show. Among the guests corps were: fellow Detroit rockers I Prevail, who covered WCAR's "Wasted Age;" Memphis May Fire's Matty Mullins, who sang "Lost in the Moment;" Iowa metalcore group For Today, reuniting for the first time in two years to play "Tear It Down;" Jess Ess on "Mis/Understood," Joe Buras of Born of Osiris for "Regenerate;" Crown the empire's Andrew Velasquez on "Fade Away;" Sit It Off's Cody Carson for "World;" and Hollywood Undead's Danny Murillo on "Cold Like War."
Original WCAR drummer Eric Choi returned for a rendition of "To Plant a Seed," while I Prevail's Gabe Helguera and Cold Like War album co-producer Nick Sampson joined the group for "Encoder." And before a particularly thunderous take on "Taking Back Roots," Jake Luhrs from August Burns Red spoke about the bridge lyric "my home is in your heart;" "That's where Kyle Pavone is tonight," Luhrs declared, "with every single person in this room."
Some of the assorted guests had stories to tell about Pavone. Many remembered him for his good humor and good hangs on the road — though Velasquez recalled how Pavone pulled the plug and got him safely back to his hotel room in Australia after the partying had gone a bit too far. Carson, meanwhile, saluted Pavone and WCAR for their support of Set It Off after his band signed to Equal Vision Records as labelmates;" 'Kyle Pavone and these guys set a standard for how people should be treated," Carson told the crowd.
Others encouraged those in the audience to seek help when struggling with addiction, depression or other issues, while Pavone's father Vince said that the family established the foundation "to help musicians in their deepest, darkest hour." The organization has partnered with HelpNet, a mental health service in Battle Creek, Mich., which will provide five free therapy sessions with a referral, not only to musicians but also to techs and others in the industry.
"It's a grueling life," Vince Pavone — who had the Fillmore crowd text a "thank you" to his son's old cell phone number before the show — told Billboard. "These people drop out of college and travel across the country in beat-up vans and sleep in car seats, if they sleep at all, and give a lot to chase their dreams. We want to provide some outlet for them to get help right away when they need it."
Pavone's mother, Caroline, and younger sister Isabel also addressed the crowd, the former noting that, "There are no words left for me to say…We just want to thank you for being (Pavone's) friends, his fans and his family…We love you. Kyle loves you." Isabel, meanwhile, admitted she "denied my brother's talent and success" for a time but did an about-face after revealing she was his sister during an internship this past summer in Austin, Texas. "You can imagine how proud I was of my brother — all the way in Texas and my boss is fan-boying over my brother," she said.
Born
June, 05, 1990
Birmingham, MI
Died
August, 25, 2018
August 25, 2018
Cause of Death
Cemetery
Guardian Angel Cemetery
Oakland Charter Township, MI
869 profile views