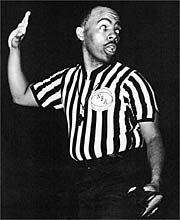 Ken Hudson, the first full-time African American referee for the NBA, died on May 9 in Atlanta, Ga.
Mr. Hudson became a pioneering NBA referee, officiating in the league from 1968 to 1972. During this phase of his career, he interacted with such notable players as Bill Russell, Wilt Chamberlain, Julius (Dr. J) Erving, Walt Frazier, Lenny Wilkins and Jerry West, to name only a few. Mr. Hudson became beloved by both players and owners. He was recognized by the Basketball Hall of Fame as a recipient of the 2009 Mannie Jackson Human Spirit Award.
The former vice president of marketing development and director of community relations for the Coca-Cola Company, he successfully negotiated agreements between Coca-Cola USA and the Big East, CIAA, SWAC, MEAC, and SIAC Conferences.
Born and educated in Pittsburgh, Pa., Mr. Hudson earned a bachelor of science degree at Central State University in Wilberforce, Ohio, where he began his refereeing career. He returned to Pittsburgh to teach elementary school students for several years. He also attended the University of Pittsburgh, where he studied retail management. But, after working in other arenas, he found his niche in the world of sports. His passionate interest in athletics led him back to Central State University, where he became the interim athletic director.
After moving to Atlanta with Coca-Cola, USA, Mr. Hudson continued his interest in community affairs and service. As director of sports promotions/community relations, he served on the committee that was responsible for developing relationships that eventually led to an agreement between the Coca-Cola Company and the NBA. He served as special assistant to Mayor Maynard Jackson as a sports and business consultant, coordinated sports-related events for the city of Atlanta, facilitated weekly Success Seminars at Atlanta-area high schools and selected the 1996 USA Basketball training site for the Olympics.
Mr. Hudson developed several Boston-area youth basketball programs and was named to the board of directors of multiple companies, including Coca-Cola's New England board of directors. He founded the Boston Shoot-Out in 1972, a basketball program that continues to attract top USA high school players. To encourage young people to achieve success in life, Mr. Hudson authored A Tree Stump in the Valley of Redwoods. The book imparts proven techniques, success stories and alliances that help young people become confident, well-rounded students, players and citizens. As a professional in athletics, marketing and education, he contributed greatly to the growth and development of basketball, American businesses and organizations, high school and college students, and urban youth.
A longtime Boston resident before moving to Atlanta, he spent part of nearly every summer on the Vineyard through 2010, when his health began to decline.
Demonstrating the generosity that characterized his life, one of his final unselfish acts was to donate his body to science in the hope that cures and treatments could be identified for others.
A memorial service to celebrate his life was held May 17 at the Cascade United Methodist Church in Atlanta, Ga. In lieu of flowers, the family requests donations to the Kenneth Hudson Scholarship Fund at Atlanta Technical College, 1560 Metropolitan Parkway, Atlanta, GA 30310.
Born
Died
Cemetery
2561 profile views