Ken Annakin
(Ken Annakin)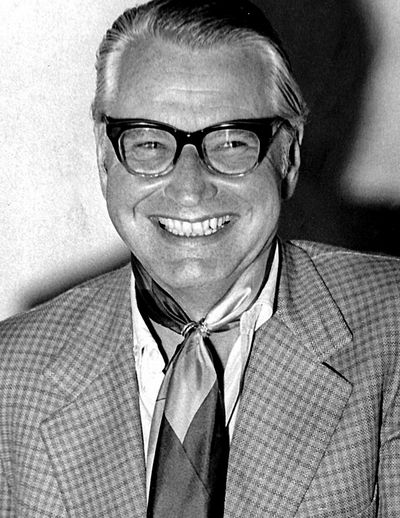 Annakin was born in and grew up in Beverley, East Riding of Yorkshire where he attended the grammar school. He began his career in feature films following an early experience making documentaries. Injured in the Liverpool blitz, he joined the RAF Film Unit, where he worked as camera operator on propaganda films for the Ministry of Information and the British Council. We Serve (1942), a recruiting film for women, was directed by Carol Reed, who made Annakin his assistant director, after which Annakin directed several training films for Verity Films, a group led by Sydney Box, who was about to become head of Gainsborough Pictures. His first filmwork was in 1947 with the Rank Organisation. The following year he moved to Gainsborough Pictures to direct three films about the Huggetts, a working-class family living in suburban England. These highly successful films starred Jack Warner, Kathleen Harrison, Petula Clark and Diana Dors, amongst others. Annakin also became known for a series of Walt Disney adventures, including The Story of Robin Hood and His Merrie Men (1952), The Sword and the Rose (1953), Third Man on the Mountain (1959) and Swiss Family Robinson (1960), which Walt Disney's nephew, Roy O. Disney, considered "one of the greatest family adventure films of all time and a favourite for generations of moviegoers".
He was later associated with another American producer, Darryl F. Zanuck, when he was hired to direct the British and (uncredited) French and American interior segments in The Longest Day (1962), which was nominated for an Academy Award for Best Picture, eventually losing out to Lawrence of Arabia. As head of the 20th Century-Fox Studio, Zanuck endorsed Annakin's most ambitious project Those Magnificent Men in their Flying Machines (1965), also co-written by Annakin for which he received an Academy Award nomination. Annakin also directed the big-scale war film Battle of the Bulge the same year for the Warner Brothers studio and in 1969 he directed and co-wrote Monte Carlo or Bust for Paramount Pictures.
However, some of Annakin's other well-received films were smaller-scale comedies and dramas, including his episodes in Quartet (1948) and Trio (1950), based on Somerset Maugham's stories; Hotel Sahara (1951); Across the Bridge (1957); Crooks Anonymous (1962); The Fast Lady (1962), both films featuring a young Julie Christie, an Annakin discovery and The Informers (1963).  In 1979, Ken Annakin left Britain and moved to Los Angeles.  Annakin's last completed film was The New Adventures of Pippi Longstocking (1988). The 1992 project Genghis Khan was not completed.
In 2001 he released a highly regarded autobiography So You Wanna Be A Director? published by Tomahawk Press (ISBN 0-953 1926-5-2). Considered "a classic among directors' autobiographies" it has forewords by both Richard Attenborough and Mike Leigh. In their review, the Directors Guild of America stated "So You Wanna Be a Director? is an entertaining autobiography through which seasoned directors and aspirants alike can enjoy and learn from a man with such a versatile and long-lived career. If Annakin tells of his exasperation over trying to coax performances out of producers' girlfriends, the bad behavior – and sometimes the drug problems – of certain stars and the vagaries of international film financing, he's providing tales that are as cautionary today as when he lived them".
Annakin was made one of the few Disney Legends by The Walt Disney Company in March 2002. He is only the second film director to be so honoured. He was also awarded an OBE the same year for services to the film industry and received an honorary Doctor of Letters degree from Hull University.  He died on 22 April 2009, the same day as Jack Cardiff, who had been his cinematographer on the 1979 film The Fifth Musketeer. He was survived by his wife of 50 years, the former Pauline Carter and their daughter Brenda, two grandchildren and two great-grandchildren. A daughter from a previous marriage predeceased him.  Despite claims that George Lucas took the name for Anakin Skywalker in Star Wars from his friend and fellow film director, Lucas denied this via his publicist following Annakin's death in 2009.
Born
August, 10, 1914
Beverley, United Kingdom
Died
April, 22, 2009
USA
Beverly Hills, California
Cemetery
Westwood Memorial Park
Los Angeles, California
USA
17438 profile views