Keith Moon
(Keith John Moon)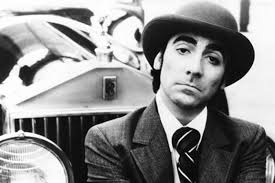 Keith Moon
Keith John Moon (23 August 1946 – 7 September 1978) He was noted for his unique drumming style and his eccentric, often self-destructive behaviour. In 2011, Moon was voted the second-greatest drummer in history by a Rolling Stone readers' poll. His drumming continues to be praised by critics and musicians.
Moon grew up in Alperton a suburb of Wembley, northwest London, and took up the drums during the early 1960s. After playing with a local band, the Beachcombers, he joined the Who in 1964 before they recorded their first single. Moon remained with the band during their rise to fame, and was quickly recognised for his distinctive drumming style. He occasionally collaborated with other musicians and later appeared in films, but considered playing in the Who his primary occupation and remained a member of the band until his death. In addition to his talent as a drummer, however, Moon developed a reputation for smashing his kit on stage and destroying hotel rooms on tour. He was fascinated by blowing up toilets with cherry bombs or dynamite, and by destroying television sets. Moon enjoyed touring and socialising, and was bored and restless when the Who were inactive. His twenty-first birthday party in Flint, Michigan has been cited as a notorious example of decadent behaviour by rock groups.
Moon suffered a number of setbacks during the 1970s, most notably the accidental death of chauffeur Neil Boland and the breakdown of his marriage. He became addicted to alcohol (particularly brandy and champagne), acquiring a reputation for decadence and dark humour; his nickname was "Moon the Loon". After moving to Los Angeles with personal assistant Peter "Dougal" Butler during the mid-1970s Moon recorded his only solo album, the poorly received Two Sides of the Moon. While touring with the Who, on several occasions he passed out on stage and was hospitalised. By their final tour in 1976 (and particularly during the filming of The Kids Are Alright and the recording of Who Are You), the drummer's deterioration was evident. Moon moved back to London in 1978, dying in September of that year from an overdose of Heminevrin (a drug intended to curb alcohol abuse).
Born
August, 23, 1978
England
London
Died
September, 07, 1978
England
London
Other
Moon was cremated on 13 September 1978 at Golders Green Crematorium
17280 profile views