Karyn Kupcinet
(Roberta Lynn Kupcinet)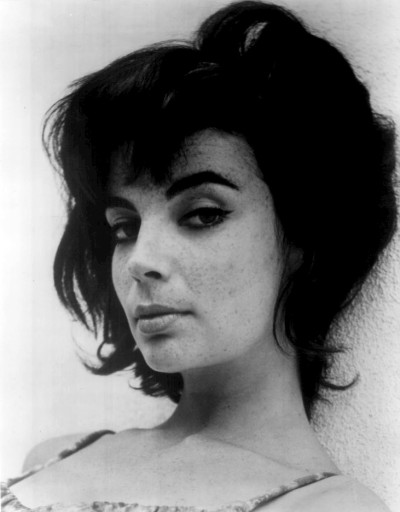 Karyn Kupcinet was born Roberta Lynn Kupcinet in Chicago, Illinois to Irv Kupcinet, a sportswriter for the Chicago Daily Times, and his wife, Esther "Essee" Solomon Kupcinet. She acquired the nickname "Cookie" during her childhood. She made her acting debut at age 13 in the Chicago production of Anniversary Waltz and went on to attend Pine Manor College for a semester, eventually studying at the Actors Studio in New York. Kupcinet was encouraged into acting by her mother, and was given access to producers through the reputation of her father and his Kup's Column in the Chicago Sun-Times. In 1961, Jerry Lewis offered Kupcinet a role in the film The Ladies Man, where she appeared in a bit part as one of dozens of young ladies in a Hollywood boardinghouse. In 1962, she appeared in the role of Annie Sullivan in a Laguna Beach summer theater production of The Miracle Worker. She appeared in guest roles on television including The Donna Reed Show, The Wide Country, G.E. True, and Going My Way. In addition to guest spots, Kupcinet had a regular role in the prime time series Mrs. G. Goes to College (retitled The Gertrude Berg Show during its short run). Karyn Kupcinet's last onscreen appearance was on Perry Mason in the role of Penny Ames in the episode entitled "The Case of the Capering Camera." The episode aired on CBS on January 16, 1964, nearly two months after her death. Coincidentally, it was the final on-screen appearance of Ray Collins as Lt. Tragg.
By 1961, Karyn Kupcinet was living in Hollywood and was getting positive reviews for her acting. In March 1962, a Los Angeles Times interviewer, assigned to help Kupcinet promote The Gertrude Berg Show, noted her talking exclusively about food and her weight. In December 1962, Kupcinet filmed a guest-star appearance on The Wide Country and had her first meeting with one of the series' stars, Andrew Prine, and began a relationship with him. However, the relationship was problematic, Kupcinet was abusing diet pills along with other prescription drugs, and she had been arrested for shoplifting. The problems in Kupcinet's relationship with Prine were mainly due to Prine's objections to making the relationship exclusive. After Kupcinet underwent an illegal abortion in July 1963, the relationship cooled and Prine began dating other women. In turn, Kupcinet began spying on Prine and his new girlfriend. It was later determined by the Los Angeles County Sheriff's Department that Kupcinet had sent threatening and profane messages, consisting of words and letters she had cut out of magazines, to Prine and herself. When Prine told her by telephone about the messages that had been left on his doorstep and posted on the door of his home, she said she had received them, too. They met to show the messages to each other. She seemed puzzled. Soon after her death, investigators for the sheriff's department found her fingerprints on the papers and the Scotch tape. The weight problems had started in high school when Kupcinet began taking diet pills. Her weight remained an issue while at Pine Manor College. The pressure to stay thin intensified after Kupcinet arrived in Hollywood, and she soon began abusing diet pills along with other prescription drugs.
On the last day of her life, Karyn Kupcinet had dinner with future Lost in Space cast member Mark Goddard and his wife, Marcia Rogers Goddard, at their house on Coldwater Canyon Drive in Beverly Hills (near Mulholland Drive). She was due there at 6:30 pm, but arrived an hour late by taxicab. The couple said Kupcinet only toyed with her food during the meal. Marcia Goddard told two officers from the L.A. County Sheriff's Office that during dinner with Kupcinet "… her lips seemed numb. Her voice was funny. She moved her head at odd angles." The Goddards also noticed that her pupils were constricted. Mark Goddard told authorities that he confronted Kupcinet about her altered state during the meal, and she began to cry, putting her arm around him. At one point during the meal, Kupcinet told her friends an unsubstantiated story about a baby that had been abandoned on her doorstep earlier that day.[5] At 8:30 pm, a taxicab arrived to take her home, and she promised to telephone the Goddards soon. Kupcinet apparently went straight home after dining with her friends. She was visited by freelance writer Edward Stephen Rubin shortly afterward. The two were then joined by actor Robert Hathaway around 9:30 pm. They told detectives they watched TV, including The Danny Kaye Show, with Kupcinet. They all drank coffee until she fell asleep, sitting next to them on the couch. She awoke and went to her room. The men either turned the TV set off or simply lowered the volume (three days later it was still playing with a low volume), and made sure the door was locked behind them before departing at about 11:15 pm. Hathaway said Rubin and he returned to his place and were later joined by Kupcinet's boyfriend, Andrew Prine, who was also Hathaway's neighbor. The three young men watched television and talked until approximately 3:00 am.
The Goddards went to Karyn Kupcinet's apartment on November 30, after she failed to telephone the couple as promised. Mark Goddard stated that he had a "funny feeling" that something was wrong. Upon arriving at Kupcinet's apartment, the couple found her nude body lying on the couch. Mark Goddard initially assumed that she had died from a drug overdose. Upon searching Kupcinet's apartment, police found prescriptions for Desoxyn, Miltown, Amvicel, and other medications. Authorities also found a note written by Kupcinet that reflected in some detail her emotions regarding issues in her life (i.e., parents, self-image, problems with boyfriend) and people she admired. Coroner Harold Kade concluded that due to a broken hyoid bone in her throat, Kupcinet had been strangled. Her death was officially ruled a homicide. Investigators from the L. A. County Sheriff's Office determined that Kupcinet had told Andrew Prine by telephone the same story about the abandoned baby that she had told the Goddards, and it was false. Neither the sheriff's office nor the Los Angeles Police Department had received a report of a baby found abandoned anywhere in her apartment building on her last day alive or the previous day.
Born
March, 06, 1941
USA
Chicago, Illinois
Died
November, 28, 1963
USA
West Hollywood, California
Cause of Death
Cemetery
Memorial Park Cemetery and Crematorium
Skoki, Illinois
USA
5104 profile views