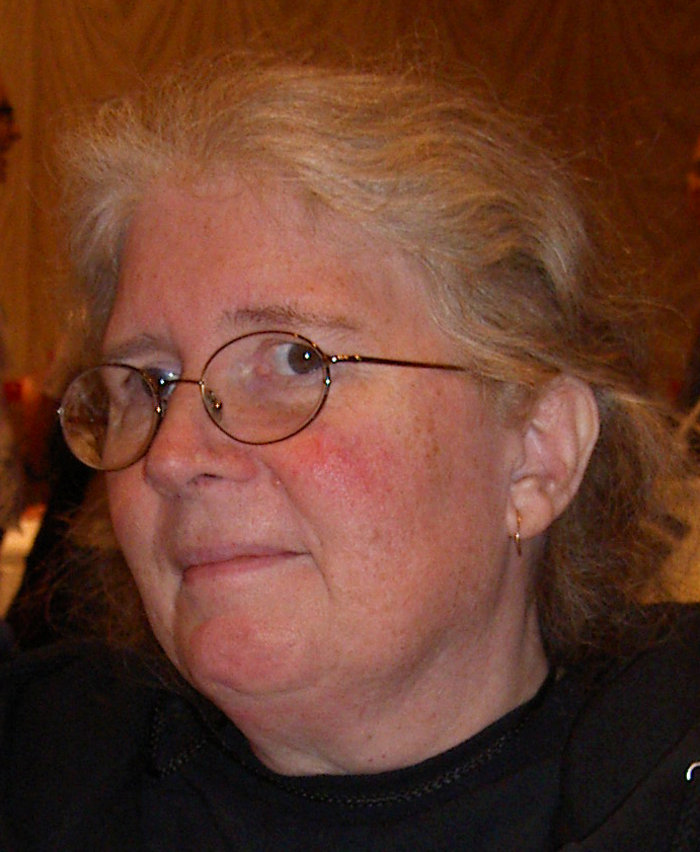 Kage Baker
Science Fiction and Fantasy Author. She shall be best remembered for the "Company" series, a group of 11 novels and numerous short stories about a troupe of time-traveling cyborgs who plunder history on behalf of their 24th. century masters. Living in southern California her entire life, she spent many years in theater, as a historical reenactor and as a teacher of Elizabethan English, before deciding to become a writer. She published her first short stories in "Asimov's Science Fiction" in 1997; that same year saw the release of "In the Garden of Iden", her first novel, as well as the initial "Company" offering. She kept up a steady stream of work for the rest of her life, with the 2003 "The Empress of Mars" garnering the Theodore Sturgeon Award and being nominated for a Hugo. In 2009 she earned double nominations for the World Fantasy Award, for the short story "Caverns of Mystery", and for the novel "House of the Stag". Baker died after a year-long battle with uterine cancer. Her final book, "Not Less Than Gods", was pending publication at her death. (bio by: Bob Hufford)
Kage Baker was an American science fiction and fantasy writer. She was born in Hollywood, California and lived there and in Pismo Beach most of her life. Before becoming a professional writer she spent many years in theater, including teaching Elizabethan English as a second language. She is best known for her "Company" series of historical time travel science fiction. Her first stories were published in Asimov's Science Fiction in 1997, and her first novel, In the Garden of Iden, by Hodder & Stoughton in the same year. Other notable works include Mendoza in Hollywood (novel, 2000) and "The Empress of Mars" (novella, 2003), which won the Theodore Sturgeon Award and was nominated for a Hugo Award.
In 2008, she donated her archive to the department of Rare Books and Special Collections at Northern Illinois University. In 2009, her short story "Caverns of Mystery" and her novel House of the Stag were both nominated for World Fantasy Awards, but neither piece won. In January 2010, it was reported that Baker was seriously ill with cancer. She died from uterine cancer on January 31, 2010 in Pismo Beach, California.
In 2010, Baker's The Women of Nell Gwynne's was nominated for a Hugo Award and a World Fantasy Award in the Best Novella categories. On May 15, 2010, that work was awarded the 2009 Nebula Award in the Best Novella category.
Born
June, 10, 1952
Hollywood, California
Died
January, 31, 2010
Pismo Beach, California
Cause of Death
Cemetery
Other
Donated to Medical Science
2688 profile views