Justin Fashanu
(Justinus Soni Fashanu)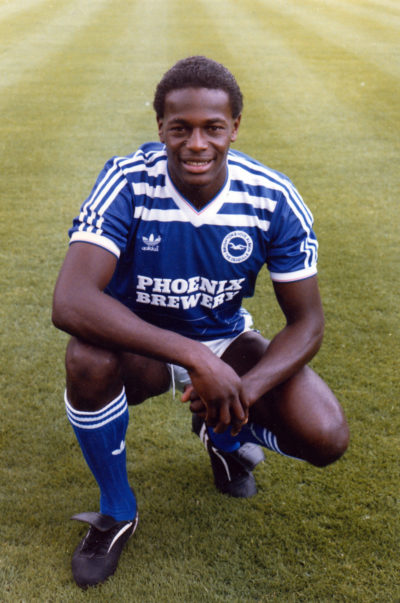 Justin Fashanu began his career as an apprentice with Norwich City, turning professional towards the end of December 1978. He made his league debut on 13 January 1979, against West Bromwich Albion, and settled into the Norwich side scoring regularly and occasionally spectacularly. In 1980, he won the BBC Goal of the Season award, for a spectacular goal against Liverpool. He managed a total of 103 senior appearances for Norwich, scoring 40 goals. While at the club he was also capped six times for England at under-21 level. He subsequently became Britain's first £1million black footballer when he transferred to Brian Clough's Nottingham Forest in August 1981 as successor to the departing Trevor Francis. His career stalled as his professional relationship with Brian Clough deteriorated; Clough, it would appear, was disturbed by the rumours of Justin Fashanu's visits to gay nightclubs and bars. His goals and then confidence dried up as he failed to fit in with the playing and lifestyle demands of Clough, especially after Clough had discovered his homosexuality and barred him from training with the side. In his autobiography, Clough recounts a dressing down he gave Justin Fashanu after hearing rumours that he was going to gay bars. "'Where do you go if you want a loaf of bread?' I asked him. 'A baker's, I suppose.' 'Where do you go if you want a leg of lamb?' 'A butcher's.' 'So why do you keep going to that bloody poofs' club?"'
In August 1982, Justin Fashanu was loaned to Southampton (scoring 3 goals in 9 appearances). At The Dell, Fashanu settled in well and his promising form helped the "Saints" overcome the sudden departure of Kevin Keegan; manager Lawrie McMenemy would have liked to make the move permanent, but was prevented from doing so by lack of funds. In December 1982, he was sold to local rivals Notts County for £150,000. He scored 20 times in 64 games for the Magpies before moving to Brighton & Hove Albion in June 1985 for a fee of £115,000, where a knee injury looked to have finished his career. He went to the United States for surgery and began playing again, firstly with Los Angeles Heat and then to Canada with the Edmonton Brickmen and with the Hamilton Steelers. He returned to the UK and tried to resurrect his playing career, joining Manchester City on 23 October 1989, and played twice in the First Division, but on 20 November, barely a month after joining the club, he moved to West Ham United, later having a trial with Ipswich Town. He joined Leyton Orient in March 1990 and subsequently joined non-league Southall as player-coach before spending a summer with Toronto Blizzard. After leaving Toronto he returned to England to sign for semi-pro Surrey team Leatherhead.
In 1990, Justin Fashanu publicly came out as gay in an interview with the tabloid press, becoming the only prominent player in English football so far to do so. Although he claimed that he was generally well accepted by his fellow players, he freely admitted that they would often joke maliciously about his sexual orientation, and he also became the target of constant crowd abuse because of it. He began a trial with Newcastle United on 24 October 1991, making one first-team appearance as a sub against Peterborough United. Manager Ossie Ardiles refused to give him a permanent contract. He signed for Torquay United on 23 November 1991. He hogged the limelight while at Plainmoor: in particular, his relationship with Coronation Street actress Julie Goodyear featured in tabloid newspapers; but he still managed to impress on the pitch, playing 21 league games that season and scoring 10 goals, though he was unable to save Torquay from suffering relegation from the Third Division. When Ivan Golac was appointed manager of Torquay in February 1992, Fashanu was given the role of assistant manager and maintained this position at the end of the season when Golac was replaced by new manager Paul Compton. On 13 April 1992, Fashanu received a £265 fine and a 28-day driving ban after being found guilty of speeding and failing to produce his driving licence. In February 1993, with Torquay battling against a second successive relegation, from the new Division Three to the Football Conference, Fashanu applied for the vacant post of manager following Compton's departure, but was turned down in favour of Neil Warnock. Fashanu left Torquay, having scored 15 goals in 41 games for the Gulls. He went to play for Airdrieonians soon after but was unable to save them from suffering relegation from the Scottish Premier Division.
Justin Fashanu left Airdrie in 1993, playing in Sweden with Trelleborg, before returning to Scotland, joining Heart of Midlothian in July 1993, but had his contract terminated in February 1994 for 'unprofessional conduct' (he had attempted to sell false stories regarding him and a number of cabinet ministers to the press), and returned to the United States to coach a boys' team in Georgia. He later moved to Atlanta Ruckus, but was suspended for the playoffs for failure to comply with the terms of his contract, before joining Miramar Rangers in New Zealand in 1997. He then moved to Ellicott City, Maryland to coach the Maryland Mania, a new professional team in the second division USL A-League, following his officially announced retirement from the professional game.
In March 1998, a seventeen-year-old claimed to police that he had been sexually assaulted by Justin Fashanu after a night of drinking. Homosexual acts were illegal in the US state of Maryland at the time, and the youth stated the act was not consensual but being performed as he awoke. The assault was alleged to have taken place in Fashanu's apartment in Ellicott City, Maryland, United States. Fashanu was questioned about this by the police on 3 April, but he was not held in custody. The police later arrived at his flat with a warrant to arrest him on charges of second-degree sexual assault, first-degree assault, and second-degree assault, but Fashanu had already fled to England.
On the morning of 3 May, he was found hanged in a deserted lock-up garage he had broken into, in Shoreditch, London, after visiting Chariots Roman Spa, a local gay sauna. In his suicide note, he denied the charges, stating that the sex was consensual, and that he had fled to England because he felt he could not get a fair trial because of his homosexuality, and he added: "I realised that I had already been presumed guilty. I do not want to give any more embarrassment to my friends and family." An inquest held in London through 9 September heard evidence from a Scotland Yard detective that the Americans made no request for Fashanu to be found or arrested, and the Coroner stated that he was not a wanted man at the time he hanged himself. The Times and the BBC reported that an arrest warrant had been issued by Howard County District Court on 3 April, that he had been charged with second-degree sexual assault and first-degree and second-degree assaults punishable by up to 20 years in jail, and that Howard County police would have requested his extradition had they known he fled to England. The inquest recorded a verdict of suicide. Justin Fashanu's remains were cremated and his ashes given to his family in Norfolk.
Born
February, 19, 1961
United Kingdom
Hackney, London, England
Died
May, 02, 1998
United Kingdom
Shoreditch, London, England
Cause of Death
Other
2617 profile views