Junior Samples
(Alvin Samples)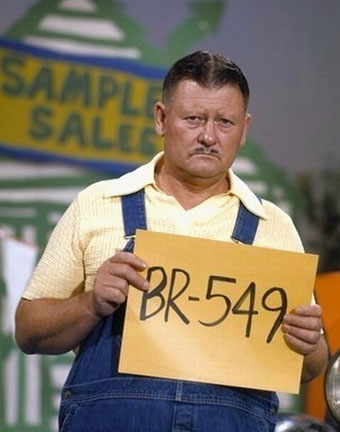 Junior Samples
A sixth grade dropout, Samples was a stock car racing driver and carpenter by trade who went on the radio at the age of 40 and told a story about catching the largest fish ever seen in his hometown. The story was a humorous tall tale, and the recording of this radio story became a best-selling novelty record.
He was asked to become part of the 1969 cast of Hee Haw, and created a bumbling personality, often slurring his way through delivery, messing up jokes and forgetting lines. One of his most famous blunders was from "The Cornfield" sketch…
Junior: "What did the judge lock up old Stan Hawkins fer?"
Roy Clark: "Bigotry. He had three wives!"
Junior: "That's not bigotry, that's trig…trem…tri…" The word he continually slipped on was "trigonometry".
In this way, Samples did much to contribute to the post-Laugh In surrealist comedy of the show, with its strange combination of absurdist kitsch and down-home non sequiturs. He was known for being one of the foursome (the others were Gordie Tapp; Grandpa Jones and Lulu Roman) that made up the eponymous family of the skit called "The Culhanes of Cornfield County".
In 1974, Samples announced that he was "seriously considering" running for lieutenant governor of Georgia on a Republican ticket with then-Macon mayor Ronnie Thompson, who was seeking the party's gubernatorial nomination. The media at first presented Samples' announcement as a political story. However, Samples was pulling a practical joke for publicity purposes. Thompson remained in the race and was defeated in the general election by the Democrat George D. Busbee.
Samples, whose weight sometimes neared four hundred pounds, was on Hee Haw for 14 years, until he died of a heart attack at the age of 57 in 1983. His funeral was officiated by close friend Rev. Douglas Collins.
Born
April, 10, 1926
Cumming, Georgia
Died
November, 13, 1983
Knoxville, Tennessee
Cause of Death
Cemetery
Sawnee View Gardens and Mausoleum
Cumming, Georgia
17574 profile views