Julius La Rosa
(Julius La Rosa)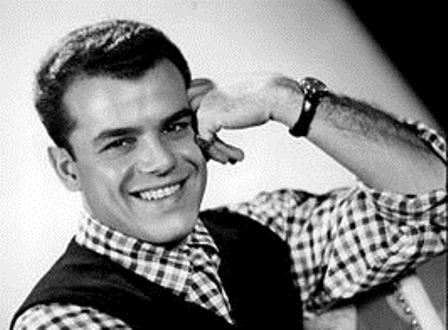 Julius La Rosa
Julius La Rosa, the celebrated 1950s singer who reinvented himself as a television, stage and nightclub performer after his young career was thrown into turmoil by a bizarre and humiliating on-the-air firing by Arthur Godfrey before a national audience, died on Thursday at his home in Crivitz, Wis. He was 86.
His death was confirmed by his wife, Rosemary.
Like many fresh talents discovered by the powerful Mr. Godfrey, Mr. La Rosa had been plucked from obscurity, taken into the "Little Godfrey" family, paid a salary beyond his wildest dreams and exposed to colossal television and radio audiences. For a Brooklyn kid just out of the Navy, it was a dream come true.
With his chunky-cheeked, boyish grin and dark, curly hair swept back from a widow's peak, he crooned pop favorites for 35 million people from 1951 to 1953 on CBS's "Arthur Godfrey Time," a weekday morning television and radio show, and for "Arthur Godfrey and His Friends," a Wednesday night variety program. The news media explored his life. Fans swooned. His mailbag brought 7,000 letters a day (more than Mr. Godfrey's), and his salary grew to $900 a week.
But it all came at a price.
Mr. Godfrey — a folksy, sentimental ukulele strummer to his audiences but an imperious, tyrannical boss behind the sets — ordered all his entertainers to take dancing lessons. Mr. La Rosa refused. He also insisted that his performers not work for outside interests and not be represented by personal agents.
Feeling exploited, Mr. La Rosa did both. He signed with Cadence Records, a label owned by Mr. Godfrey's musical director, Archie Bleyer, and made several recordings, including his first hit, "Anywhere I Wander." He also hired an agent to renegotiate his CBS contract and manage his outside interests.
On Oct. 19, 1953 — 23 months after Mr. La Rosa's debut — Mr. Godfrey retaliated in a morning segment heard only on the radio. Mr. La Rosa had just finished singing "Manhattan" when Mr. Godfrey delivered the sentence in his solemn foghorn voice.
"That was Julie's swan song," he said.
He later fired Mr. Bleyer, too, and told reporters that Mr. La Rosa had been banished because he lacked "humility."
The dismissal stunned Mr. La Rosa and the Godfrey audiences, whose reaction was largely negative. Most media critics also chastised Mr. Godfrey, whose avuncular image began to crumble. Far from being a death knell for Mr. La Rosa's career, however, it opened new doors.
Ed Sullivan signed him, at triple his old salary, for a dozen appearances on his national television variety show, "Toast of the Town." Soon, Mr. La Rosa recorded "Eh, Cumpari," the biggest hit of his career, and "Domani." He went on a national tour, appearing with Perry Como, Patti Page, Nat King Cole and Sarah Vaughan. By 1955, "The Julius La Rosa Show" was on summer television three times a week.
He also appeared in scores of other television shows, including those of Dinah Shore, Steve Allen, Peggy Lee, Johnny Carson, Merv Griffin, Polly Bergen, Mr. Como and Pat Boone. In 1957 he made a film, "Let's Rock."
In 1958 he married Rosemary Meyer, who was Mr. Como's secretary. Besides his wife, he is survived by a daughter, Maria Smith; a son, Chris; a sister, Sadie; and one grandson.
Over the ensuing decades, as tastes in television and music changed, Mr. La Rosa was seen in mostly regional musicals and stage productions, including "Kiss Me Kate," "Carousel," "South Pacific," "Stalag 17" and "The Realist," often receiving excellent reviews.
He was nominated for a Daytime Emmy Award for his supporting role on the NBC soap opera "Another World," worked as a disc jockey for WNEW in New York and later for WNSW in Newark, and for many years was a headliner on nightclub and cabaret circuits in New York, Las Vegas and other cities. His songbook often included "Old Man River," "Lover Come Back to Me" and "The Last Time I Saw Paris."
Stephen Holden, in a 1990 review in The New York Times of Mr. La Rosa's engagement at Rainbow and Stars in Manhattan, wrote: "Boisterously exuberant and remarkably unsentimental for a singer who came of age with romantic balladeers like Tony Bennett and Vic Damone, he approached almost everything he sang with the easygoing confidence of a raconteur providing illuminating slants on familiar stories."
Julius La Rosa was born in Brooklyn on Jan. 2, 1930, to Salvatore and Lucy Prestianni La Rosa. His father was a radio and television repairman. Julius's singing talent emerged early, and he performed in an all-city chorus while attending Grover Cleveland High School in Queens. After graduating in 1947, he joined the Navy and became a radioman.
In 1950, his Navy buddies managed to promote him to Mr. Godfrey, himself a Naval Reserve officer, who gave the young singer an audition in Pensacola, Fla., where Mr. La Rosa was stationed. Impressed with his rendition of "Don't Take Your Love From Me," Mr. Godfrey had him flown to New York to appear on his television show, and on the air promised him a job when he mustered out.
Only days after his discharge in 1951, Mr. La Rosa began performing before coast-to-coast radio and television audiences.
After his dismissal, Mr. La Rosa publicly forgave Mr. Godfrey, but said that he "wasn't a very nice man."
Mr. La Rosa retained his popularity for years. And while his name slowly faded over more than a half century, it never quite went away, especially for those who still remember Johnnie Ray, Margaret Whiting, Georgia Gibbs, the McGuire Sisters and other voices of the "golden oldies" generation.
Born
January, 02, 1930
Brooklyn, New York
Died
May, 12, 2016
Crivitz, Wisconsin
Cause of Death
1399 profile views