Julian Bond
(Horace Julian Bond)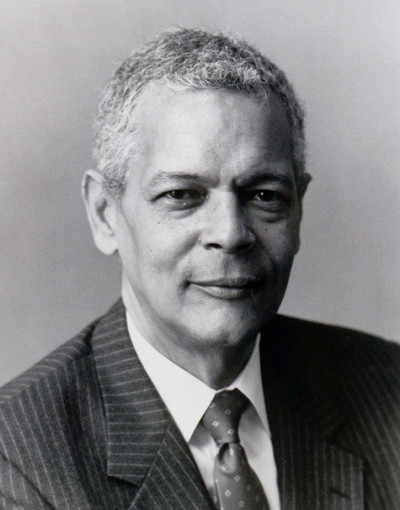 Bond was born at Hubbard Hospital in Nashville, Tennessee, to parents Julia Agnes (Washington) and Horace Mann Bond. His father was an educator who went on to serve as the president of Lincoln University. His mother, Julia, was a former librarian at Clark Atlanta University. At the time, the family resided on campus at Fort Valley State College, where Horace was president. The house of the Bonds was a frequent stop for scholars and activists and celebrities passing by, such as W. E. B. Du Bois and Paul Robeson. In 1945 his father was offered the position as the first African-American president of Lincoln University, and the family moved North.  In 1957, Bond graduated from George School, a private Quaker preparatory boarding school near Newtown in Bucks County, Pennsylvania.  On April 17, 1960, Bond helped co-found the Student Nonviolent Coordinating Committee (SNCC). He served as the communications director of SNCC from January 1961 to September 1966, when he traveled around Georgia, Alabama, Mississippi, and Arkansas to help organize civil rights and voter registration drives. Bond left Morehouse College in 1961 to work on civil rights in the South. From 1960 to 1963, he led student protests against segregation in public facilities and the Jim Crow laws of Georgia.  He returned in 1971 at age 31 to complete his Bachelor of Arts in English. With Morris Dees, Bond helped found the Southern Poverty Law Center (SPLC), a public-interest law firm based in Montgomery, Alabama. He served as its president from 1971 to 1979. Bond was an emeritus member of the Southern Poverty Law Center board of directors at his death.
In 1965, Bond was one of eleven African Americans elected to the Georgia House of Representatives after passage of the Civil Rights Act of 1964 and Voting Rights Act of 1965 had opened voter registration to blacks. By ending the disfranchisement of blacks through discriminatory voter registration, African Americans regained the ability to vote and entered the political process. Although he was initially undecided about his party affiliation, Bond ultimately ran and was elected as a Democrat, the party of President Lyndon B. Johnson, who had signed the Civil Rights Act and Voting Rights Act into law. On January 10, 1966, Georgia state representatives voted 184–12 not to seat him, because he had publicly endorsed SNCC's policy regarding opposition to United States involvement in the Vietnam War. They disliked Bond's stated sympathy for persons who were "unwilling to respond to a military draft". A three-judge panel on the United States District Court for the Northern District of Georgia ruled in a 2–1 decision that the Georgia House had not violated any of Bond's constitutional rights. In 1966, the Supreme Court of the United States ruled 9–0 in the case of Bond v. Floyd that the Georgia House of Representatives had denied Bond his freedom of speech and was required to seat him. From 1967 to 1975, Bond was elected to four terms in the Georgia House, where he organized the Georgia Legislative Black Caucus.  In January 1967, Bond was among eleven House members who refused to vote when the legislature elected segregationist Democrat Lester Maddox of Atlanta as governor of Georgia over the Republican Bo Callaway. Callaway had led in the 1966 general election by some three thousand votes. The choice fell on state lawmakers under the Georgia Constitution of 1824, because neither major party candidate had polled a majority in the general election. Former Governor Ellis Arnall polled more than fifty thousand votes as a write-in candidate, a factor which led to the impasse. Bond would not support either Maddox or Callaway, although he was ordered to vote by lame duck Lieutenant Governor Peter Zack Geer.
Bond went on to be elected for six terms in the Georgia Senate, in which he served from 1975 to 1987.  During the 1968 presidential election, Bond led an alternate delegation from Georgia to the Democratic National Convention in Chicago, where he became the first African American to be nominated as a major-party candidate for Vice President of the United States. The 28-year-old Bond quickly declined nomination, citing the constitutional requirement that one must be at least 35 years of age to serve in that office.  Bond ran for the United States House of Representatives from Georgia's 5th congressional district in 1986. He lost the Democratic nomination in a runoff to rival civil rights leader John Lewis in a bitter contest, during which Bond was accused of using cocaine and other drugs. During the campaign, Lewis challenged Bond to take a drug test (Lewis had said he took one and passed). Bond refused, saying the drug test was akin to McCarthyism and trivializes the issue of drugs. While Bond had raised twice as much money as Lewis and had a larger national reputation, Lewis cast himself as the man on the front lines of the Civil Rights Movement and ran up large margins over Bond among white liberals in Atlanta. As the district had a huge Democratic majority, the nomination delivered the seat to Lewis, who still serves in Congress. Still dogged by allegations of drug use, Bond resigned from the Georgia Senate the following year. Bond's estranged wife, who publicly accused him of using cocaine, later retracted her statements.  After leaving politics, Bond taught at several universities in major cities in the North and South, including American, Drexel, Harvard, and the University of Virginia, where he taught until 2012. Bond was on the Board of Selectors of Jefferson Awards for Public Service.
On July 28, 1961, Bond married Alice Clopton, a student at Spelman College. They divorced on November 10, 1989. They had five children: Phyllis Jane Bond-McMillan, Horace Mann Bond II, Michael Julian Bond (an at-large member of Atlanta's City Council), Jeffrey Alvin Bond, and Julia "Cookie" Louise Bond. He married Pamela Sue Horowitz, a former SPLC staff attorney, in 1990.  Bond died from complications of vascular disease on August 15, 2015, in Fort Walton Beach, Florida, aged 75. He is survived by his wife, his five children, James (a brother), Jane Bond Moore (a sister), and eight grandchildren.
Born
January, 14, 1940
USA
Nashville, Tennessee
Died
August, 15, 2015
USA
Fort Walton Beach, Florida
Cause of Death
complications from vascular disease
9790 profile views