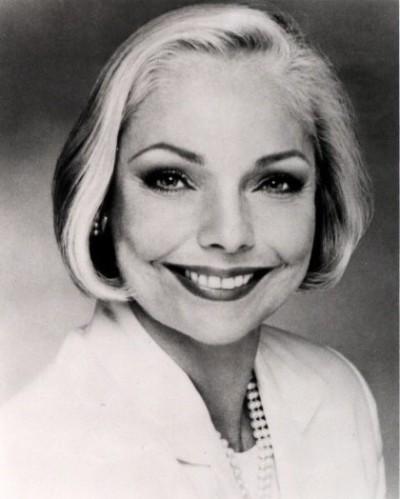 Lewis was the biological daughter of actress Loretta Young and actor Clark Gable. She was conceived while her parents were working on the film The Call of the Wild. She was the only biological child that Gable had while he was still alive (his only son was born four months after his death), but he had no relationship with her. Gable was married at the time to "Ria" Langham. Young concealed her pregnancy to protect their film careers and to avoid scandal. Young went to Europe for several months and then returned to a small house in Venice, California with her mother. A Hollywood gossip columnist interviewed Young because she was claiming to be ill for weeks and needed rest. She gave the interview from her bed, covered in blankets to conceal her pregnant belly.  Young gave birth, and weeks later, the baby was put in an orphanage. Lewis would spend the next 19 months in various "hideaways and orphanages" until Young's mother retrieved the toddler. Later she told Hollywood gossip columnist Louella Parsons that she had "adopted" two children and several weeks later, told Parsons that she had to give one of the children back to its biological mother. She did this as a smokescreen to cover up the birth and to make her adoption story more believable.  When Lewis was four years old, her mother married businessman Tom Lewis, and Judy went by his last name. However, Tom never adopted Judy because he never knew that she was Loretta's biological daughter, a fact that he would have learned had he gone through adoption procedures. Christopher Lewis once told Judy that at one time his father thought that Judy was the biological daughter of Loretta's sister, Sally Blane, because of Judy's resemblance to Sally. Her mother went on to have two sons, Christopher Paul and Peter Charles, with Tom Lewis.
Lewis looked strikingly like Gable as she grew older, including having ears that stuck out like Gable's. Young often put bonnets on the toddler, and had Lewis undergo a painful operation on her ears as a child to pin them back in another attempt to hide her real parentage. As Lewis grew up, several people in Hollywood, as well as the public, began to believe that Clark Gable was her biological father. When Judy was fifteen, Gable came to her mother's house to visit her briefly. Gable asked Lewis about her life and then upon leaving, kissed her on her forehead. It was the only time that Judy ever spoke to Gable, and she had no idea he was her father. When Lewis met her future husband at the age of twenty-three, it was he who told her that Gable was her biological father and that "everyone" knew, which stunned Lewis. Lewis, at age 31, finally confronted her mother when Gable had been dead for five years. Loretta Young became nauseated but confirmed the truth. Lewis wrote a book about her life titled Uncommon Knowledge, because it seemed that she was the only one who did not know about her true parentage. Loretta Young died on August 12, 2000, at age 87; her autobiography, published posthumously, confirmed that Gable was indeed Lewis's father. Loretta Young reportedly told her daughter-in-law in 1998 that she was date raped by Clark Gable, which was how her daughter was conceived. The family stayed silent about the claim until after both Loretta Young and her daughter Judy Lewis had died.  Lewis was the niece of actresses Polly Ann Young, Sally Blane, and Georgiana Young. Her aunt, Georgiana (Loretta Young's half-sister), was married to actor Ricardo Montalbán for sixty-three years until her death in 2007. She was also the half-sister of John Clark Gable (Clark Gable's son with his fifth wife, Kay Williams), Christopher Lewis and Peter Lewis (Loretta's biological sons). Musician David Lindley is her cousin.
Lewis' credits include appearances on TV serials such as General Hospital, Kitty Foyle, The Brighter Day, The Doctors. Ms. Lewis had her longest running serial role on The Secret Storm as Susan Ames from 1964–1971. She also produced the short-lived Another World spin-off, Texas and was a script writer for NBC Daytime's Search for Tomorrow.  In 1958, Lewis guest starred in the episode entitled "Attack" of the syndicated western series Mackenzie's Raiders, starring Richard Carlson. She guest starred with Grant Sullivan in his syndicated western series, Pony Express. In 1960, Lewis portrayed a girlfriend of a United States Navy officer in the episode "Tiger Blood" of the syndicated series The Blue Angels. In the 1961–1962 television season, she appeared as Connie Masters, an employee of the Wells Fargo office in Stillwater, Oklahoma, in the NBC western series, The Outlaws. In 1975, she guest starred in the short-lived CBS family drama Three for the Road.  Lewis was divorced with one daughter, Maria, and two grandsons. She obtained bachelor's and master's degrees in clinical psychology from Antioch University in Los Angeles, became a licensed family and child counselor in 1992, and was a practicing psychotherapist in Los Angeles, with specialty in foster care and marriage therapy.  Lewis died of cancer on November 25, 2011.
Born
November, 06, 1935
USA
Los Angeles, California
Died
November, 25, 2011
USA
Gladwyne, Pennsylvania
Cause of Death
Cemetery
Mount Vernon Cemetery
Philadelphia, Pennsylvania
USA
14064 profile views