Juanita Moore
(Juanita Moore)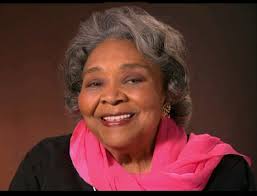 Juanita Moore
Juanita Moore (October 19, 1914 – January 1, 2014) was an American film, television, and stage actress. She was the fifth African American to be nominated for an Academy Award in any category, and the third in the Supporting Actress category at a time when only a single African American had won an Oscar. Her most famous role was as Annie Johnson in the movie Imitation of Life (1959).
Early life and career
Moore as Annie Johnson in Imitation of Life (1959).
Born in Greenwood, Mississippi in 1914, and raised in Los Angeles, Moore was a chorus girl at the Cotton Club before becoming a film extra while working in theater. After making her film debut in Pinky (1949), she had a number of bit parts and supporting roles in motion pictures through the 1950s and 1960s. However, her role in Imitation of Life (1959), a remake, as housekeeper Annie Johnson, whose daughter Sarah Jane (Susan Kohner) passes for white, won her a nomination for an Academy Award for Best Supporting Actress. She was also nominated for the Golden Globe Award for Best Supporting Actress in a Motion Picture for the role. When the two versions of Imitation of Life were released together on DVD, the earlier film was released in 1934, one of the bonus features was a new interview with Juanita Moore.
Moore continued to perform in front of the camera, with a role in the movie Disney's The Kid (2000) and guest-starring roles on television shows Dragnet, Adam-12, Marcus Welby, M.D., ER and Judging Amy.
On April 23, 2010, a new print of Imitation of Life (1959) was screened at the TCM Film Festival in Los Angeles, to which Moore and co-star Kohner were invited. After the screening, the two women appeared on stage for a question-and-answer session hosted by TCM's Robert Osborne. Moore and Kohner received standing ovations.
Personal life and death
Moore was married for 50 years to Charles Burris; he died in 2001. He was a Los Angeles bus driver and, although she was a frequent passenger, she had stepped out in front of his approaching bus to cross the street to a local bar, hoping to find someone to study for the Inès Serrano role in the play No Exit—Serrano was a lesbian, and Moore was unfamiliar with lesbianism. She and Burris married a few weeks later.
Her grandson is actor/producer Kirk Kelley-Kahn, who is CEO/President of "Cambridge Players – Next Generation", a theatre troupe whose founding members included Moore, Esther Rolle, Helen Martin, Lynn Hamilton and Royce Wallace.
Moore died at her home in Los Angeles on January 1, 2014, from natural causes. She was 99 years old. She is buried at Inglewood Park Cemetery.
Born
October, 19, 1914
United States
Mississippi
Died
January, 01, 2014
United States
California
Cemetery
Inglewood Park Cemetery
California
United States
16530 profile views