Joyce Brothers
(Joyce Brothers)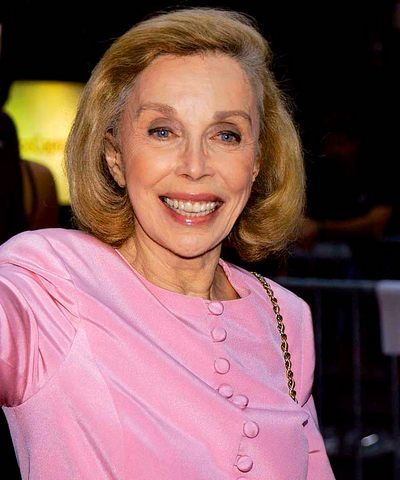 Joyce Diane Bauer was born in 1927 in Brooklyn, New York, to Estelle (née Rapaport) and Morris K. Bauer, attorneys who shared a law practice. Her family was Jewish. She graduated from Far Rockaway High School in January 1944. She entered Cornell University, double majoring in home economics and psychology and was a member of Sigma Delta Tau sorority. She earned her Ph.D degree in psychology from Columbia University. The American Association of University Women AAUW awarded Brothers the American Fellowship in 1952, which enabled her to complete the doctoral degree.  She married Milton Brothers, an internist, in 1949. The couple had a daughter, Lisa. Milton Brothers died in 1989 from cancer. Brothers resided in Fort Lee, New Jersey, where she died in 2013, aged 85.
Brothers gained fame in late 1955 by winning The $64,000 Question game show, on which she appeared as an expert in the subject area of boxing. Originally, she had not planned to have boxing as her topic, but the sponsors suggested it, and she agreed. A voracious reader, she studied every reference book about boxing that she could find; she would later tell reporters that it was thanks to her good memory that she assimilated so much material and answered even the most difficult questions. After seven weeks on the show she became the second person, and only woman, to win the $64,000 top prize. Two years later, Brothers appeared on a successor program, The $64,000 Challenge, which matched the contestant against experts in the field. Again, Brothers walked off with the maximum prize.
In 1959, allegations that quiz shows were rigged, due to the Charles Van Doren controversy on the quiz show Twenty One, began to surface and stirred controversy. Despite these claims, Brothers insisted she had not cheated, nor ever been given any answers to questions in advance. During a 1959 hearing in the quiz show scandal, a producer exonerated her of involvement. Her success on The $64,000 Question earned Brothers a chance to be the color commentator for CBS during the boxing match between Carmen Basilio and Sugar Ray Robinson. She was said to have been the first woman boxing commentator.  Richard N. Goodwin, the chief investigator of the quiz show scandals, wrote of how he questioned Brothers, and when she began to cry he decided not to pursue any further inquiries into her actions on the quiz show.
By August 1958, Brothers was given her own television show on a New York station, but her topic was not sports; she began doing an advice show about relationships, during which she answered questions from the audience. She claimed to have been the first television psychologist, explaining to The Washington Post: "I invented media psychology. I was the first. The founding mother." Sponsors were nervous about whether a television psychologist could succeed, she recalled, but viewers expressed their gratitude for her show, telling her she was giving them information they could not get elsewhere.
Brothers presented syndicated advice shows on both television and radio, during a broadcasting career that lasted more than four decades. Her shows changed names numerous times, from The Dr. Joyce Brothers Show to Consult Dr. Brothers to Tell Me, Dr. Brothers to Ask Dr. Brothers to Living Easy with Dr. Joyce Brothers. In 1964, she interviewed and posed for publicity photographs with The Beatles on their first visit to the United States.
Brothers also had a monthly column in Good Housekeeping magazine for almost four decades, and a syndicated newspaper column that she began writing in the 1970s and which at its height was printed in more than 300 newspapers. She also published several books including the 1981 book, What Every Woman Should Know About Men, and the 1991 book, Widowed, inspired by the loss of her husband. Her advice was also used as a source for some questions on the 1998-2004 incarnation of Hollywood Squares.  As a psychologist, Brothers had been licensed in New York since 1958.
Brothers died, aged 85, at her home in Fort Lee on May 13, 2013 due to respiratory failure. She is survived by her daughter Lisa Brothers Arbisser, four grandchildren, two great-grandchildren, and a sister. The Washington Times called her "the mother of television psychology". She is credited with inspiring "Dr. Laura" Schlessinger and "Dr. Phil" McGraw who called himself "a very big fan of hers" after her death.
Born
October, 20, 1927
USA
Brooklyn, New York
Died
May, 13, 2013
USA
Fort Lee, New Jersey
Cemetery
Beth David Cemetery
Elmont, New York
USA
16516 profile views