Josh Gibson
(Joshua Gibson)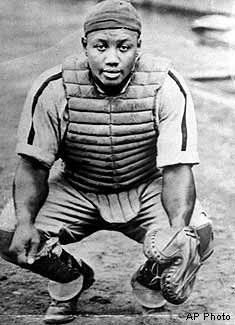 The Negro leagues generally found it more profitable to schedule relatively few league games and allow the teams to earn extra money through barnstorming against semi-professional and other non-league teams. Thus, it is important to distinguish between records against all competition and records in league games only. For example, against all levels of competition Josh Gibson hit 69 home runs in 1934; the same year in league games he hit 11 home runs in 52 games. In 1933, he hit .467 with 55 home runs in 137 games against all levels of competition. His lifetime batting average is said to be higher than .350, with other sources putting it as high as .384, the best in Negro league history. Gibson's Hall of Fame plaque states he hit "almost 800 home runs in league and independent baseball during his 17-year career." (This figure includes vs. semi-pro competition and in exhibition games.) His lifetime batting average, according to the Hall's official data, was .359. It was reported that he won nine home run titles and four batting championships playing for the Crawfords and the Grays. It is also believed that Gibson hit a home run in a Negro league game at Yankee Stadium that struck two feet from the top of the wall circling the center field bleachers, about 580 feet (180 m) from home plate. Although it has never been conclusively proven, Chicago American Giants infielder Jack Marshall said Gibson slugged one over the third deck next to the left field bullpen in 1934 for the only fair ball hit out of Yankee Stadium. Washington Senators owner Clark Griffith once said that Gibson hit more home runs into Griffith Stadium's distant left field bleachers than the entire American League. There is no published season-by-season breakdown of Josh Gibson's home run totals in all the games he played in various leagues and exhibitions.
The true statistical achievements of Negro league players may be impossible to know as the Negro leagues did not compile complete statistics or game summaries. Based on research of historical accounts performed for the Special Committee on the Negro Leagues, Gibson hit 224 homers in 2,375 at-bats against top black teams, 2 in 56 at-bats against white major-league pitchers and 44 in 450 AB in the Mexican League. John Holway lists Gibson with the same home run totals and a .351 career average, plus 21 for 56 against white major-league pitchers. According to Holway, Gibson ranks third all-time in the Negro leagues in average among players with 2,000+ AB (trailing Jud Wilson by three points and John Beckwith by one). Holway lists him as being second to Mule Suttles in homers, though the all-time leader in HR/AB by a considerable margin – with a homer every 10.6 AB to one every 13.6 for runner-up Suttles. Recent investigations into Negro league statistics, using box scores from newspapers from across the United States, have led to the estimate that, although as many as two thirds of Negro league team games were played against inferior competition (as traveling exhibition games), Gibson still hit between 150 and 200 home runs in official Negro league games. Though this number appears very conservative next to the statements of "almost 800" to 1000 home runs, this research also credits Gibson with a rate of one home run every 15.9 at bats, which compares favorably with the rates of the top nine home run hitters in Major League history. The commonly cited home run totals in excess of 800 are not indicative of his career total in "official" games because the Negro league season was significantly shorter than the Major League season; typically consisting of less than 60 games per year. The additional home runs cited were most likely accomplished in "unofficial" games against local and non-Negro league competition of varying strengths, including the oft-cited "barnstorming" competitions.
Despite the fact that statistical validation continues to prove difficult for Negro league players, the lack of verifiable figures has led to various amusing "Tall Tales" about immortals such as Josh Gibson. A good example: In the last of the ninth at Pittsburgh, down a run, with a runner on base and two outs, Gibson hits one high and deep, so far into the twilight sky that it disappears from sight, apparently winning the game. The next day, the same two teams are playing again, now in Washington. Just as the teams have positioned themselves on the field, a ball comes falling out of the sky and a Washington outfielder grabs it. The umpire yells to Gibson, "You're out! In Pittsburgh, yesterday!" In early 1943, Gibson fell into a coma and was diagnosed with a brain tumor. After he regained consciousness, he refused the option of surgical removal and lived the next four years with recurring headaches. In 1944, Gibson was hospitalized in Washington, D.C. at Gallinger Hospital for mental observation. Josh Gibson died of a stroke in Pittsburgh in 1947 at age 35 just three months before Jackie Robinson became the first black player in modern major league history. Some believe the stroke was linked to drug problems that plagued him in his later years. He was buried at the Allegheny Cemetery in the Lawrenceville neighborhood of Pittsburgh, where he lay in an unmarked grave until a small plaque was placed in 1975.
Born
December, 21, 1911
USA
Buena Vista, Georgia
Died
January, 20, 1947
USA
Pittsburgh, Pennsylvania
Cause of Death
Cemetery
Allegheny Cemetery
Pittsburgh, Pennsylvania
USA
1143 profile views