Johnny Valentine
(John Theodore Wisniski)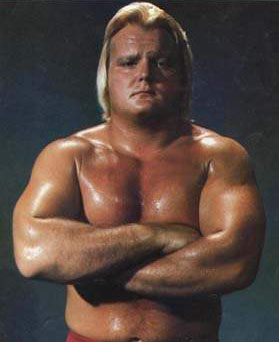 Johnny Valentine
Wisniski was originally from Maple Valley, Washington. He was a devout Christian for many years. He was married to a woman named Sharon, who plans to write a book titled A Never Ending Love Story of a Wrestler and His Wife about their life together. He also had a son, Greg Valentine, who has wrestled professionally since 1970 and is best known as Greg "The Hammer" Valentine. Ric Flair, who wrestled with Wisniski, has described him as a quiet person who kept to himself. He was also known for making his demands clear to employers and not backing down, and many stories continue to circulate about practical jokes, or ribs, that he played on his fellow wrestlers.
On October 4, 1975, Wisniski was in a private airplane (a twin-engined Cessna 310) with Ric Flair, David Crockett, Bob Bruggers, and Tim Woods. Because of the weight of the passengers, the pilot realized that he could not take off without reducing the amount of fuel the plane was carrying. Part way through the flight, the aircraft ran out of fuel and crashed near Wilmington, North Carolina. The crash broke Flair's back,killed the pilot,3] and broke Wisniski's back. A bone fragment became embedded in his spinal column, paralyzing him for life and forcing him to have a clamp implanted to hold the bones in his back together.
In August 2000, Wisniski fell from his front porch, and had a number of injuries and complications. These included a fractured back, pneumonia, staph infection, collapsed lungs and kidney failure. He was originally hospitalized for a high fever, but died when his heart gave out. His wife had purchased medical insurance through a health maintenance organization (HMO), but the organization was unwilling to pay for Wiskiski's extended stay in the hospital. As a result, Lou Thesz's wife convinced the Cauliflower Alley Club to help contribute to Wisniski's medical bills. He died in River Oaks, Texas on April 24, 2001.
Valentine has been recognized for his wrestling career by several sources. Shortly after his death, he was named the 2001 recipient of Pro Wrestling Illustrated's Stanley Weston Award, a recognition given for lifetime achievement in professional wrestling. He has also been inducted into several halls of fame. He was a member of the inaugural class of inductees to the Wrestling Observer Newsletter Hall of Fame in 1996. He is also a member of the Stampede Wrestling Hall of Fame. In 2006, he was inducted into the Professional Wrestling Hall of Fame, and he joined the St. Louis Wrestling Hall of Fame the following year. Valentine on April 17, 2010 was inducted into the IHWE Hall of fame in Fort Worth Tx just days before the anniversary of his death, David Fuller who credits Valentine for mentoring him in 1998 inducted Valentine, His widow Sharon accepted the induction & quoted "Out of all the Hall of Fame's John has been inducted to, This IHWE Hall of fame is the most important" Valentine received a standing ovation & was given a rose by every IHWE superstar.
Born
September, 22, 1928
Maple Valley, Washington
Died
April, 24, 2001
River Oaks, Texas
Cause of Death
Cemetery
Other
Cremated, Ashes given to wife-who keeps them on a dresser in their bedroom
16879 profile views