Johnny Tapia
(John Lee Tapia)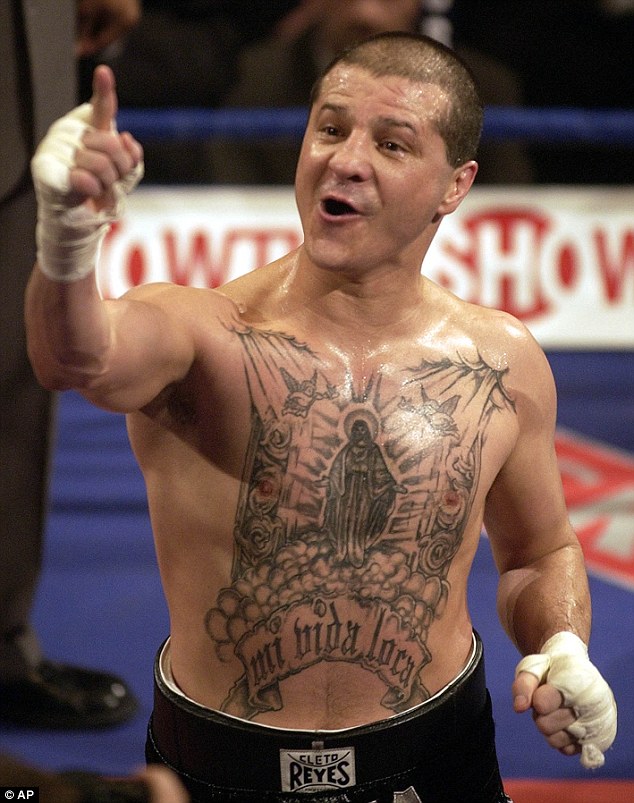 Johnny Tapia
Johnny Tapia endured a tragic early life. His father had reportedly been murdered while his mother was pregnant with him. When he was eight years old, his mother, Virginia, was kidnapped, raped, hanged, repeatedly stabbed, and left for dead by her assailant. Tapia was awakened by her screams and saw her chained to the back of a pickup truck. He tried to alert others in his household, but no one believed him. His mother was later found by the police and taken to the hospital after she had crawled 100 yards to a road. She died four days after the attack without regaining consciousness. Raised thereafter by his grandmother, Tapia turned to boxing at the age of nine.
Tapia's professional boxing career began on March 25, 1988, when he fought Effren Chavez in Irvine, California. After four rounds of boxing the fight was called a draw. He won eight fights that year, five by knockout, of which four were in the first round. In 1989, he won seven more fights, including a first round knockout of Abner Barajas and an eight-round decision against John Michael Johnson.
In 1990, he won seven bouts, including an eight-round decision over Jesus Chong, an eleventh-round technical knockout of Roland Gomez in Reno that gave him the United States Junior Bantamweight title, and a twelve-round decision over Luigi Camputaro, to retain that title. Tapia was, by the end of the year, a known boxer, his name often appearing in magazine articles. However, his career came to a halt for the next three and a half years after being suspended from boxing for testing positive for cocaine.
When he finally returned to the ring on March 27, 1994, he beat Jaime Olvera by a knockout in four rounds in Tulsa, Oklahoma. He won three more fights by knockout, and then he faced Oscar Aguilar on the Michael Carbajal–Josue Camacho undercard in Phoenix for the NABF Jr. Bantamweight title. He won that fight by a knockout in the third round. Five days later the Albuquerque Police claimed they found cocaine after the fight in a bag carried by Tapia. Tapia claimed what the police found was only a soap bar, and the charges were eventually dropped.
On January 17, 2007, Tapia held a press conference stating that he would face Ilido Julio on February 23 in his home town of Albuquerque, New Mexico, then retire. The bout was being promoted as The Final Fury and Tapia promised he would win. Tapia won the fight by majority decision, 98-92, 96-94, 95-95.
Tapia was found unconscious and not breathing in a hotel room early on the morning of March 12, 2007. Tapia was hospitalized in critical condition from an apparent cocaine overdose at Albuquerque Presbyterian Hospital.
The next day, on the morning of March 13, Tapia's brother-in-law and nephew were killed in an automobile accident on U.S. Highway 550 near Bloomfield, New Mexico, apparently en route to the hospital to visit Tapia. That same day, Tapia was upgraded from critical to serious condition.
Tapia was scheduled to make a comeback on May 2, 2008, in El Paso, Texas, but pulled out due to contractual disputes with promoter Ron Weathers.
On May 27, 2012, Tapia was found dead in his Albuquerque home. He was 45 years old.[12] Foul play is not suspected. Tapia died of heart failure.
Born
February, 13, 1967
USA
Albuquerque, New Mexico
Died
May, 27, 2012
Albuquerque, New Mexico
Cemetery
San Jose de Armijo Cemetery
Albuquerque, New Mexico
16780 profile views