Johnny Ringo
(John Peters Ringo)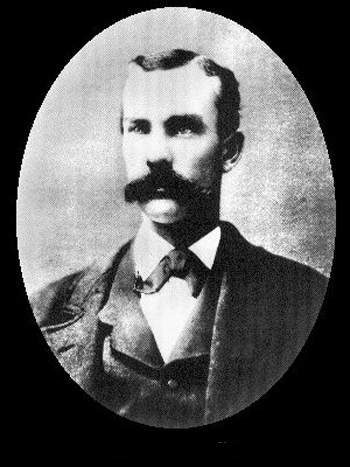 Johnny Ringo
There has been much false information disseminated concerning Johnny Ringo. Much of the mis-information came from writers such as Stuart Lake (Wyatt Earp: Frontier Marshal), Walter Noble Burns ( Tombstone), and William M. "Billy" Breakenridge ( Helldorado).
These authors make claims of killings and of deadly accuracy with a pistol. Claims were also made by some, such as former Cochise County Deputy William M. "Billy" Breakenridge, that Ringo was an educated man and had an extensive collection of books, the light classics, that he read in the original Latin and Greek they were written in.
But do the facts prove the suppositions presented by any of these men or other "old timers" of the Tombstone era?
One author, John Myers, went on to state in his book  Doc Holliday, that "John Ringgold, more commonly called Johnny Ringo…left Missouri for other parts. In Texas, according to some authorities, he had taken part in the Mason County war…"
and then went on to say, "Johnny attended college in a day when only young men of good background normally did so…"
First, Johnny Ringo was never associated with name Ringgold. His family a lways spelled the name Ringo. This myth continues
up to today. Second, as we now know from relatives of John Ringo, he never attended college. He dropped out of grade school to be exact. Of course William Breakenridge, who basically created a rival to upstage Wyatt Earp, a man he detested, also claimed Ringo was a college graduate. However, as history shows, Breakenridge is a very unreliable, if not a completely dishonest source of information. His hatred of Wyatt Earp overrode all honesty and integrity in anything he stated. His book, Helldorado, is more fiction than fact.
John Peters Ringo, named for his mother, was born May 3, 1850, in Greenfork, Wayne County, Indiana. As far as documented records go, We can accurately pick up the story of John Ringo at the age of 14.
His family joined a wagon train west from Liberty, Missouri, in 1864. Through family documentation, their story begins here. Johnny's father, Martin Albert Ringo, was born October 1, 1819, in Kentucky. On June 7, 1846, Martin enlisted in the Army at Liberty, Missouri, to fight in the war with Mexico. On September 5, 1848, Martin married Mary Peters in Clay County, Missouri, the place of her birth on November 23, 1826.
Mary Peters Ringo kept a diary of sorts while the family joined the wagon train. If one can draw any conclusions at all from her Journal, Mary Ringo was not given to thoughtful observations or to expressing herself very much. Her journal, covering nearly five months, consists of about 36 pages.
In the journal she worries about being "attacted" by Indians, wishes for a "good sermon," and worries about traveling on the Sabbath. A deeply religious woman, she was quite and reserved with her thoughts and feelings.
On July 30, 1864, Mary Ringo records an event that may very well have helped to shape the person Johnny Ringo was to become. "And now Oh God comes the saddest record of my life for this day my husband accidentally shot himself and was buried by the wayside and oh, my heart is breaking, if I had no children how gladly would I lay me down with my dead…".
An eyewitness account of Martin Ringo's death carried in the Liberty [Missouri] Tribune reveals it to have been a horrible one for the family. The account, from "W. Davidson" addressed to "Mr. R.H. Will—–,"reads as follows:
"Just after daylight on the morning of the 30th July Mr. Ringo stepped out…of the wagons as, I suppose, for the purpose of looking around to see if Indians were in sight and his shotgun went off accidentally in his own hands, the load entering at his right eye and coming out at the top of his head. At the report of his gun I saw his hat blow up 20 feet in the air and his brains were scattered in all directions. To see the agony and distress of his wife and children was painful in the extreme…" (  Liberty [Missouri] Tribune, August 26, 1864, and September 18, 1864 )
We do know that the entire family witnessed this awful tragedy. The sisters of Johnny were younger at seven, four, and two and would not recall much later. Johnny, at 14, would remember the event all to well. One can only imagine the trauma this event caused in his life.
In 1869, 19 year old Johnny Ringo headed for Texas. There he would get caught up in the Hoodoo war. The war was an appellation used to describe the vigilantism of what was really the Mason County Range War. It was both complex and confusing.On one side were the Germans opposing the outlaws, on the other was the Americans, who were supporters of the south in the civil war while the Germans were more Republican and had supported the North especially in a moral sense. Becuase of the German Republican leaning, they were hardest hit by outlaws and decided to take matters into their own hands.They elected a Sheriff to stand guard over themselves and their herds of cattle that were being rustled by the outlaws.
On Feburary 18, 1875, a mob forced their way into a jail and removed five rustlers that had been arrested. Only two of the rustlers were rescued.
Tim Williamson, a well-known and well-liked American, was arrested in May of 1875 on an old charge of having  stolen a yearling. The arresting officer, Deputy John Wohrle, seems to have led Williamson into a nest of German bushwhackers, where he was murdered by Peter Bader, a German farmer.( Sonnichsen, Ten Texas Fueds, pp. 95-96; May King to Charles R.
Ringo, June 6, 1970)
The killing of Williamson brought the Scott Cooley gang————–and with it, Johnny Ringo-into the Hoodoo War. During this time, Ringo puts in an appearance as one of the killers of a man named Cheyney, a Mason gambler. The story goes that Ringo and a man named Williams, rode up to Cheyney's house early one morning and said "hello". Cheyney came out
and they asked him for breakfast. Cheyney complied and while covering his face with a towel after washing it, Ringo and Williams shot him down and rode back and caught up with the other members of the Cooley gang.
( Gamel, The Life And Times Of  Thomas W. Gamel, p. 27)
Two newspapers, The San Antonio Express of Oct. 6, 1875, and the Austin Daily Statesman of Oct. 17, 1875, carried the same general story. A year later, a Texas grand jury indicted John Ringo and George Gladden for the murder of "James Chaney"; Williams was not mentioned in the indictment.
Shortly after the killing of Cheyney, Ringo and Cooley killed Charley Bader, the innocent brother of Peter, by mistake. In 1877, Ringo was in a Travis County, Texas jail with gunman John Wesley Hardin. Hardin a well known brutal outlaw and murderer complained of being jailed with someone as mean and vicious as John Ringo. Ringo is said to have broke jail and fled. He of course would end up in Tombstone by 1879.
In 1879, the Earp brothers, Wyatt, Virgil, Morgan and James would arrive in Tombstone along with John Henry "Doc" Holliday. Younger brother Warren Earp would make the trip to Tombstone later on. The Earps, were seeking fortune in the boom town. They were generally in law enforcement and were from the North. As such, they were Republicans while Ringo and other rustlers were staunch Democrats.
Ringo paired up with known rustlers such as Curley Bill Brocius, Ike Clanton and Pony Deal. The rustlers became known in Tombstone as "cowboys". They were a loosely banded group of rustlers/ranch hands and ranch owners who rustled cattle through the Arizona territory.
The cowboys generally kept law and order advocates rattled and the town in general feared the cowboys. The business owners of Tombstone and the large ranch owners such as Henry Clay Hooker, called for the heads of the rustlers. The Sheriff of Cochise County, John Behan, was considered a friend and ally of Ringo and the cowboys. Wyatt Earp, former deputy sheriff
prior to Behan's arrival in 1880, and U.S. Marshal was at odds with the weak version of law enforcement practiced by John Behan.
Tombstone city marshal Fred White was shot and killed by Curley Bill Brocius. Within moments of the shooting, Wyatt arrived and smashed Curley Bill over the head with his six shooter and arrested him. The brutal treatment of Curley by Wyatt is what basically sparked the hostilities between the Earps and the cowboy gang.
Following the gunfight at the O.K. Corral, in which cowboy gang members, Billy Clanton,and Tom and Frank McLaury were killed in October of 1881, Johnny Ringo confronted Wyatt Earp and Doc Holliday on the street around Fifth and Allen Street. This event occured on January 17, 1882.
Ringo is said to have been drunk and challenged Doc Holliday and Wyatt to a shoot-out. Some reports have Doc, ever ready to quarrel, stating, " I'm your huckleberry", a popular phrase in the 1800's generally meaning I'm your champion. Officer James Flynn, however, grabbed Ringo from behind and ended the hostility. On March 18, 1882, two months after this near shoot-out, Morgan Earp was shot in the back and killed. Thus began Wyatt Earp's Tombstone vendetta and Johnny's world would never be the same.
Ringo had rustled cattle with Ike Clanton, the McLaury's, Pony Deal and Curley Bill Brocius will in Tombstone. He was involved in the killing of at least two men in the Hoodoo War in Texas while riding with the Cooley gang, and attempted to kill Louis Hancock, after Hancock turned down Ringo's invitation for whiskey saying he prefered beer. There is enough documented evidence to suggest that Ringo was a cold blooded killer.
Following the killing of Moragn Earp, many of Ringo's associates in the cowboy faction, Curley Bill, Frank Stillwell, Florentino Cruz, a.k.a. Indian Charlie, Billy Clanton and the McLaury brothers had all been killed By Wyatt Earp and his associates and another rustler, Johnny Barnes lay dying from gunshot wounds received at the hands of Wyatt at the same battle in Sulpher Springs were Wyatt killed Curley Bill.
Just as it was when he was 14, Johnny Ringo was vulnerable. He attempted to return home in 1882 but his sisters refused to allow him in their homes. A devout Methodist family, they were very ashamed of John Ringo and did everything possible to hide him and to deny he was kin to them for a long time. Upon this rejection by his family, Ringo would return to Tombstone.
Ringo is said to have been generally drunk and suicidal at most times. Only July 14, 1882, Ringo was found shot through the head in Sulpher Springs, near Turkey Creek. His body was found sitting against a tree with his head flung to the right, his .45 gripped in his right hand, and was shot through the right temple. To add to the mystery, he appeared to have been partially scalped. He was buried behind the tree. His cartridge belt was on upside down and his shirt had been ripped off and was tied around his feet. His boots were later found strung across his horse.
The official ruling of death was a suicide. It is however, shrouded in mystery and raises many questions. His death is covered in Earpgang.com's link titled: Death Of Johnny Ringo, The facts.
While much myth exists on Johnny Ringo, what we do know is he was an outlaw. A rustler and killer who drank too much and had suicidal tendencies. He was only 32 years old when found dead. Ironically, we probably never would have heard of Johnny Ringo had it not been for Wyatt Earp, Doc Holliday, and the shooting at the O.K. Corral.
Born
May, 03, 1850
Greensfork, Indiana
Died
July, 13, 1882
Chiricahua range, Arizona
Cause of Death
Gunshot wound to the head
Cemetery
Johnny Ringo State Historical Landmark
Cochise County, Arizona
2231 profile views