Johnny Horton
(John Gale Horton)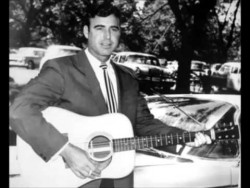 Johnny Horton
Although he is better-remembered for his historical songs, Johnny Horton was one of the best and most popular honky tonk singers of the late '50s. Horton managed to infuse honky tonk with an urgent rockabilly underpinning. His career may have been cut short by a fatal car crash in 1960, but his music reverberated throughout the next three decades.
Horton was born in Los Angeles in 1925, the son of sharecropping parents. During his childhood, his family continually moved between California and Texas, in an attempt to find work. His mother taught him how to play guitar at the age of 11. Horton graduated from high school in 1944 and attended a Methodist seminary with the intent of joining a ministry. After a short while, he left the seminary and began traveling across the country, eventually moving to Alaska in 1949 to become a fisherman. While he was in Alaska, he began writing songs in earnest.
The following year, Horton moved back to east Texas, where he entered a talent contest hosted by Jim Reeves, who was then an unknown vocalist. He won the contest, which encouraged him to pursue a career as a performer. Horton started out by playing talent contests throughout Texas, which is where he gained the attention of Fabor Robison, a music manager that was notorious for his incompetence and his scams. In early 1951, Robison became Horton's manager and managed to secure him a recording contract with Corman Records. However, shortly after his signing, the label folded. Robison then founded his own label, Abbott Records, with the specific intent of recording Horton. None of these records had any chart success. During 1951, Horton began performing on various Los Angeles TV shows and hosted a radio show in Pasadena, where he performed under the name "the Singing Fisherman." By early 1952, Robison had moved Horton to Mercury Records.
At the end of 1951, Horton relocated from California to Shreveport, LA, where he became a regular on the Louisiana Hayride. However, Lousiana was filled with pitfalls — his first wife left him shortly after the move, and Robison severed all ties with Horton when he became Reeves' manager. During 1952, Hank Williams rejoined the cast of the Hayride and became a kind of mentor for Horton. After Williams died on New Year's Eve of 1952, Horton became close with his widow, Billie Jean; the couple married in September of 1953.
Although he had a regular job on the Hayride, Horton's recording career was going nowhere — none of his Mercury records were selling, and rock & roll was beginning to overtake country's share of the market place. Horton's fortunes changed in the latter half of 1955, when he hired Webb Pierce's manager Tillman Franks as his own manager and quit Mercury Records. Franks had Pierce help him secure a contract for Horton with Columbia Records by the end of 1955. The change in record labels breathed life into Horton's career. At his first Columbia session, he cut "Honky Tonk Man," his first single for the label and one that would eventually become a honky tonk classic. By the spring of 1956, the song had reached the country Top Ten and Horton was well on his way to becoming a star.
"Honky Tonk Man" was edgy enough to have Horton grouped in on the more country-oriented side of rockabilly. Wearing a large cowboy hat to hide his receding hairline, he became a popular concert attraction and racked up three more hit singles — "I'm a One-Woman Man" (number seven), "I'm Coming Home" (number 11), "The Woman I Need" (number nine) — in the next year. However, the hits dried up just as quickly as they arrived; for the latter half of 1957 and 1958, he didn't hit the charts at all. Horton responded by cutting some rockabilly, which was beginning to fall out of favor by the time his singles were released.
In the fall of 1958, he bounced back with the Top Ten "All Grown Up," but it wasn't until the ballad "When It's Springtime in Alaska (It's Forty Below)" hit the charts in early 1959 that he achieved a comeback. The song fit neatly into the folk-based story songs that were becoming popular in the late '50s, and it climbed all the way to number one. Its success inspired his next single, "The Battle of New Orleans." Taken from a 1958 Jimmie Driftwood album, the song was a historical saga song like "When It's Springtime in Alaska," but it was far more humorous. It was also far more successful, topping the country charts for ten weeks and crossing over into the pop charts, where it was number one for six weeks. After the back-to-back number one successes of "When It's Spring Time in Alaska" and "The Battle of New Orleans," Horton concentrated solely on folky saga songs. "Johnny Reb" became a Top Ten hit in the fall of 1959, and "Sink the Bismarck" was a Top Ten hit in the spring of 1960, followed by the number one hit "North to Alaska" in the fall of 1960.
Around the time of "North to Alaska"'s November release, Horton claimed that he was getting premonitions of an early death. Sadly, his premonitions came true. On November 4, 1960, he suffered a car crash driving home to Shreveport after a concert in Austin, TX. Horton was still alive after the wreck, but he died on the way to the hospital; the other passengers in his car had severe injuries, but they survived. Although he died early in his career, Horton left behind a recorded legacy that proved to be quite influential. Artists like George Jones and Dwight Yoakam have covered his songs, and echoes of Horton's music can still be heard in honky tonk and country-rock music well into the '90s.
Born
April, 30, 1925
Los Angeles, California,
Died
November, 05, 1960
Milano, Texas
Cause of Death
Cemetery
Hillcrest Memorial Park and Mausoleum
Haughton,Louisiana
17615 profile views