Johnnie Wright
(Johnnie Robert Wright)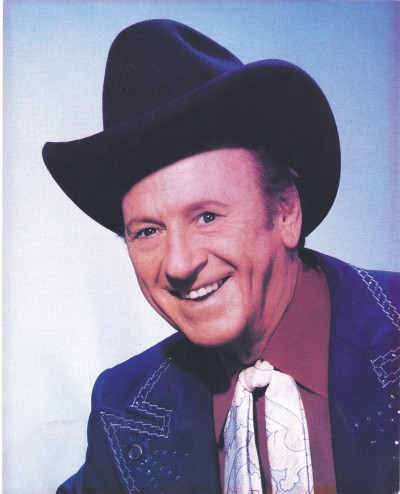 Johnnie Wright
Wright first performed with Anglin in 1936. In 1937, he married Kitty Wells. The two, along with Wright's sister Louise, performed as Johnnie Wright & the Harmony Girls. In 1939, Wright and Anglin formed the duo Johnnie & Jack. They teamed up full-time in the 1940s and, except for the time Anglin spent overseas during World War II, remained together for more than two decades.
In 1952, Johnnie & Jack's "Poison Love" took them to the Grand Ole Opry, where the duo, along with Wells, were invited to join and where they remained for 15 years. Following Anglin's death in an automobile accident in 1963, Wright continued performing and releasing records. After his name was misspelled on a record label, Wright changed his name from Johnnie to Johnny.
In 1964, he and his Tennessee Mountain Boys had a Top 25 hit with "Walkin', Talkin', Cryin', Barely Beatin' Broken Heart." The following year, he had success with "Hello Vietnam", a No. 1 hit. In 1968, he and Wells recorded an autobiographical duet, "We'll Stick Together", and continued playing live shows together through 2007.
Kitty Wells and Johnnie Wright were married on October 30, 1937. Together they had three children, two daughters Ruby (1939–2009) and Carol Sue( June 12, 1941 (age 71)), as well as a son, Bobby. Each of their children enjoyed minor success individually as recording artists—Carol Sue, on a mid-1950s duet with Wells titled "How Far is Heaven"; Ruby, with a hit called "Dern 'Ya," an "answer song" to Roger Miller's "Dang Me"; and Bobby, with a series of country-pop hits in the early to mid-1970s, including "Seasons in the Sun" (covering Terry Jacks' No. 1 pop hit from 1974). Both Bobby and Ruby performed as part of their parents' road tour for many years.
Johnnie Wright died at his home of natural causes in Madison, Tennessee on September 27, 2011, exactly two years after older daughter Ruby's death; and 33 days short of his 74th wedding anniversary with Wells. Wright had been in failing health for some time. He was survived by his wife of 73 years and their 2 surviving children Bobby and Carol Sue, plus 8 grandchildren, 12 great-grandchildren, and 3 great-great-grandchildren.
Wright's widow Kitty Wells followed him in death less than ten months later on July 16, 2012.
Born
May, 13, 1914
Mount Juliet, Tennessee
Died
September, 27, 2011
Madison, Tennessee
Cause of Death
Cemetery
Springhill Cemetery
Nashville, Tennessee
17056 profile views